When the going gets tough, hug a wiener dog.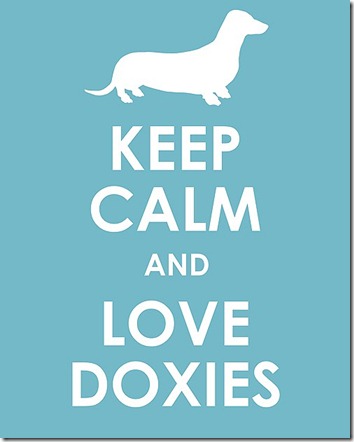 (I have that print in my bathroom and it makes me so happy every single day!)
Dachshunds really do make everything better.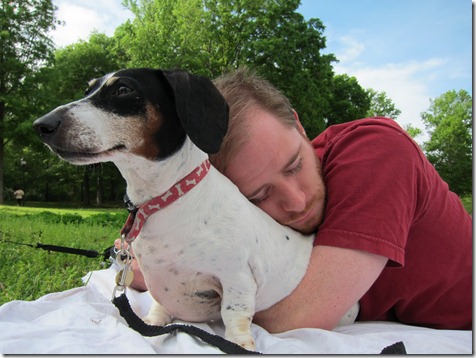 Mutts are awesome, too – of course! :)  Actually, all rescue pups rule.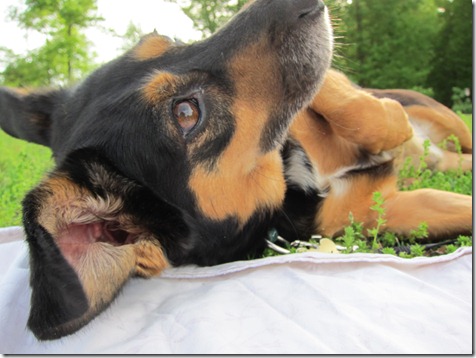 But there's something special about a long dog.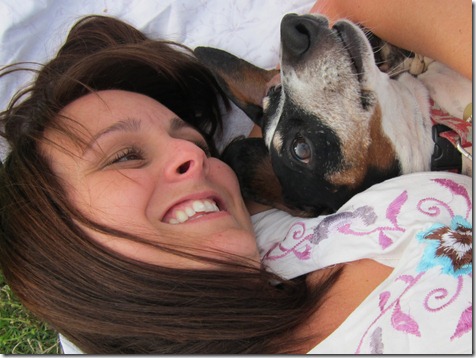 Did you have a good day? I hope so.  We ended up working all afternoon at the clinic.  Then, we retreated to the park for some dachshund-hugging and people-watching.  :)  It was a nice way to end a stressful day.  Sometimes it's really just about making the choice to chill out and flip your attitude around.
Apple braid for a snack: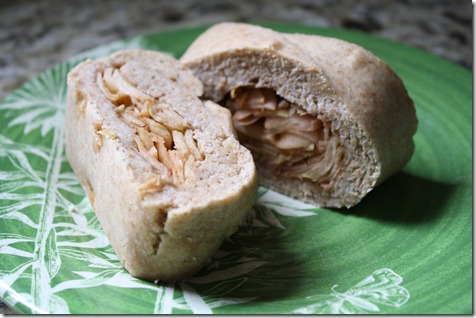 And dinner was homemade pizza.  My dad came over, and since he loves pizza, I wanted to make him my 1/2 and 1/2 crust.  But I think I should've rolled it thinner because it ended up too cakey and thick.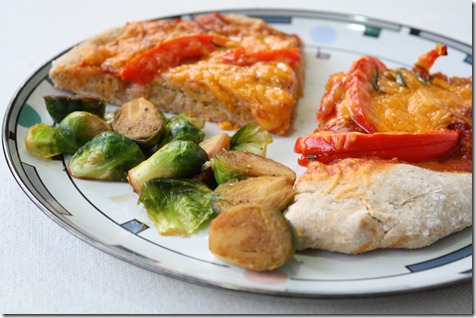 Still – there's no such thing as bad pizza, is there?  Pizza is always pretty delish.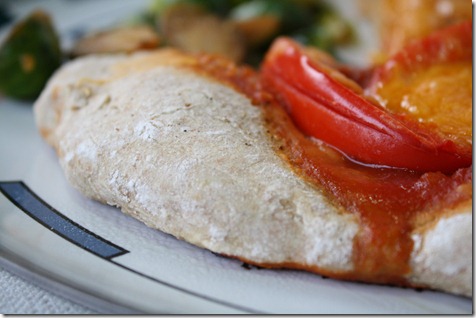 Oh, and I wanted to share some tips from experienced swimmers about my sore-leg-muscles issue, as well as the kicking conundrum:
Victoria said: Those who are new to swimming often rely a good deal on their quadriceps and hamstrings for stability because they aren't "flat" enough in the water – e.g. they have their head/shoulders too high and hips too low. Try to make sure you keep your head down, look at the bottom of the pool, and press down with your sternum. When breathing, think about keeping one goggle in the water and one out – this will prevent you from lifting your head while breathing, which is a common error.
Kelsey said: I typically do around 6 kicks by the time each of my arms have stroked (so about 3 per arm). I'm wondering if you doing one GIANT kick at the end of two strokes is contributing to your leg soreness, as opposed to doing many smaller kicks. You should be kicking from the hip, not the knee.
Julie wrote: Your kick is the most important thing to keep you floating, and is what will provide all the speed. When you kick too slowly, your hips will sink and you will become much less aerodynamic, and will have to work harder to swim (This will also make it more difficult to breathe). Try doing 1 lap just kicking, and then 1 lap just arms. You will be much more tired after just using your arms! Of course, you don't want to go all out with your legs in the swim, but you need to have a good steady kick, otherwise you will go much slower and end up working harder. I would recommend experimenting with your kick- try kicking faster, bigger leg movements etc. and see which seems to get you through 1 lap in the most efficient way. I found that in the triathlon the swim was so short compared to the rest of it that it did not really make a difference to my legs overall. The swim only took around half an hour, whereas the bike took three times that long and the run took twice that long! Saying you shouldn't use your legs too much in the swim is kind of like saying you shouldn't peddle too hard in the bike! Sure, you need to pace yourself, but you also want to keep up a decent pace.
Good to know! 🙂