Balance:  If you're going to eat something called donut muffins for breakfast, at least pair it with a big bowl of fruit.  🙂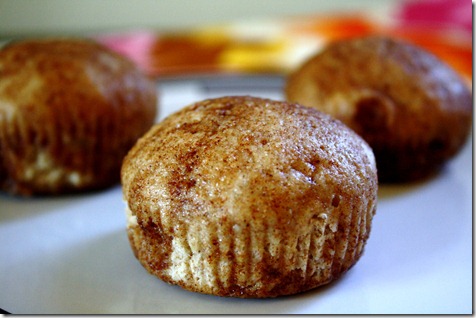 This recipe for Donut Muffins from Heather turned out really well.  I think I tinkered with the original recipe too much (flax egg for real egg; applesauce for coconut oil), but it was still yummy.  And yes, it did kind of taste like a donut hole.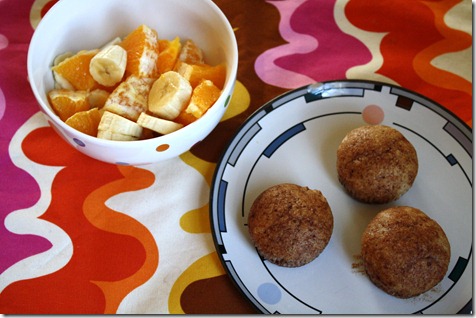 Mmm. Fruit is so delicious. I'm loving all the citrus in the stores lately.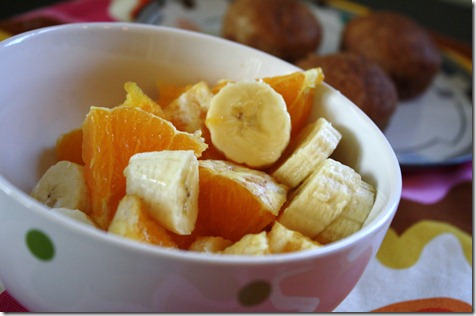 I've got a busy (but fun) day planned, and I might get back editor comments on the first draft of my second Operation Beautiful book today, too. 
I'm keeping my fingers crossed that my awesome editor (it's her birthday today!) is going to say, "Wow, that was awesomely perfect just the way it is.  Please edit the following three paragraphs and get back to me.  Actually, let's just send it to press as-is!" and not, "Wow, that totally and completely sucked. You wasted 2.5 months and hundreds of hours of your life.  Please rewrite the whole thing."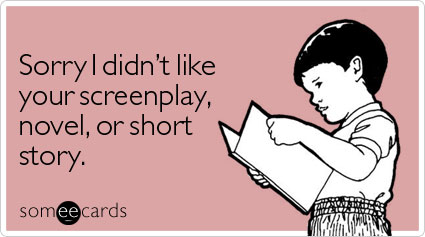 Writing is a troublesome occupation.  You never quite get over the sneaking suspicion that your work is actually crap.  🙂