I woke up this morning to drizzling rain, which was rather disappointing because I'm doing a 12-miler later this morning.  Don't get me wrong – I love to run in the rain when I've got the right gear – but 12 soggy miles doesn't sound super appealing.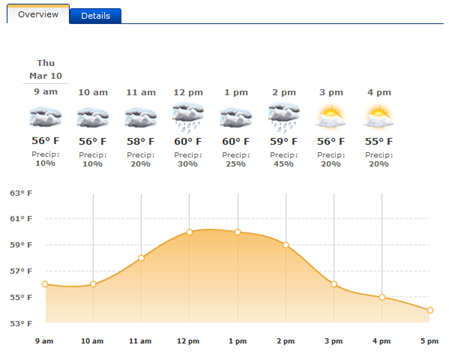 Hopefully, it will lighten up even more because it's do or die time.  I can't do a long run Friday, Saturday, or Sunday morning and I've actually got this AM wide open.  It's now or never!
Pre-run fuel: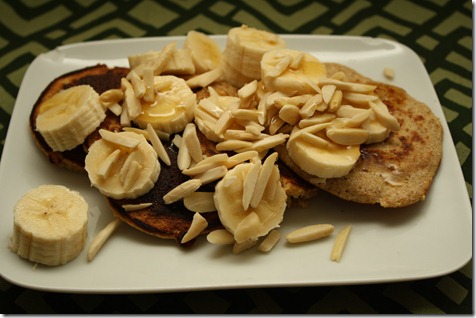 Whole wheat pancakes with a banana, almonds, and syrup.  I run on pancakes.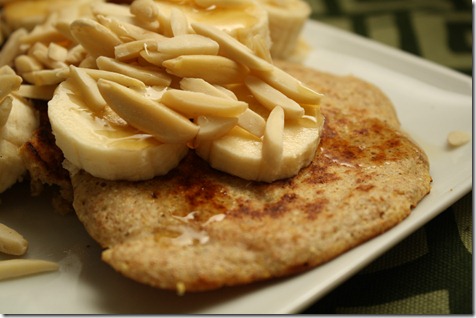 I'm pretty sure I've blogged about this before, but let's play the TRAVEL GAME.  The Travel Game is when we all discuss where we've traveled and where we want to go.  Last night I had a dream about backpacking through Europe, which got me thinking about my favorite subject…
I LOVE to travel.  Travel is very important to me (I realize it's not as important to other people, which is totally fine – different strokes).  When I talk about how I'm trying to become 'financially responsible,' I mean I want to get to the point where I can do grown-up things like buy a home and have bebes and STILL travel.  When we save, we save towards several big goals, including travel.  Honestly, I don't think my life would feel as complete with travel – or at least the promise of travel!
Did you catch my vacation announcement? I just slipped it in this weekend. 🙂
Here are the places I've traveled (outside of the USA):
Canada
Mexico (twice)
Guatemala
France
Spain (twice)
England (twice)
Austria
Hungary
Czech Republic
Italy
Germany
Here are some places that I'd love to go to:
Australia / New Zealand
China
Turks and Cacaos
Brazil (for the World Cup)
Out of every place I've visited, I probably enjoyed England the most, but I might be biased because the Husband is English.  Here's us in England in 2006 – we look like babies! (we also went back to England last winter).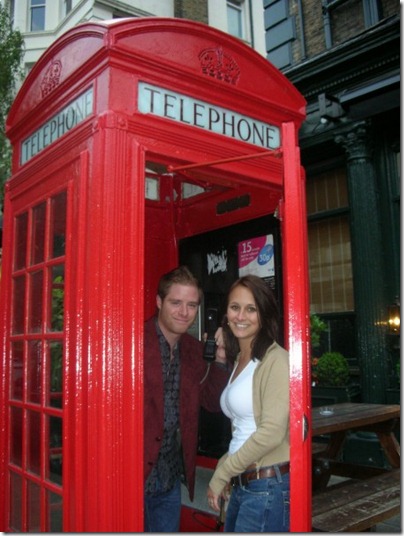 Is travel a priority for you?  Play the Travel Game in the comments section – tell me everywhere you've been outside of your home country and where you want to go!