Now that I'm looking at my food pictures, I'm realizing that I had quite the purple lunch.  I started off with a purple smoothie around 10 AM.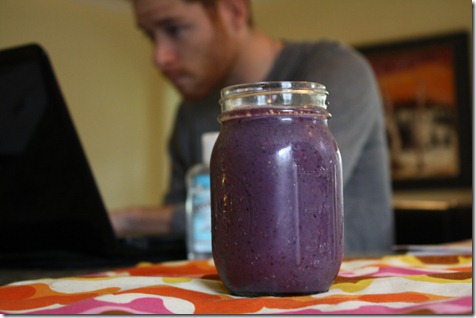 (Say hi to the Husband!  We're both working from home today!)
In the blender:
1 cup almond milk
1 banana
1/2 cup frozen mixed berries
Chia seeds
And Part II of lunch was this very purple stir-fry: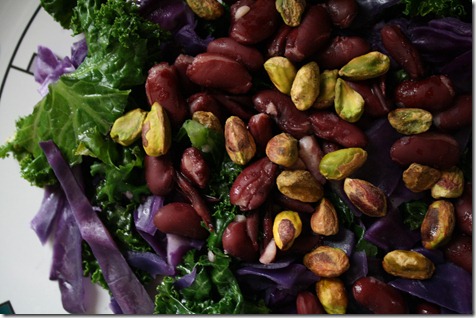 In the wok:
Chopped kale
Chopped purple (red?) cabbage
Salt
Olive Oil
Topped with: Kidney beans and pistachios
I liked this combo a lot – very sweet and salty.  The texture was great, too, thanks to the chewy kale and crunchy nuts (can you tell I like contrast in my dishes?).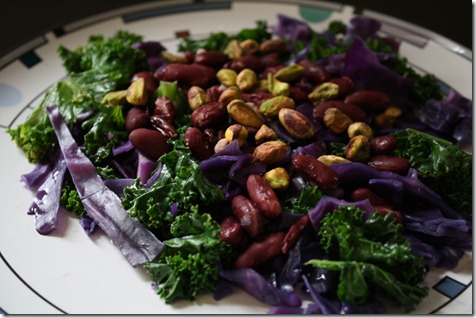 I'm working on a post about the emotional side of being injured.  Luckily, my current injury isn't too serious, but it's still rough to feel like you're 'out of commission' when you're used to regular exercise or have races scheduled.  Having non-mileage goals definitely helps you stay positive and focused on long-term health. 
My current non-mileage goal is to be able to hold Bird of Paradise for 10 seconds with a straight leg.  I'm so close!  :)  I will surely start screamin' and clappin' in the middle of yoga class when I actually do it.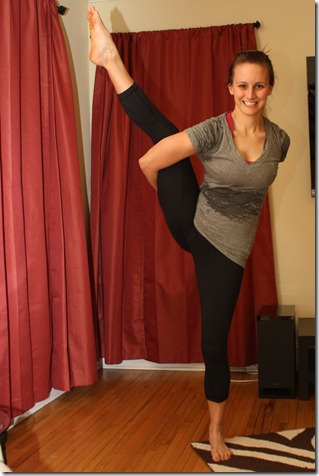 Stay tuned for the complete Emotional Side of Injury post, but in the meantime… what non-mileage goals are YOU currently working towards?