I've been a little bored with breakfast lately.  Nothing an interesting flavor combination cannot fix, of course!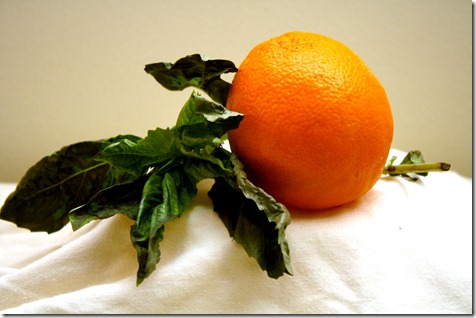 The inspiration for today's smoothie actually comes from an Orange Basil chocolate that I ate last week at Petite Philippe.  The outside was a smooth milk chocolate, and the inside was a creamy basil-infused orange filling.  It was GREAT!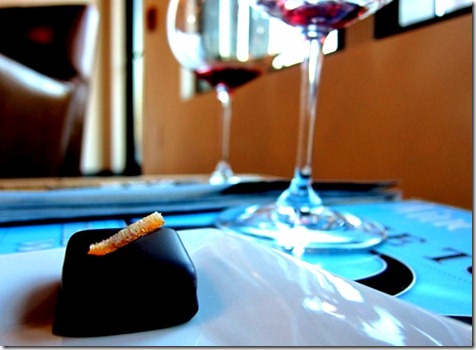 Oh, this smoothie packs a wonderful punch of flavor.  If you love to inhale the intoxicating scent of a fresh basil plant (or is that just me?), you will love this smoothie.
In the blender:
1 banana (peeled, chopped, frozen)
1 orange (peeled, chopped, frozen)
1.5 tablespoon protein powder
10 leaves fresh basil
1.25 cup rice milk (or other milk)
0.5 tablespoon maple syrup
1 tablespoon cocoa powder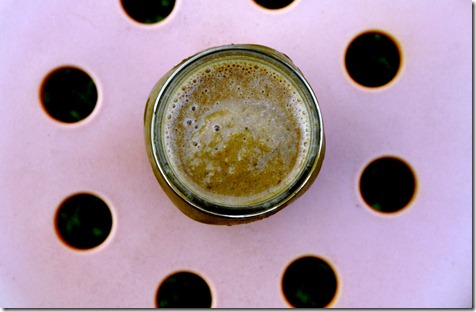 Plus some buttahed toast.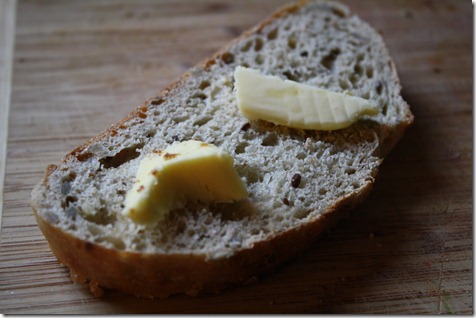 The National Half Marathon Update
Well, I guess I cannot avoid this topic for much longer.  🙁  As you may know, I have been diligently training for my 4th and 5th Half Marathons, the Washington DC National Half Marathon (this Saturday) and the NYC More/Fitness Half Marathon (next Saturday).
10 days ago, I completed a great 12.0 miler per my training plan… and promptly realized that I'd injured something in my leg/knee area.  It didn't hurt at all during the run, but KILLED after.  I took 3 days off from running (but walking and did yoga) and tried to run again, but no dice.  My leg hurt after 2.0 miles so I stopped.  Then, I got really sick last week and was forced to really rest.   I ran three more times (3.0, 5.0, and 3.0) but it's obvious my injury isn't better.
I suspected my IT band so I've been doing lots of foam rolling, yoga, and stretching.  However, since it wasn't improving, I went to my massage therapist yesterday (David Turner with Healing Touch Charlotte; the Husband exchanges services with him, and I would HIGHLY recommend him – he's awesomesauce).
David did some digging (literally and metaphorically) and determined that I've pulled my lateral quad muscle.  At least it's not my IT band – ha ha.  After an insanely painful but effective deep tissue massage, I've been instructed to ice for 20 minutes at a time, alternating with heat, for 2 hours a day.  He also said I should continue the rolling, yoga, and stretching.
Using the Online Stopwatch to keep me on track so I don't over-ice: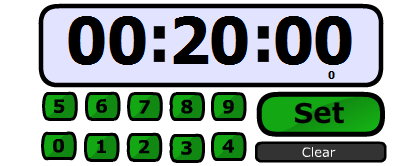 Obviously, I'm in a very bad position for the upcoming halves.  Not only is my quad acting up, but my mileage hasn't been where it should be for the past 10 days – which is a bigger deal for NYC than DC.  David says that he is 100% confident I'll be ready for NYC… but he's only 20% confident I'll be able to do DC and NYC.  The odds that I'll really hurt myself if I do DC are high, and then I won't be able to do NYC (which I want to do more).  Clearly, I'm not going to PR at either race at this rate, so that goal is completely out the window.. I just want to race, period!
It's really hard to drop out of a race, and I'm not ready to say, "I definitely am not doing DC," but I'm coming around to the idea.  Slowly but surely.  Regardless, I'm going to still go to DC for the weekend and cheer on my friends who are running the Half.  I'm not happy because I've been working really hard on training… What can you do?
So that's where I am with training – my favorite and least favorite thing in the entire world. 😉