This morning, I had to decided between this: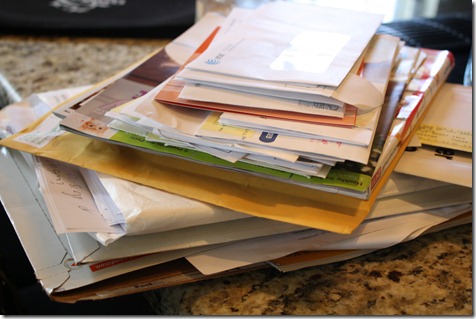 And this: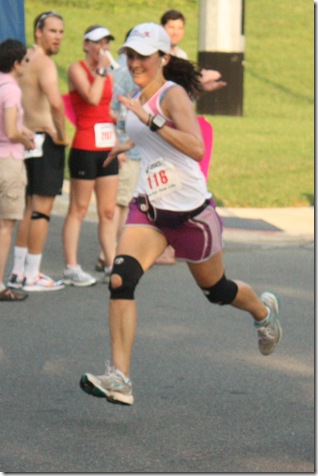 Guess which one I chose?  If you guessed bills, you're right.  :)  I think my legs need a rest day, anyway.
For the rest of February, I'm trying really hard to eat all my meals in (with the exception of travel meals + my dad's birthday dinner, which is actually tonight!).  The goals are two-fold:  hopefully, we'll spend less money by dining in, and I'll be eating more nutritious foods.
I've been thinking a lot about why I get so much take-out so I can better avoid dining out.  I've concluded there are three general times I fall prey to takeout:
1) LUNCH – Takeout for lunch happens when I'm too lazy/busy/tired/stressed to pack my lunch and end up foodless at the clinic.  I have no other choice but to call up my favorite restaurants and place an order for takeout.
2) DINNER – Takeout or dining out for dinner usually isn't triggered by stress, although sometimes, we get takeout because we've worked late and just want to eat.  Mostly, we use dining out as a way to escape home and the responsibility of having to clean up.  So eating out for dinner is more about enjoyment.
3) COFFEE – Starbucks.  Enough said.
Now, I'll have to think of creative ways to get our date night fix at home, but solving my lunch conundrum is pretty easy…. I have to actually plan ahead and pack my lunch.  Duh.
Today's packed lunch: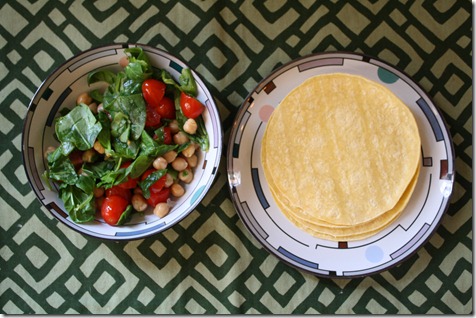 Four corn tortillas (such a fun change from wheat) with a filling of chickpeas, tomatoes, and spinach, all drizzled in olive oil for some healthy fat.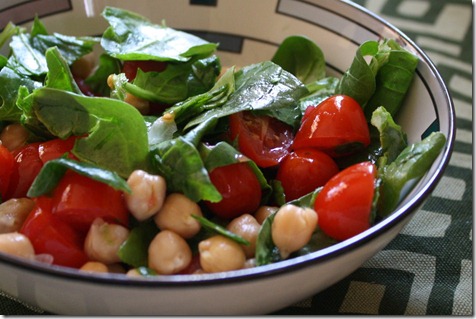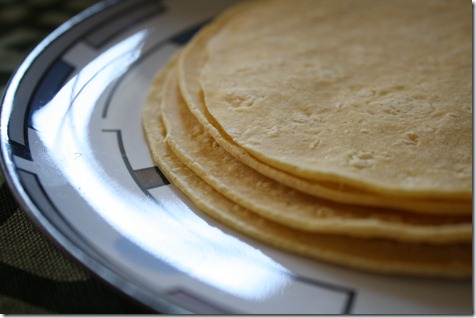 All packed up to go, with an apple for crunch.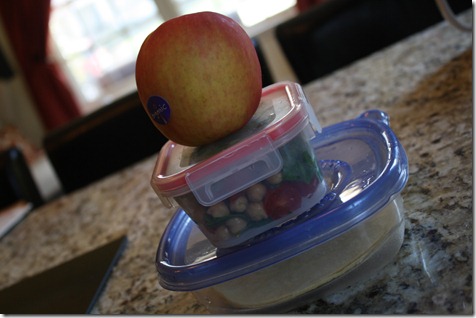 I really LOVED this lunch.  It was portable and satisfying (albeit small; I'll need a snack soon!).  I loved all the different flavors in the little wraps.  And best of all, it literally took me 3 minutes to prepare, and half of that time was spent hunting for tupperware.  🙂
Are you trying to cut back on eating out, too? What's your takeout trap?