I hope you had a wonderful Saturday!  I worked this morning at the clinic but got to relax this afternoon after my run.  It was lovely.  Lots of patio sittin' and time in the sun.
While at the clinic, I had this awesome salad.  It was packed tight into my one clean piece of tupperware so it's way bigger than it looks!    In the mix:  greens, tomatoes, goat cheese, sunflower seeds, carrots, and balsamic.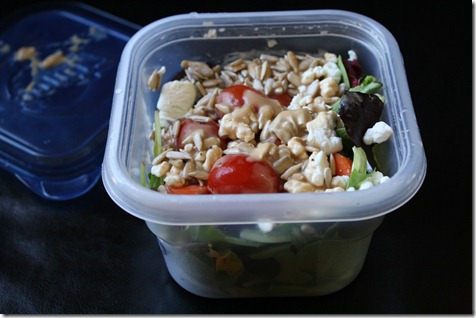 A perfect office salad, if I do say so myself.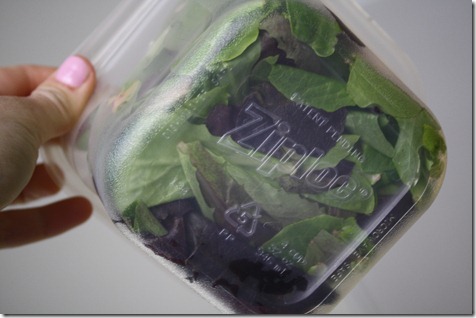 Came home, walked the dogs, and ate half a banana with a smear of chocolate peanut butter for my pre-run snack.  I'm experimenting with different pre- and post-run snacks (beyond toast-based things).  This was perfect for a 5 miler (which I finished just under 50 minutes, wahoo!).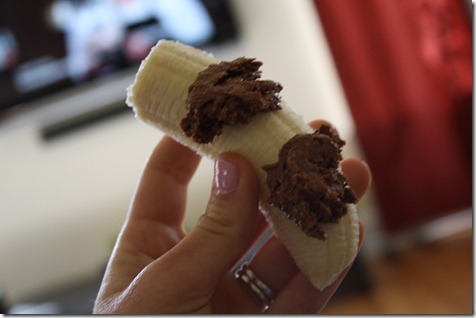 Post-run snack of TJ's High Fiber O's and the rest of the banana.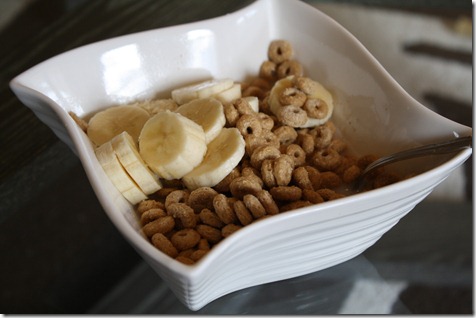 And actually, for dinner, I got to EAT OUT!  Don't worry, I didn't violate the rules of the Eat-In Challenge because my father-in-law treated us as a thank you for hosting him for the last six days.  It was a nice treat!
We went to Ru San's, a new sushi place (well, new to me).   Ru San's doesn't do custom rolls like my beloved Cowfish, but they did have great vegetarian options.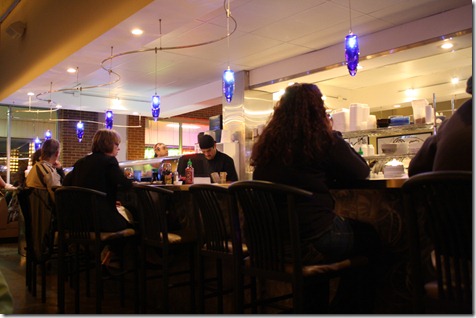 We started off with two small (very small) plates of fried sweet potato and grilled zucchini:
And the Husband and I split the following rolls.  From left to right, we had inari/tofu, asparagus, tempura sweet potato, and teriyaki zucchini: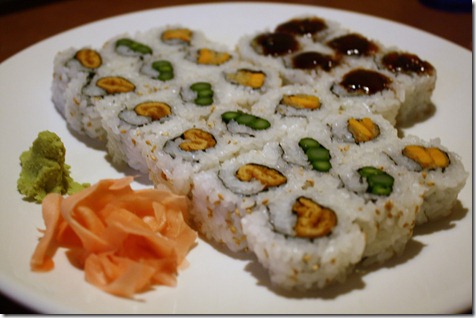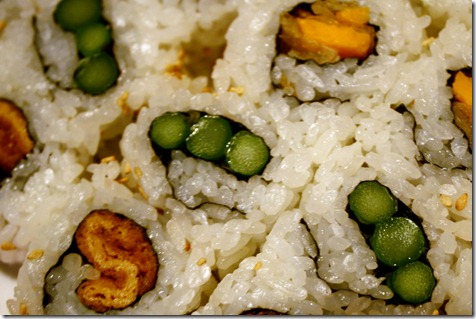 Sushi is so pretty.  One of the reasons I love to eat it!
If you can believe it, I'm actually going OUT again.  Two nights in a row!  Look at me – big party girl.  :)  I'll probably have another bowl of cereal or a peanut butter sandwich when I get back. 
Also – this is my public proclamation.  I am going to stretch and foam roll before I go to bed, even if that means I do it at 1:00 AM after dancing all night.  I know I need it – I just always put off foam rolling. 
Are you a foam rolling fan?