These two things do not go together:
THING 1:  Awesomely cheesy pizza, delivered hot and fresh to my door at the end of a busy evening.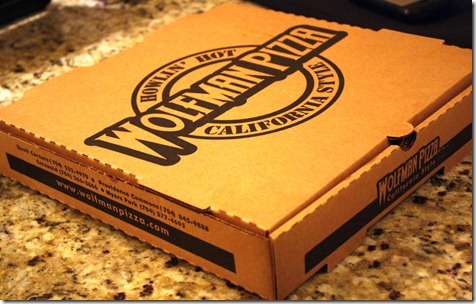 Chewy crust with cheese, mushrooms, spinach, tomatoes, and artichoke hearts, all fresh and locale!  Wolfman's really makes a great pie.  Plus a spinach salad with celery.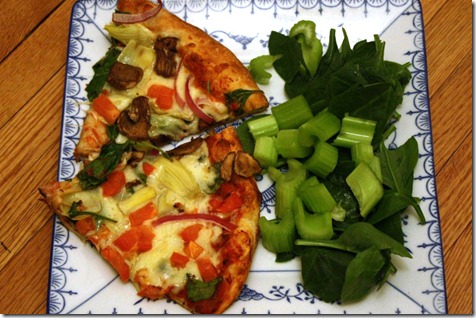 I ended up going back for the last slice! 
And…
THING #2:  The China Study.  The China Study details the connection between nutrition and heart disease, diabetes and cancer. The report also examines the source of nutritional confusion produced by powerful lobbies, government entities, and opportunistic scientists.  It is basically a pro-vegan, an anti-cheese treatise. I'm reading it purely out of curiosity; no plans to go vegan.
A complicated book that made me look twice at my cheesy pizza (the Husband got his half sans cheese).  But… If cheese is wrong, I'm not sure I want to be right.  😉
PS – Nicole has been writing great posts lately.  I like this one about packing lunches if you work in an office and this one about negative quotes and positive thinking.  Shameless friend plug.