Another Saturday at the clinic.  I brought a homemade lunch.  🙂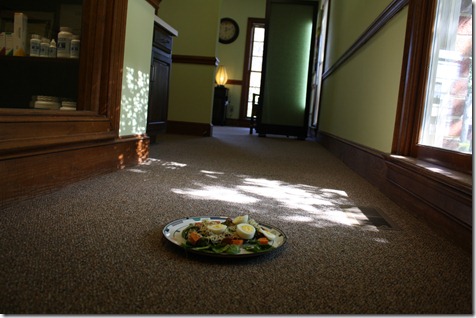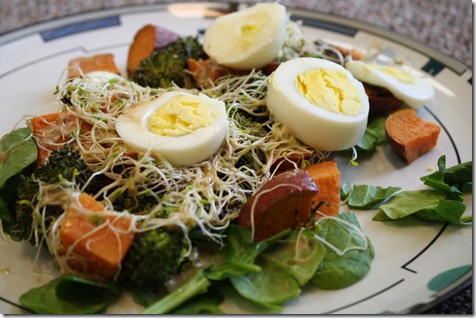 In the mix:
Spinach
Roasted broccoli
Roasted sweet potato
Sprouts
Two hard boiled eggs
Balsamic dressing
Get $$ Organized
One of my 2011 resolutions is to figure out our finances.  My goals include:
Pay taxes on a quarterly basis (started to do this last year)
Open a LLC for my businesses (done)
Begin running all business finances separately from my personal finances
Get a ROTH IRA  (yes… we don't have any money saved for retirement yet!)
Reduce unnecessary spending (eating out)
Save for a sweet-ass vacation
Get pre-approved for a mortgage
Get more affordable health insurance
Get cheaper car insurance
Get disability insurance for both the Husband and I (if the Husband broke his hand, we'd be screwed – he's an acupuncturist.  And if – God forbid – I was in an accident and couldn't work, we'd be seriously in financial trouble.)
Taxes are really not fun when you own five businesses and have 15 W-9s between two people.  Luckily, I hire a professional to do most of the heavy lifting.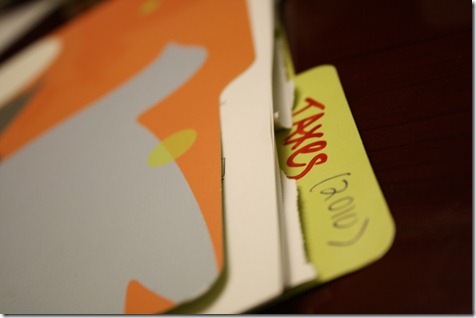 I've been re-reading The Money Book for the Young, Fabulous, and Broke by Suze Ormon to help me figure everything out.  I love this book because she explains everything VERY CLEARLY (as in, she doesn't even assume you know what interest is), which is definitely what I need!  I'm a dummy when it comes to money.
My former boss gave me this book a few years ago, but I wasn't really responsible or ready for a lot of it.  But man – some of the information is really coming in handy now.   If you are young, fabulous, and broke (or broke-ish), you should definitely grab this book.
Are you money savvy?  Or a money dummy like me?