This extremely easy recipe is my contribution to our Super Bowl party (plus our flat screen + a ton of beer!). 🙂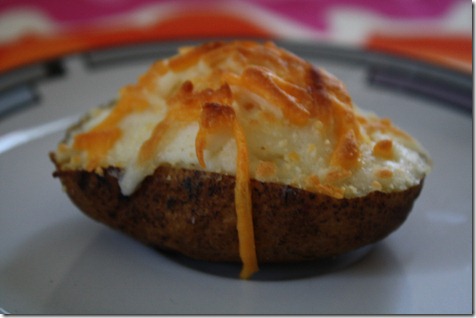 You'd never guess these were nearly vegan (I was just informed the cheese has casein in it)!  Creamy, chewy, and cheesy, these will disappear from the buffet table like… well, like hot potatoes.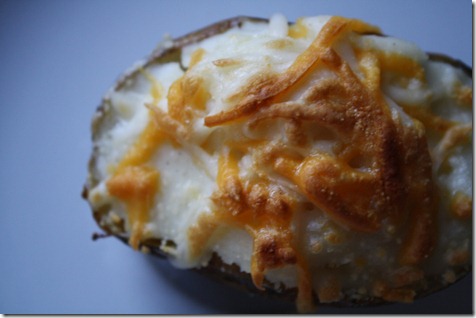 Extremely Easy Potato Sliders
Ingredients (for approximately 20 sliders):
15 small white russet potatoes
Olive oil
1 tub vegan cream cheese (I used Tofutti)
1 bag soy cheddar cheese (I used Lisanatti Soy-Station cheddar and it melted well!)
1.0 tablespoon kosher salt
0.5 tablespoon pepper
Topping options: green onion (sliced thinly) or vegan bacon (chopped)
Directions:
Preheat oven to 350.
Wash the potatoes and stab with fork.
Rub whole potatoes with olive oil.
Bake 50 minutes, turn off heat, and let stand in oven for half an hour.
Remove from oven and slice lengthwise.
Using a spoon, scoop out most of the potato into a mixing bowl.  Be careful not to tear the skin.
Reserve 20 skins (you'll end up tossing 10 halves).
In a mixer, combine tub of cream cheese, potato, salt, and pepper until creamy.
Scoop back potato mix into the skins (it should overflow a little).
Place all skins into a casserole dish.  You can either put it in the fridge or finish cooking immediately.  If necessary, reheat at 350 until warm when ready to eat.
Top skins with cheese and broil on low for 3 minutes (watch carefully)!
Remove and eat!
The Super Bowl is good for two things in my eyes… food and friends!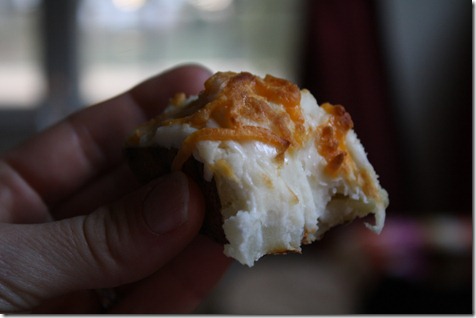 I'm off to squeeze in a run before 20 people invade our small apartment.  :)  My planned 8-miler has become a 3-miler – what can you do?
What are you cooking for the Super Bowl?