These scones blew all my expectations out of the water!  I made them two ways:  one batch of coffee-infused scones with an espresso glaze and another batch without the glaze so the Husband could cover the scone in strawberry jam.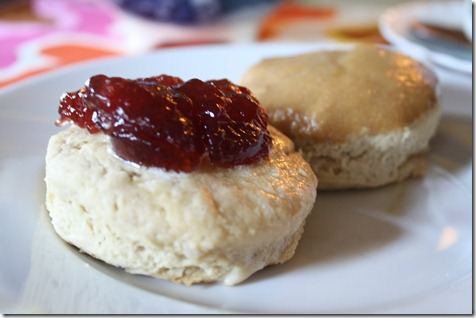 If you subbed the egg out with a flax egg (1 tablespoon ground flax and 3 tablespoons water; let it stand so it jells), this recipe would be deliciously vegan.
These Espresso Scones (I had two) tasted amazing with a fresh pot of English breakfast tea.  This is what happens when you marry a British boy, by the way – we have tea almost every afternoon.  It's such a nice break to do tea!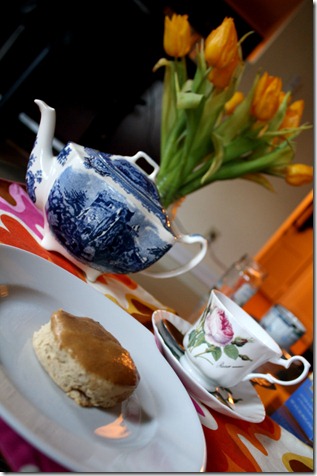 Espresso Scones
Inspired by these wonderful scone recipes: The Pioneer Woman and Peas and Thank You 
Ingredients (makes eight scones):
Scones:
3 1/4 cups all-purpose flour
2/3 sugar
5 teaspoons baking powder
1/4 teaspoon salt
3/4 cup Earth Balance
1 egg
1 tablespoon vanilla extract
3/4 cup Silk almond milk
1 tablespoon instant coffee powder
Espresso Coffee Glaze:
1 tablespoon water
1 tablespoon instant coffee powder
2 tablespoons almond milk
3 cups powdered sugar
Directions:
Preheat oven to 350.
In a bowl, combine flour, sugar, baking powder, and salt. 
Using hands, mix in Earth Balance until it looks like crumbles. 
In small cup, combine drizzle of water and instant coffee powder.
In a mixing bowl, quickly mix egg, vanilla extract, coffee and water mix, and milk.
Add liquid to dry. Use hands to combine.
Transfer dough ball to a floured cutting board.  Roll out thick to one-half inch thick.  Use an upside-down drinking glass to cut out circles.
Place scones on a greased cookie sheet.
Bake for 18 minutes.
Meanwhile, combine all glaze ingredients in a mixer.
After scones cool, dip into glaze and place on plate for glaze to dry.
Enjoy!
These scones were crumbly and soft and chewy.  Wonderful!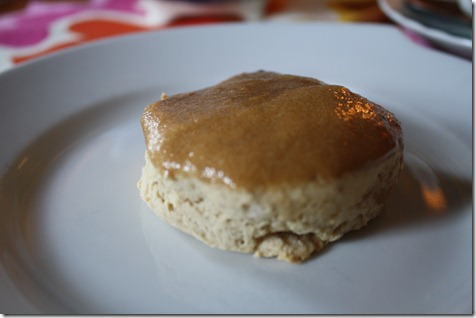 And you know what?  Dinner was just as amazing. :)  This eating-in thing isn't so bad when you actually put effort into your meals!
A Japanese-style whole wheat noodle dish with tofu and mushrooms.  I'll share the recipe tomorrow.  It was super easy to make and the ingredient list is really simple.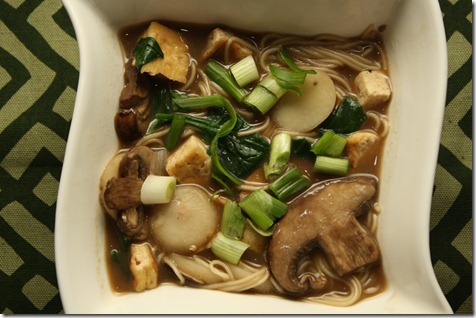 Sunday night already? :(  I'm very sad face (not really, still jolly.  But why can't the weekend last foooorever?).