Good morning…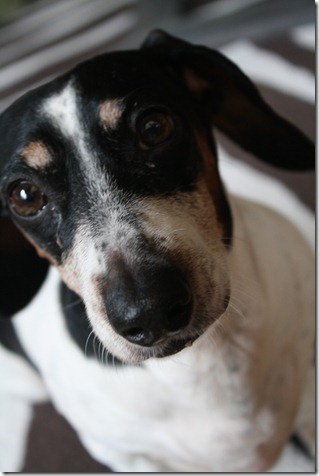 Breakfast is ready!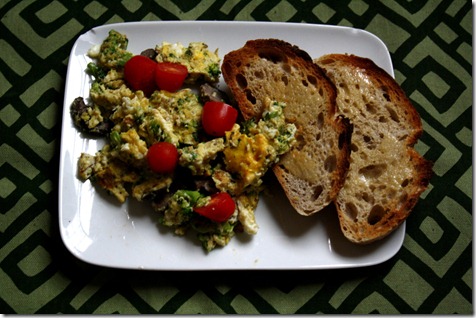 I don't think I've ever really explained this before, but every two weeks, my father-in-law comes and stays with us for five days so he can see patients at the clinic.  They are trying to sell their Florida home (a promising deal fell through at the last minute earlier this year) and move their entire life up to Charlotte.  My father-in-law stays in our office on an air mattress.
Last night, my Dad stayed over, too (on the futon), so this morning, I was cooking for four.
Eggs seemed like the best bet.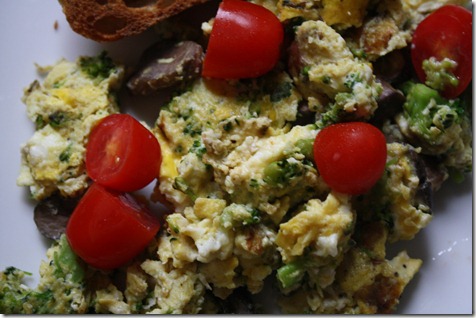 I've really been enjoying swapping spinach out for the broccoli 'leaves.'  To make this scramble, I cooked the mushrooms and chopped broccoli leaves in a wok on high, then I added eight eggs and gave it all a good stir.  I topped it with tomatoes (instead of cooking them in) because my Dad hates tomatoes.    Ten minutes later, I had a breakfast to serve everyone.
A toaster with four slots helps, too. 🙂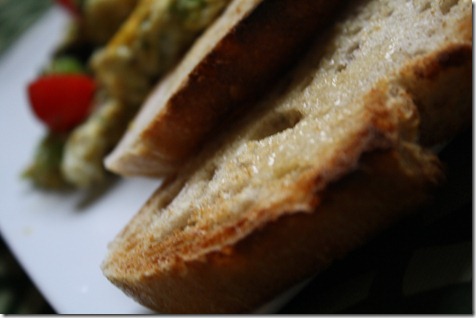 Do you live with extended family?  People would think I would hate it, but I actually like it.  I grew up an only child so it's wonderful to have my in-laws around a lot (granted, it helps that they aren't cra-azy).