Between yesterday afternoon and last night, I slept 11 hours (but laid in bed for a total of 15 – I was a lazy lady lump).  I think I'm catching up on the sleep zombie vortex I entered during the last month of book writing (have I mentioned I'm SO glad it's over?).
I didn't blog yesterday afternoon, but was planning to write about our Valentine's Day dinner at an Indian restaurant called Copper.  We went on a double date with Nicole and Isaac.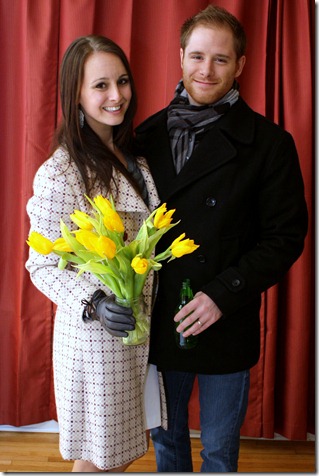 Dinner ended up being… horrible, actually (and I never say that… my expectations are pretty low, and I'm easy to please)!  We had reservations at 8:45 but they accidentally gave away our table, so we waited an hour at the bar to sit – even though I could see a ton of open tables.  The manager only comped our drinks and appetizers after we asked him to, and the entrees were totally overpriced ($17 for a veggie entree is ridiculous).  After such a seating disaster, you'd think they would give us the best table in the house, but they stuck us in a crowded and noisy room in the back.  By the time I sat down, I was so bitter that I refused to photograph my food. ;)  It was a shame because it was our special night out. I did, however, tip the waitress 20% because it wasn't her fault. 
But… I came home and slept and everything was right in the world again!
Plus, breakfast more than made up for our lackluster dinner out: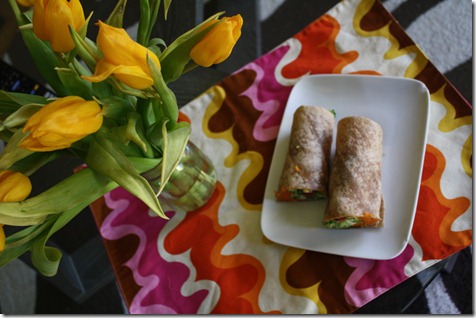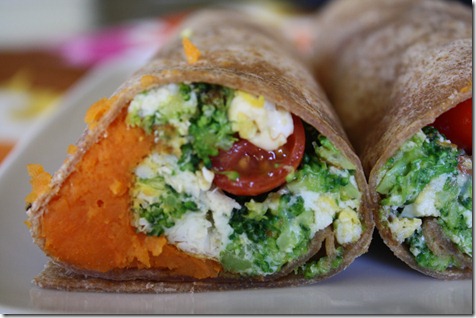 A new spin on the classic breakfast burrito!  In the whole wheat tortilla:
Mashed sweet potato
1 egg + 1 egg white, scrambled
Cherry tomatoes
Stir-fried broccoli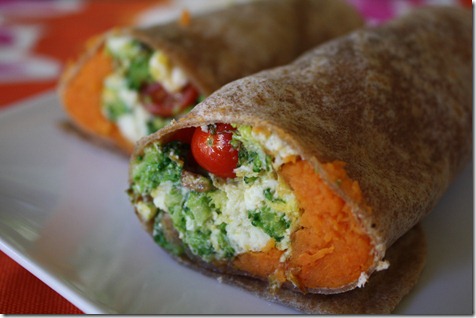 Eat-In February
I've decided to take you all up on a little challenge – Eat-In February.  This will be much easier because we're halfway through the month.  :)  I've been eating out too much ($$) and want to nip the habit in the bud, so for the next two weeks, I'm putting a kibosh on eating out. However, I will make the following exceptions:
Traveling for work tomorrow and Tuesday and will have to eat out.
Dad's birthday celebration is on February 16.
Other than that, it's going to be DINING IN in the Boyle house.  And that means lots of new recipes.  :)  This also means that I'm going to do more meal planning, so we'll see how that goes.
Have a wonderful Sunday, my dears!