As predicted, Jean Kilbourne's presentation was awesome.  I HIGHLY suggest you check out the video I linked to this morning because her talks are really so informative and thought-provoking.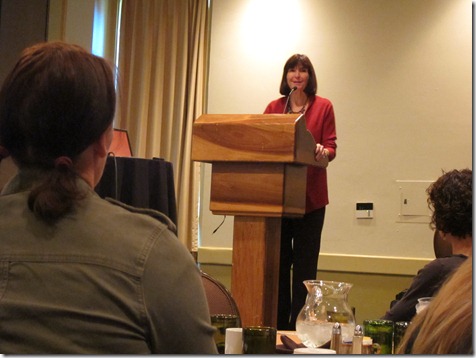 Some of the notes I took this morning:
The insane number of ads we see each day – some estimates put it as high as 3,000 ads as day! – have created a toxic cultural environment that sacrifices our overall sense of health and well-being for corporate profit.
Studies show that young men judge real women's bodies more harshly after viewing photographs of Photoshopped supermodels.
91% of cosmetic surgery patients are female.  The number of teens receiving plastic surgery has jumped three-fold over the past decade.
Advertisements teach us that that sexuality and sexiness is of the utmost importance for women and men.  There has also been a dramatic increase in the sexualization of young children in ads over the last 30 years. 
Jean ended on a positive note, stating that she's seen a cultural shift that is beginning to focus on health over size.  As Jean said, the solution to our nation's obesity and eating disorder crisis is not to make people hate themselves, but to transform our attitudes about health, diet, and exercise, and ultimately to accept our awesomely unique body shapes.
I think the biggest lesson that I took away from Jean's presentation is how important it is to be aware of stereotypes in the media and how these stereotypes influence the way we see ourselves and others.  Awareness and education are key!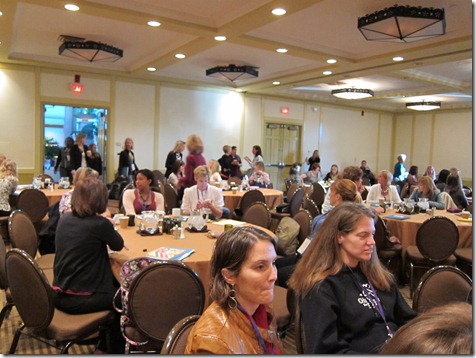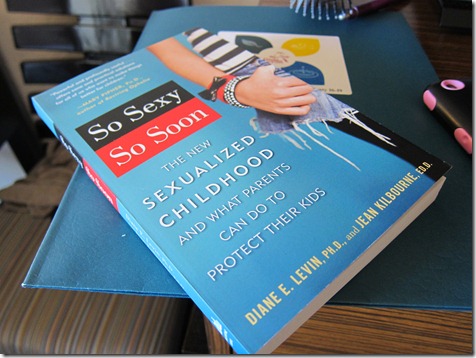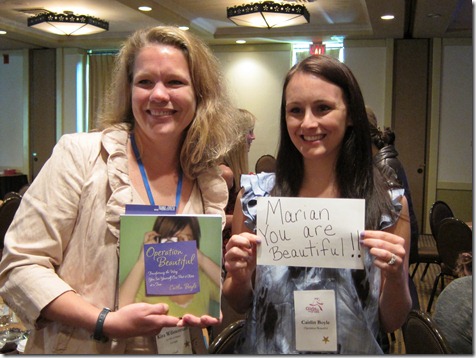 After the general session, the Husband and I took off to do our own thing.  I decided to go to the hotel gym and did 30 minutes on the elliptical.  I pumped up the resistance and held onto arm weights while ellipticalling and got an awesome workout in!
Then, we walked to Nourish for lunch.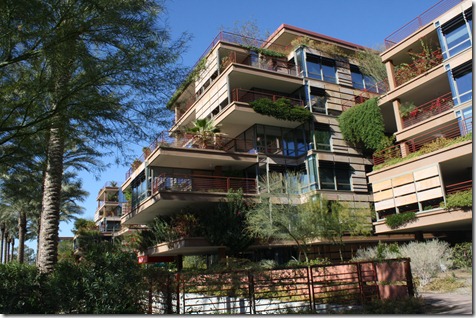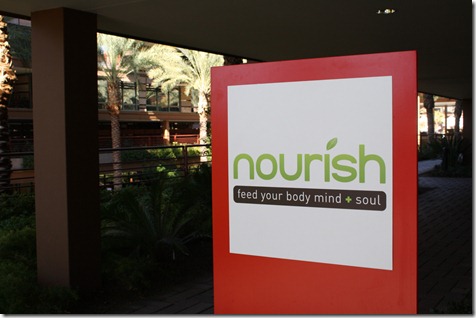 We had heard RAVE reviews from so many readers + conference attendees.  We tried to go last night but it's closed on Monday.  Glad we found another opportunity to try it out!
I started out with the Arnold Palmer, which was a mix of tea and lemonade.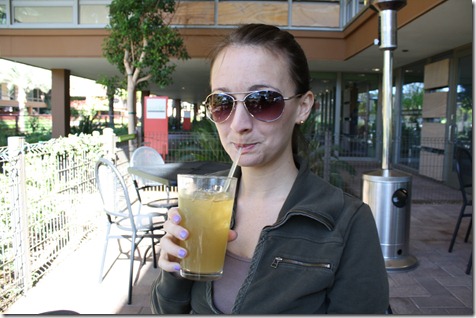 One awesome thing about the menu?  The intense color coding system, which easily described each dish as gluten free, lactose free, vegetarian, vegan, egg-free, nut-free, and dairy-free.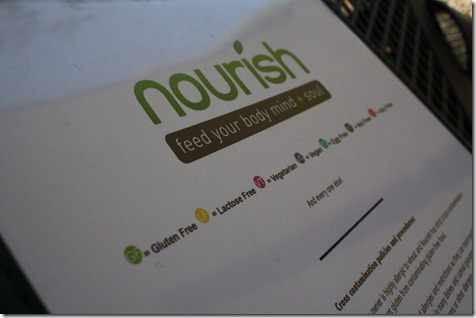 We split the roasted root veggies to start: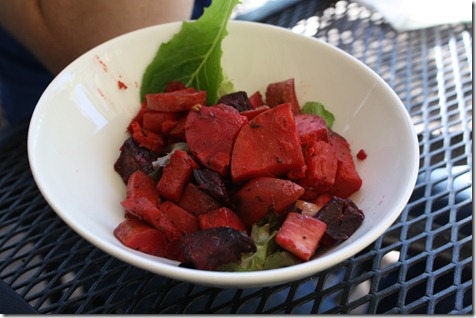 And I got the sweet potato and chickpea burger with sweet potato fries.  The burgers didn't come on a bun but a "bed" of spinach.  I was a little disappointed when my dish arrived because I was expecting more greens, but the burger was still good!
And last, but not least…
SPRINKLES!  The "original" cupcake bakery.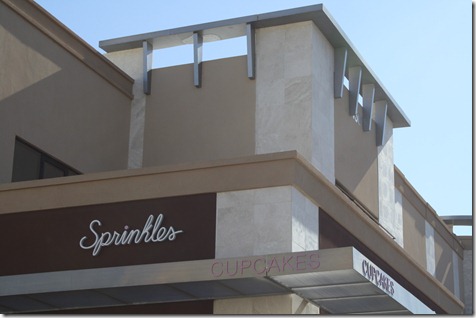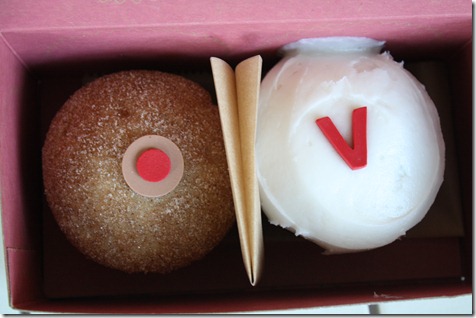 I got the cinnamon sugar, and the Husband ordered the vegan red velvet (hence the V).
Mine was awesome.  It tasted like a donut, actually!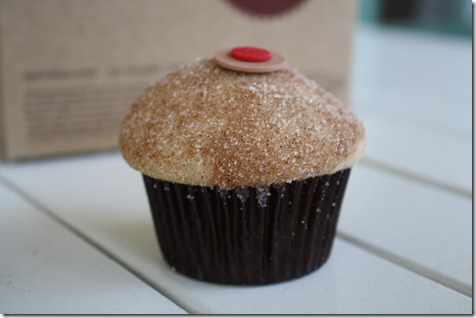 Well, no big plans for the rest of the day.  My big Operation Beautiful presentation is at 7 PM, so I'm going to spend the rest of the day prepping (by the pool, of course).
Have a great day!