I woke up this morning with purest of intentions to go to hot yoga, but when I sauntered outside to scrap the car, I was greeted by an icy, icy world.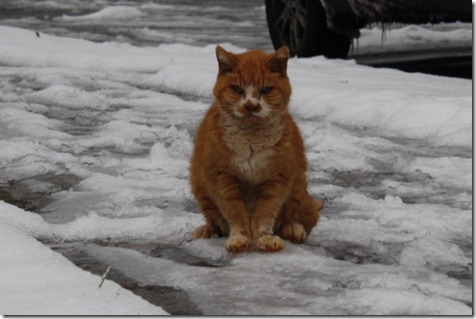 (I gave him food and a blanket.)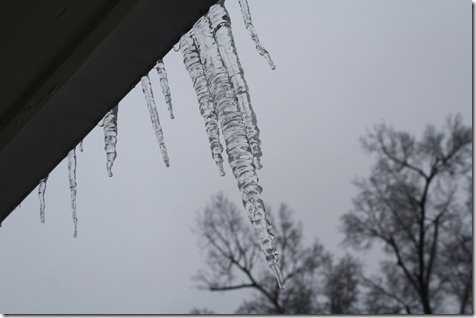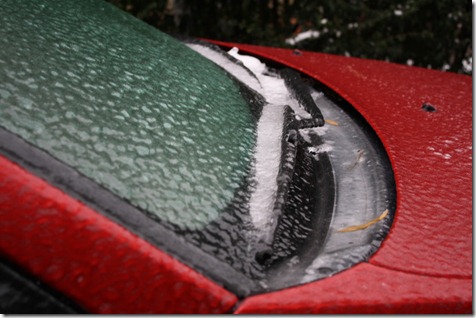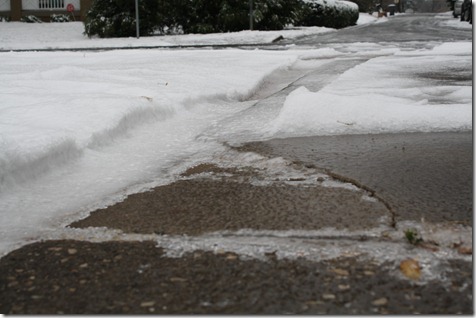 Um… right.  Drive in that? No thanks.  I think this morning falls under one of those 'don't leave your house unless absolutely necessary.'  Hopefully things will melt soon and I can make it to evening yoga.  🙂
Good choice!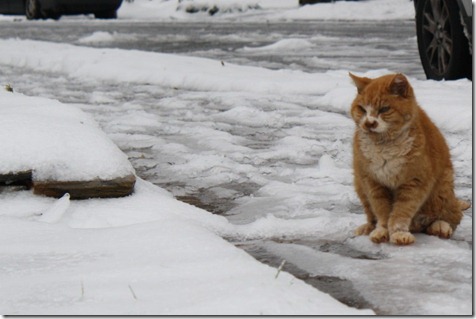 A different kind of breakfast: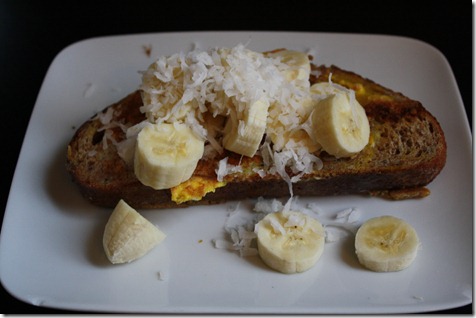 Instead of making regular French toast, this lovely brekkie is Peanut Butter French Toast!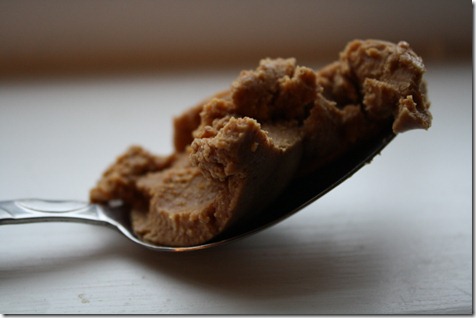 To make PB FT, I take a large scoop of PB (the scoop above was for two servings) and microwave it with some almond milk until it becomes runny – about thirty seconds.  Then, I mix in two eggs like I normally would and prepare as usual!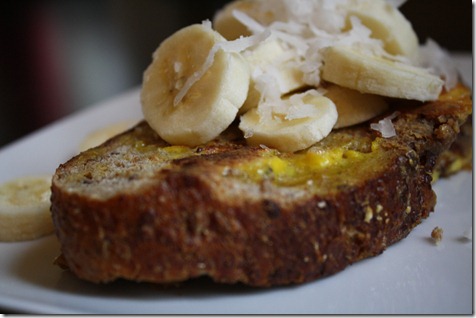 Topped with a banana and coconut.
Well… it's looks like we're still trapped at the house, but at least I can get work done!
Fun E-Mail of the Morning
Erin from Big Girl Feats wrote, "I loved your post about January Joiners and wanted to tell you what happened to me over the past week.  I've practiced yoga for the past two and a half years, and have been going to my third studio since late summer of this year. The studio offered a Groupon over the holidays, letting people buy a membership for the month for almost 60% off the price…which is awesome for bargain hunters like myself, but not awesome when people are all up in your spot before down dog! I walked in to my regular Tuesday night class and saw two 40-50 year old women in my "usual" space. I started to get mad and judge-y (even though I realized how ironic it was to judge people during a time/space where you're supposed to practice non-judgment!) By the end of meditation, I forgot all about it and by the end of class, I was all smiles. On Saturday morning, I went to class and was putting my jacket in the coat closet when the same two women walked inside. This time there were two men with them, who I guessed were their partners. I smiled at them and was about to go put my mat down when one of the women stopped me. "Were you in class on Tuesday night?" she asked? "Yes, Tuesday, I was there." I replied (wondering if she was going to ask me why I gave her the stank eye upon her arrival that class). "Oh my gosh, you were SO helpful. I sat behind you and watched you and tried to do what you were doing. You're so good!" I started laughing and smiled and said thank you. While we were setting up, I heard her point to me and say to her husband, "We're going to sit behind her because she knows what she's doing."  It reminded me that EVERYONE deserves support and a positive attitude when they start out on an exercise, wellness, fitness and health path. It reminded me that I didn't get where I am today without showing up at a studio and starting a routine at my YMCA. Taking that first step is the hardest. Thanks for featuring people who are brave enough to admit they are starting out on that journey and are proud to do so!"