Operation Beautiful has taken me to some pretty unique places that I might not have had the chance to visit otherwise:
and Orlando, FL several times, too!  But I was living there so I don't think it counts. 🙂
(If anyone in the Bahamas, Costa Rica, Greece, or Singapore wants me to do an Operation Beautiful presentation, I am open to traveling to those locations, too. :))
And now I'm in Cincinnati.  Hi, Ohio!  You are… cold.  And snowy.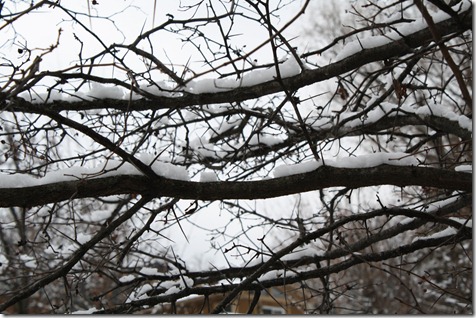 It's been a long day (and it's only 2 PM).  My flight took off with the sunrise.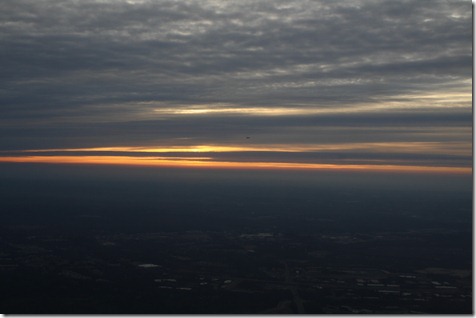 And for some reason, I was super afraid of flying today.  Very nervous.  I had to do lots of no-anxiety-allowed, positive thinking to get myself calmed down.  I hate flying alone for that very reason!
I did have work to distract me.  T-minus 18 days until the book is due!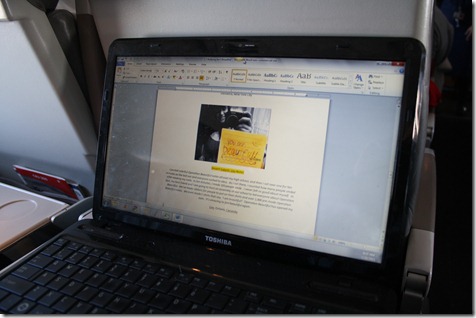 Upon arriving in Ohio, I rented a car and drove about 50 miles south of the Dayton airport for a lunch meeting.  I had some time to kill so I stopped at Starbucks, grabbed a coffee and a treat, and got MORE work done.    By the way, Gingerbread Biscotti are amazing!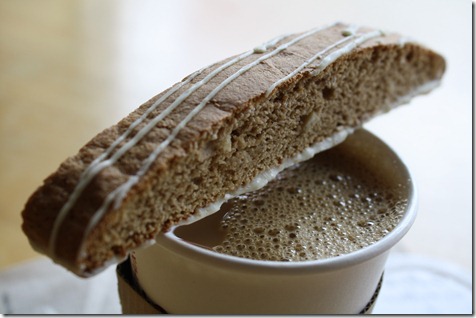 Three cheers for productivity.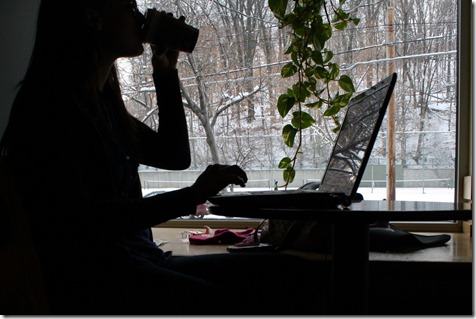 My lunch meeting was at the local Girls on the Run office.  I met the ladies at GOTR Cincinnati (Mary and Erin) during the Summit last week, and they had invited me to lunch. 
Actually, I think they just wanted an excuse to go to their favorite Thai restaurant. 😉
Upon Mary's recommendation, I got the tofu basil with brown rice.  It was delicious, and I ate nearly every bite (except those green peppers… I try to convince myself I like green peppers but I really do not).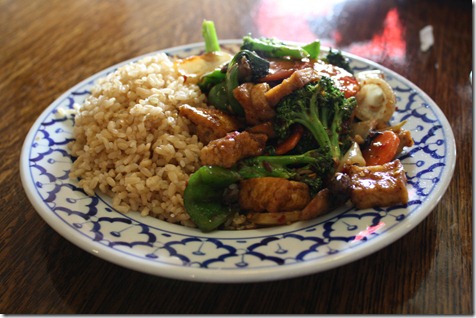 Back at the Girls on the Run office, I noticed an Operation Beautiful note on the front door! So cute.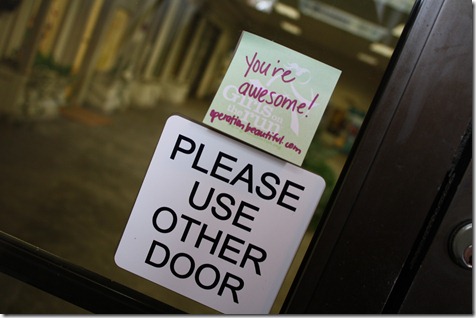 Are you in Cincinnati and interested in getting involved with your local chapter?
They always need Solemates!  You can be a Solemate even if you have a traditional work schedule.
You can be a running buddy during the Spring 5K.
Coaching for the spring season is currently closed, but you can apply to be a coach in the fall.
Mary also said the GOTR Cincinnati office does group runs every other Sunday (this Sunday is a run).  If you want to meet new friends, this is the way to do it.  They leave from the office, do 3 – 4 miles at a moderate pace, and then get waffles at a local breakfast joint.  If you're interested, check out the Cincinnati website or e-mail Mary at Mary@gotrcincinnati.org (she's really friendly!) for more details.
If you're not in Cincinnati but want to learn more about GOTR, check out this post.
So… I'm exhausted.  I need a nap before my presentation tonight.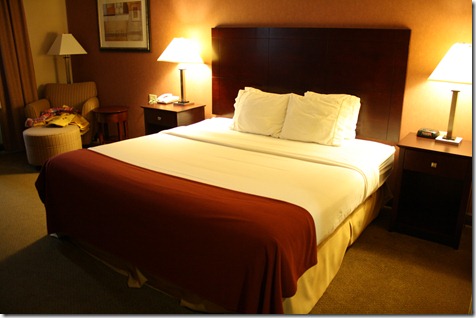 And since I actually packed my workout clothes, I better find time to get to the hotel gym, too, or lugging around all that extra stuff in my suitcase was a waste!