I think I'm becoming more urbanized because I've been eating so many meals out lately.  I feel like a New Yorker.  :)  This is certainly not budget-friendly, but I have to admit that it's really working out for my super busy lifestyle recently.
And hey, this awesome salad was only $6 from the local deli.  Considering some of the pricey ingredients, it's not a bad deal.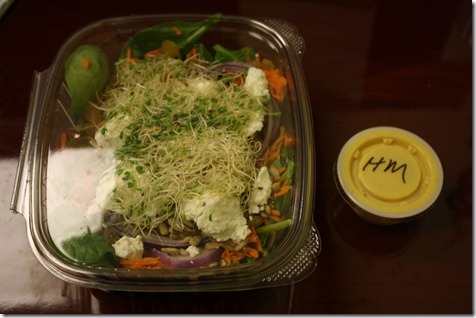 Spinach, goat cheese, onions, carrots, sunflower seeds, golden raisins, and lots and lots of honey mustard.  Although this salad looks small, it's really filling because it's so energy-dense with the cheese, fruit, and nuts.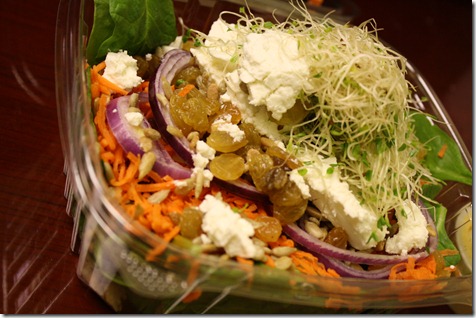 And yes, now I'm at the clinic!  My drive from Tennessee to Charlotte was fast and painless.
Hey – it's Maggie Valley!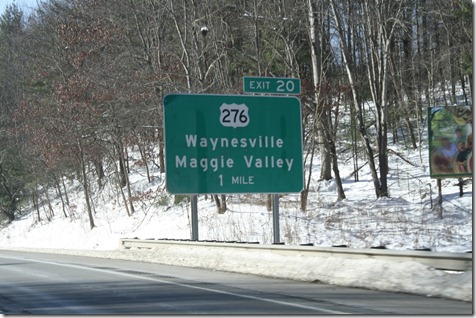 Ate an apple along the way (anyone else steal food out of their parents' fridge upon departure?):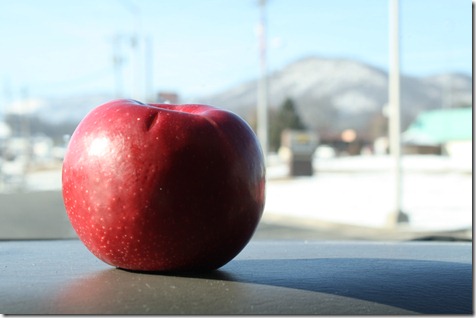 I was listening to the radio on the drive, and in an interview with Ryan Seacrest, Vince Vaughn remarked (paraphrasing, obviously):
Keep your mind where your body is.  Your mind and body should be equally present.  If you're at work, concentrate on being at work; if you're at home with your family, don't think about work.  
(However, taking breaks from your job to read this blog is perfectly acceptable.  Heh.)
Isn't that a lovely thought?  Since I seem to be juggling so many balls in the air, it's easy for me to "get ahead of myself" and think about other stuff when I should just focus on being present.  Not only would I get more stuff done, I'd probably enjoy life a little more, too.  🙂