Well, my trail run didn't happen as planned this morning.  Nicole and I both decided we were too busy to drive to a trail.  So, no workout so far today, but I'm hoping to run later this evening. 
So far I've spent the whole day doing this: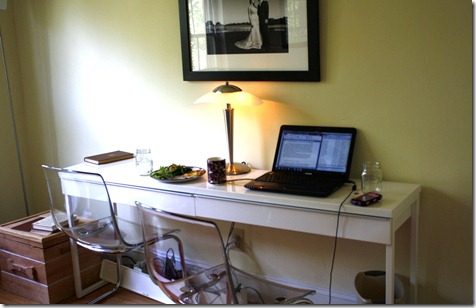 I'm in the midst of writing the second Operation Beautiful book.  I wrote the first Operation Beautiful book in two and a half months, from September 2009 to December 15, 2009.  I have a similar deadline for this book; it's due February 15th.  Yeah – that's intense.  Fortunately, it's not a 'traditional' book in that I'm only really writing 2/3 of it; the rest are based on awesome reader submissions.
I don't talk too much about the book-writing process on the blog, but it's been… interesting so far.  I kind of think writing a book is like running marathon (or having a baby?) – you have to forget how hard it was before you want to do another one.  Well, I forgot how hard OB1 was and now, I'm remembering as I write OB2.  :)  Don't get me wrong – I absolutely love writing and there's no way I would've inked the deal for OB2 if I didn't want to do it!  But it's such a long, creatively challenging process.
I've been writing about 3 – 8 hours a day, depending on the rest of my schedule.  Things this time around are a lot more complicated because of the clinic.  For OB1, the book was my only real priority but now I have to share my attention between a lot of different projects.  Not really being able to take weekends off because of my looming deadline is hard, too.
But last night, I realized something.  This thought hit me like a lightening bolt:
If I'm already doing everything I can, what else is there for me to do?
Then, I was reading a tween's submission for the book this morning and noticed a line in her entry: "I always think, 'What's the point in getting upset? It won't get me anywhere and who likes feeling mad?' It's not a great way to go and live, so I just don't do it!"
Oh, sweet relief – seriously, I cannot tell you how liberating these two thoughts are for me!  I'm doing everything I can do; why freak out over my deadline?  And what's the POINT of getting so stressed out?  12 year olds can be so wise.  :)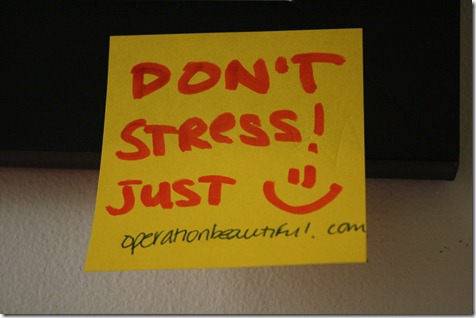 Amen!
Breakfast was whole wheat pancakes, grilled banana, and almonds: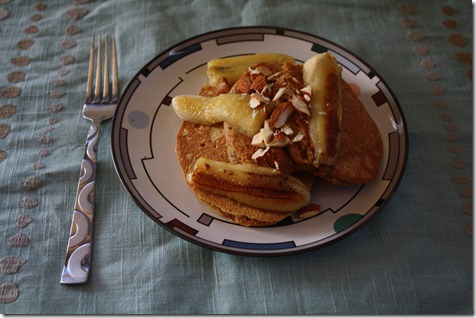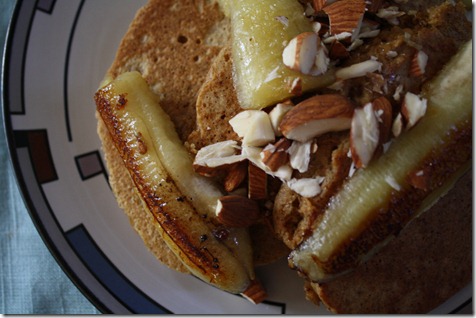 Mini lunch was leftover pizza (only one slice left; wahh!) and salad: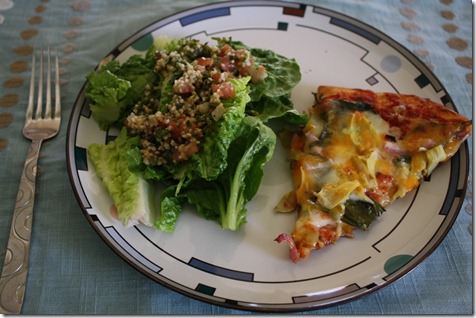 Back to work I go… Cannot wait to relax later, though!  🙂