Oh boy, oh boy!  Do I have a recipe for you.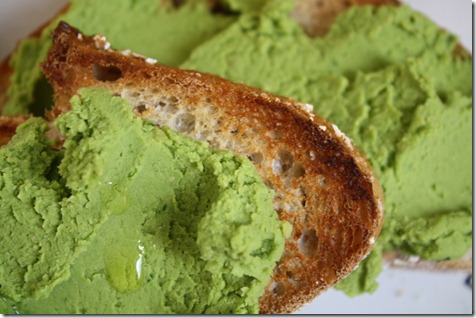 The Husband and I eat a LOT of hummus.  As in, the Husband has been known to eat a hummus sandwich for breakfast and lunch and dinner.  Hummus is yummy and healthy, but it's also expensive when you buy $4 containers from the store.
Happily, hummus is super easy to make – and I've resolved to do it more often!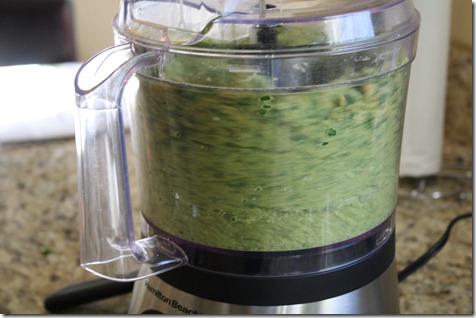 My favorite brand of store-bought hummus is Roots, which can best be described as dry (in a good way) and smooth.  I don't like overly watery hummus.  The texture of this hummus definitely comes close to meeting up with the famous brand!
Homemade Spinach Hummus
Ingredients (makes four + cups of hummus)
2 large 1-pound cans of chickpeas
1.5 cup packed raw spinach
1/4 cup tahini buttr
6 tablespoons water
Salt to taste (I used 3/4 tablespoon)
Pepper to taste (several shakes)
Juice of one lemon (1 tablespoon)
Directions:
Preheat oven to 375 degrees.
Thoroughly rinse chickpeas.  Drain and spread out on cookie sheet.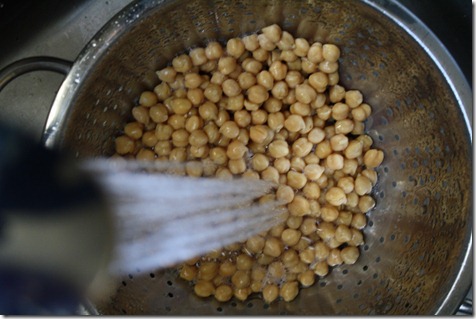 Bake for 25 minute, remove, and let cool completely (at least half and hour –very important!).
In a food processor, combine all ingredients and blend for at least 10 minutes, pressing down hummus with a spoon occasionally.  It will look clumpy until the end.
Put into container and refrigerate.
Serve and enjoy!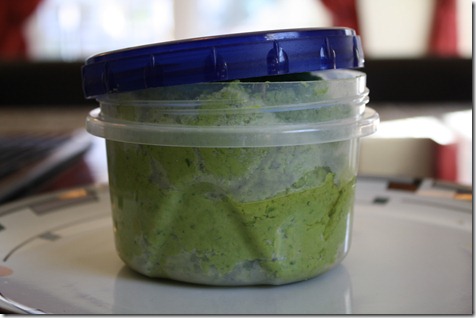 I think roasting the chickpeas before blending gives this hummus an awesome, unique texture.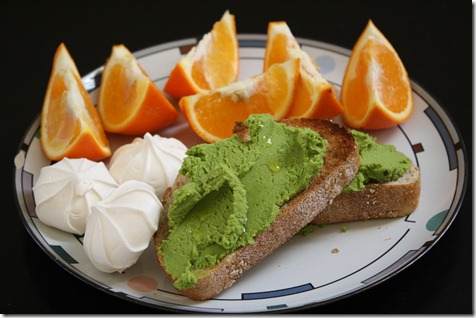 I had a big portion of spinach hummus on crusty whole wheat bread, plus vanilla macaroons from Trader Joe's and an orange. 
A perfect lunch, in my mind!
Foot Update
I attempted running for the first time in a week (I ran 7.0 miles last Thursday and injured my foot, who knows how).  I ran 0.75 mile and the outside blade of my left foot began to ache so I immediately stopped.  If I've learned anything after four years of running, it's that injuries never get better by running through them. I came home and biked for 20 minutes on the indoor training instead.  I'll try again on Sunday!
Do you have a homemade hummus recipe?