Let's get our barefoot on!
Today was my first day running in my new Vibram Sprints AKA the "barefoot" running "shoe."  I've heard from numerous sources that barefoot running is hard on your joints and muscles (especially the calves) so it's best to REALLY ease into it.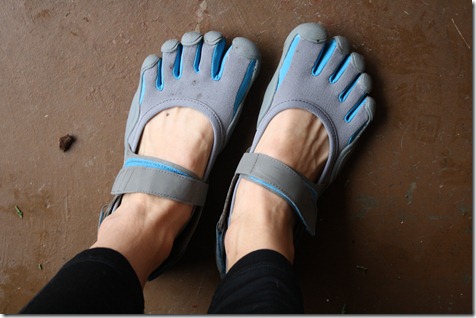 I decided to run one mile, loop back to the house, change into sneakers, and run another two miles (please note that some people in the comments section have suggested I start off even slower than one mile at a time, so this might be too much, too soon.)
Running with the Vibrams felt so – natural?  Fun?  Child-like?  But man – was it tough!  First of all, I am a MAJORAH heel-striker, as indicated by this action shot from my last marathon.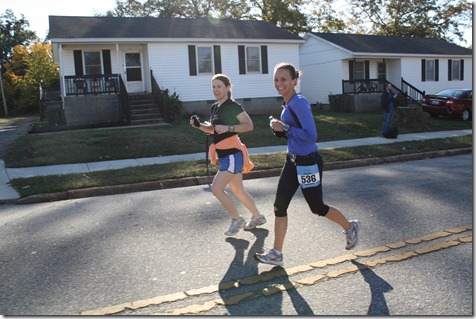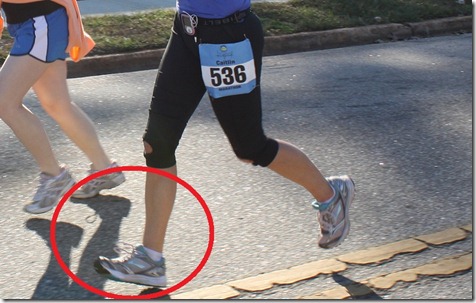 Please note Nicole's feet, which are correctly positioned.  My gait blows.
OUCH!  Running in Vibrams made me really realize how much I heel-strike and how truly painful it is – there is a LOT of force behind each step during a run!  So the first 200 yards or so were really awkward as I tried to figure out how to run without striking my heel against the concrete.  Once I got my gait under control, running barefoot felt so awesome – and fun!  It really made the mile fly by.  I didn't want to change into my sneakers, but I knew it was the right decision because my calves were already getting achy.
When I changed into my sneakers, I realized how CUSHIONED my shoes really are – I felt like I was running with marshmallows attached to my feet.  The theory behind barefoot running, of course, is that sneakers screw up your gait.  Our bodies were designed to run without shows on.  Not sure how convinced I am, but it sure was fun to test it out!
So, here's my plan for my Vibrams:
Wear Vibrams for one mile of two runs per week for about two weeks.
Then, wear Vibrams for two miles of two runs per week for another two weeks.
Start doing one three-mile run a week in Vibrams after a month.
Eventually, I'd like to run a race in my Vibrams, but I anticipate it will take a while for my body to adjust.
Lunch: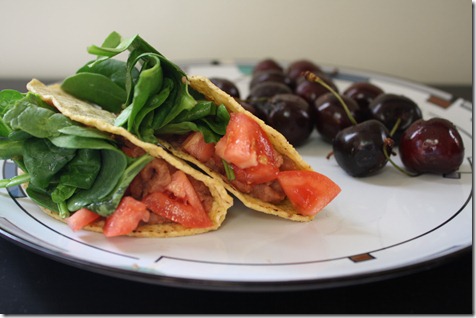 Two tacos with vegetarian refried beans, tomatoes, and spinach: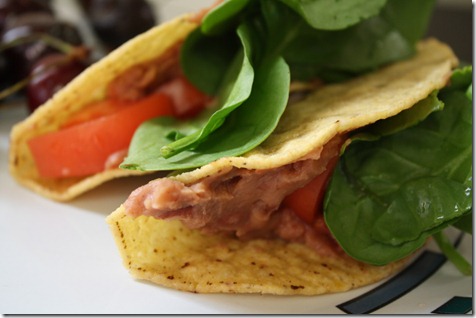 And cherries: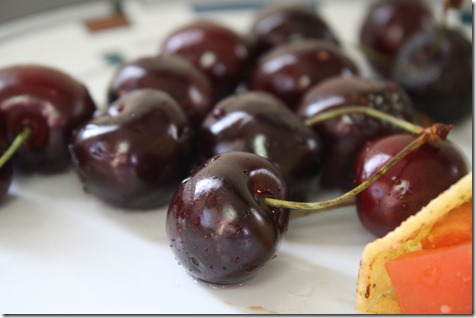 I was going to go to yoga this afternoon, but when I got back from my run, I realized how DIRTY the house is – so I plan to spend the afternoon scrubbing the house instead. Fun times!
Are you interested in barefoot running?  Have you tried it?  What advice do you have for others?