I woke up this morning craving banana bread.  I think mini casserole dishes are a kitchen essential for this very reason – why make a complicated loaf of banana bread when I make make a fast and easy single serving?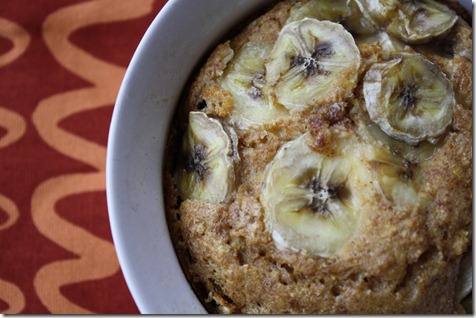 My goal for this breakfast was to make something sweet and tasty without adding extra sugar (I think I'm over sugar – at least temporarily – after the great Christmas cookie extravaganza of 2010).  This dish totally hit the mark.  I love the flavors the corn muffin mix adds to the dish, too.
Please ignore the giant chip on my dish.  Guess it's time to go shopping!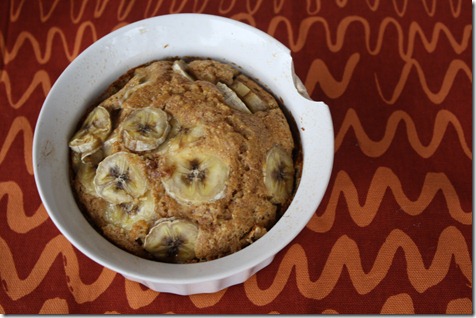 Banana Bread Breakfast Bake
Ingredients (for a single serving):
1 banana
1/8 cup raw oatmeal
1/4 cup whole wheat pancake mix
1/4 cup corn muffin mix (I used Bob's Red Mill)
Cinnamon to taste
1/4 cup almond milk
1/8 cup water
1 egg white
Directions:
Preheat oven to 375.
Grease mini casserole dish.
In a bowl, combine all ingredients except 1/2 the banana.
Use a spoon or fork to mash up the 1/2 banana in the mix.
Pour mix into casserole dish and slice rest of the banana on top.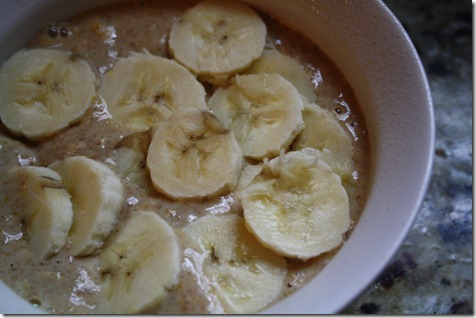 Bake for 24 minutes or until firm.
Let stand for a few minutes and serve.
Instant banana bread!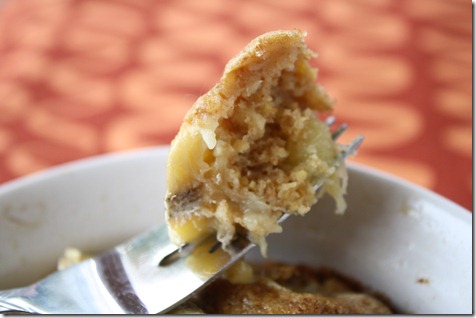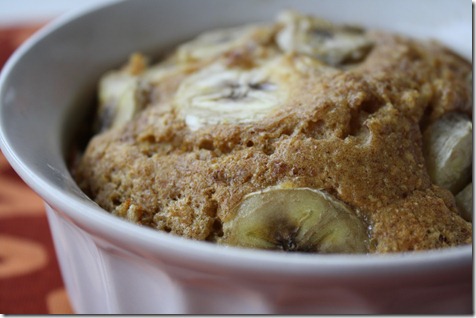 My plans for today include cleaning the house, exercising, and getting a ton of work done – I'm so behind because of the holidays.
I'm also going to go on my first (short) run in my Vibrams barefoot 'shoes'!  I'm super excited to explore barefoot running.  Stay tuned!