One of my New Year's resolutions is to "keep in better touch with my old friends by calling them more often."  I am proud to say that I had two long phone calls with my two BFFs tonight!  Lauren is currently in India for work, and Sarah lives in Virginia.  I wish we were all closer!  Three cheers for technology.  🙂
I also parked myself in Starbucks and wrote, wrote, wrote.  It's crunch time!  At some point, the Husband brought me a coconut water.  Love him.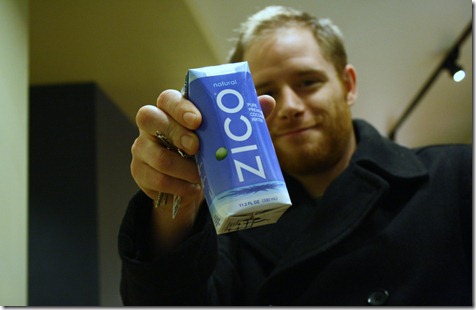 And I ate a slice of coffee cake (the baked goods begin calling to me after 5 hours or so) + a hot tea: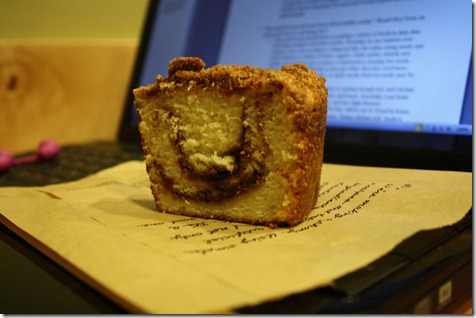 And I didn't even get to dinner until 10.  My work/sleep/eat schedule is so messed up.  Just two slices of hummus and tabouleh, an apple, and some steamed broccoli.  Fridge to table in 5 minutes.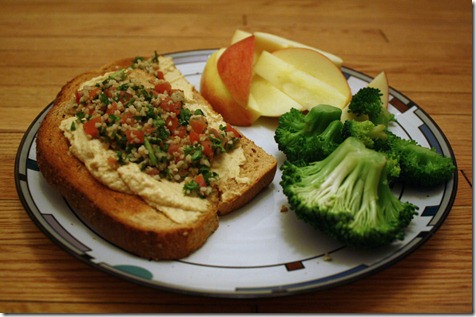 Something Fun…
Have you heard of the Dream Share Project?  The Dream Share Project is a website / documentary that encourages young people to share and pursue their dreams. 
After graduating from college in 2009, Alexis and Chip (boyfriend and girlfriend) began working at 9-5 desk jobs.  They felt unsatisfied in their new work, and knew they needed to do something to change their lives.  They hatched a plan to travel across the country and create a documentary film about learning what it means to chase a dream.  
After saving money for a year, Chip and Alexis both quit their jobs and took off from Washington D.C. to California and back, filming their days as they drove, camped, and interviewed people all over the U.S.  They are currently editing a documentary film about their trip and all of the advice and inspiration they learned along the way. 
Chip and Alexis interviewed people from a variety of career fields, including an Olympic skier named Megan McJames, non-profit founder Ocean Robbins (heir to Baskin-Robbins empire but chose to walk away from the fortune!), theater director Raelle Myrck-Hodges, a poet named Chinaka Hodge, and a brewery owner in New Orleans named Kirk Coco. 
They also came to Charlotte a few months ago!  The pair interviewed me about the Operation Beautiful movement and my career path.  Here's the video:
Does my voice sound like you expected it to?!  :)   
Check out the Dream Share Project to learn more and tell them about your dreams.  Chip and Alexis hope to sell their documentary to a network and fulfill their film-making dreams.