As much as I love to workout, sometimes I have to resort to mind tricks to motivate myself to actually lace up my sneakers.
Today's bribe:  Run 3.0 miles with speedwork and you can go out to lunch!
Done and done!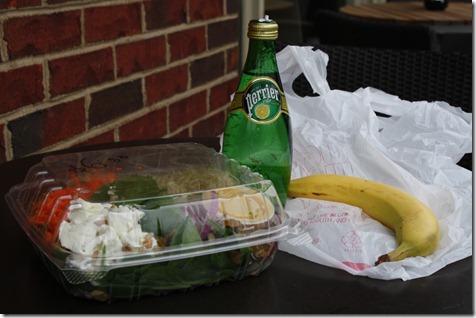 I wasn't running on a track or using my Garmin 305, so I didn't approach speedwork with any real plan.  I just worked in speedy bursts and tried to run 10 seconds longer than I thought I could hold on for.  Although my foot hurt a bit initially during my run yesterday, it felt fine afterwards and today during my run.  So maybe I'm healed!  🙂
My reward was a spinach salad with onions, carrots, golden raisins, sunflower seeds, and a hunk of goat cheese.  With honey mustard dressing.  Mmm.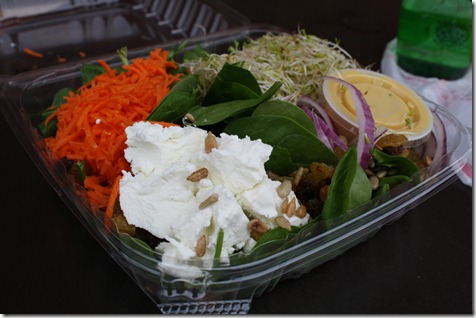 + a banana for snacking later.
Speaking of rewards… I was talking to a teacher last week about how well "gold star" charts work in her classroom and decided to try the same technique on myself.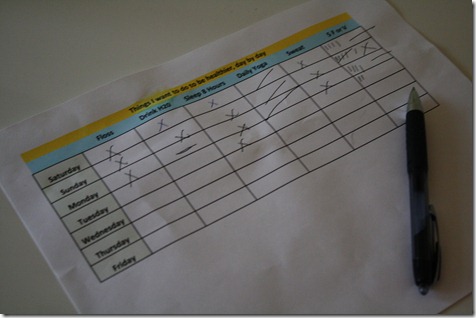 I printed out a chart for the week and listed some 'healthy goals' horizontally across the top.  Down the side is each day of the week. 
My goals include flossing, drinking water, sleeping 8 hours, daily yoga, daily sweat (some sort of cardio), and 5 fruit and veggies.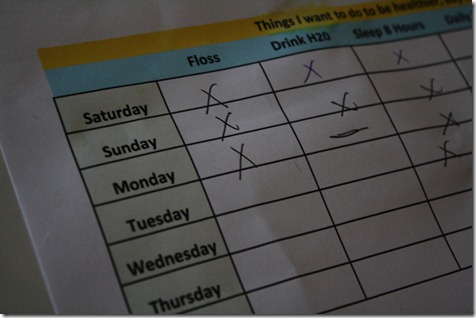 I fill out the chart at night but it's kind of fun to think of it throughout the day.  For example, I was thinking about getting a bag of chips for my snack but opted for a banana when I remembered my chart. 
No success yet on working in daily yoga.  Win some, lose some. 🙂