Get in my belly!  I think I am entering holiday treats overload.  Eating white chocolate chip pancakes at 1 AM put me over the edge.  I'm at the point where I don't want any more Christmas cookies (ask me about this again tomorrow).  All I want to eat today is really simple, really wholesome food. 
Our fridge being bare of everything but veggies doesn't hurt things!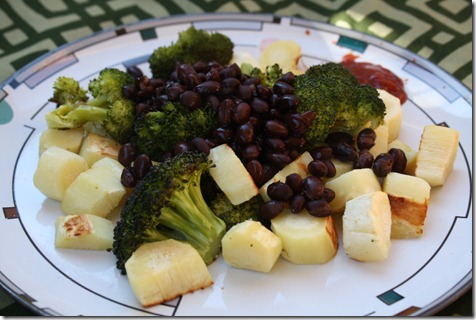 Just a big plate of olive oil-roasted parsnips and broccoli, with black beans on top.   Seems like a light meal, but the starchiness of the parsnips filled me up.  Plus, I have basically zero appetite after last night's festivities.   Oh and we have about 4 heads of broccoli to eat before tomorrow.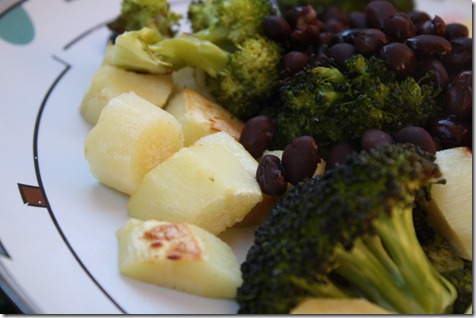 With ketchup for dippin'.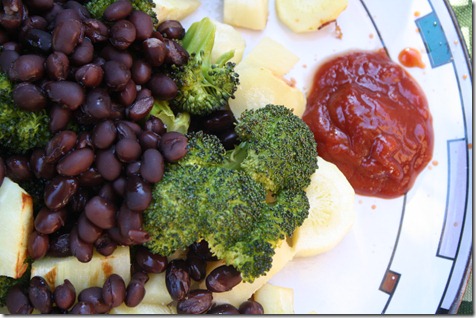 First of all… I love how many people have emailed or tweeted to say they have socks in their hair today! Hah! 🙂
Secondly, I have to talk about Pandora One some more.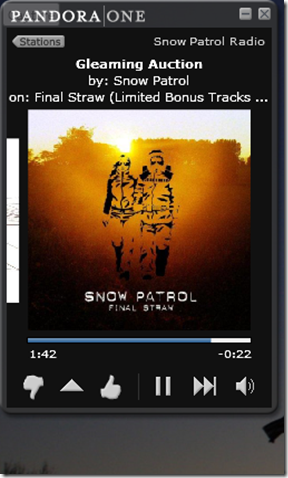 The Pandora One desktop app ($36 for the year) is so awesome and so, so worth the money.  I have seriously fallen back in love with Pandora because of the desktop app.  I spend a lot of time at my computer and having fun new music is clutch.  This would be an AWESOME last-minute holiday gift (and hey, you don't even have to go to the mall).
Gonna buckle back down to work, and hopefully squeeze in a run later.  We've got to clean the car out before our road trip, too!
PS – Apparently the Chex Mix is called Puppy Chow / Snowman Poop / Muddy Buddy.  Here's a recipe!