As you may know, I'm currently writing the second Operation Beautiful book, which will be geared towards tweens and teens.  As I did for the first book, I'm running a contest to encourage people to send in creative and fun notes within the tight deadline (plus, you get to be in the book!). 
If you're unfamiliar with Operation Beautiful, check out the most recent post.
Although the book is geared towards tweens and teens, the book will include notes from adults, too.  The adults' stories will reflect on their own tween experiences and will hopefully help provide readers with a some perspective. 
Therefore, there will be TWO winners for this contest:
An adult aged 17 +
A teen or tween aged 16 or younger
The winners' (+ many other entries!) notes will be featured in the upcoming book, which will be released in Summer 2012.  The two winners will also be able to select ONE of the following grand prizes – whatever their little hearts desire!  All of the prizes will be paid out of my own pocket (i.e. this contest is sponsored by yours truly).
Garmin 205 Running GPS Watch – Valued at $115
$100 Donated to the Charity of Your Choice or to a Friend/Family Member in Need (I trust you'll donate the money to someone who needs it…)
(Source)
A Bicycle of Your Choice from Toys R Us (Maximum Value $80) + $20 Gift Card for a Helmet – Valued at $100
$100 Gift Certificate from Spa Finder to Use on Back Massage or Mani/Pedi at Salon of Your Choice
(Source)
Glee Karaoke Machine + Glee Soundtrack (#4) – Valued at $80
Coach Large Wristlet (Any Style, You Select!) – Valued at $98
$75 Gift Card to Toms Shoes (About 2 Pairs of Shoes)
Sounds pretty epic, right?  :)  If you'd like a chance to win one of these amazing prizes:
Simply sign (or have your parents sign if you're under 21) this release form and either scan/email it to me at operationbeautiful@gmail.com or mail it to me at the address on the top of the release
Email me (operationbeautiful@gmail.com) your Operation Beautiful photograph and indicate in the email that it is for the book contest (please note the photographs must be taken with a camera, not a cell phone)
That's it! :)  The contest winners will be announced on January 26, 2010.
For the notes, I'm looking for notes with creative phrases (beyond the basic, "You are beautiful!") in interesting places (like on street poles, written in chalk, on magazines, in the grocery store).   Here are two examples of winning notes from last year's contest: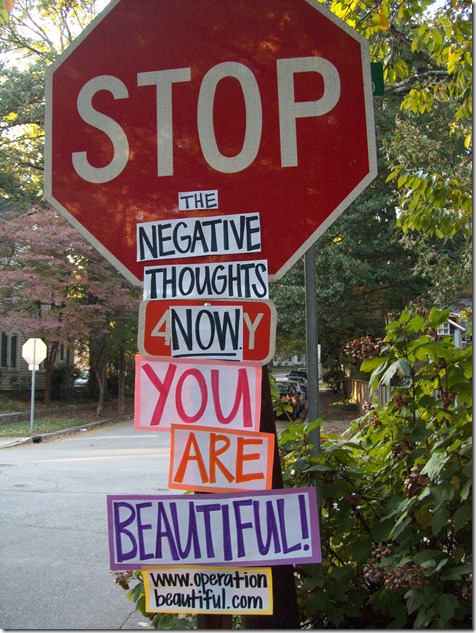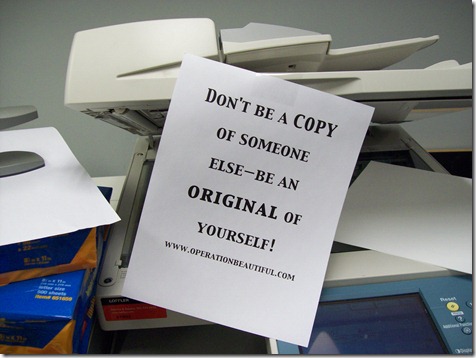 (PS – If you've already sent me a note for the second book, you're automatically in the contest)
Thanks in advance for participating and spreading the Operation Beautiful love!
If you know any women, men, teens, or tweens who would like to participate in the contest (perhaps a fun holiday activity with your little cousins?), please pass on the word!
Happy holidays from Operation Beautiful and Healthy Tipping Point! 🙂 Thanks for a great year!