Sometimes, when you want the onion rings, just get the damn onion rings.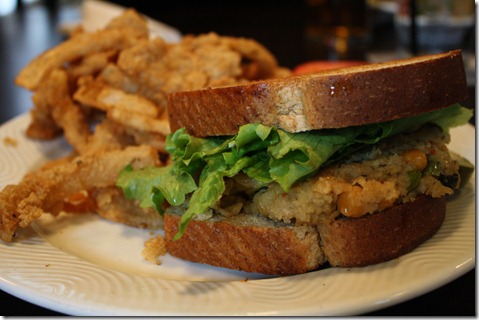 That's going to be the subtitle of my next book (kidding).
Seriously, though.  I love onion rings.  They are probably have zero redeeming benefits (if someone can tell me an awesome fact like, "Onion rings boost good cholesterol," I will love you forever).  But MAN – are they good.  And you know what?  There's only so many times you *want* to opt for the side salad.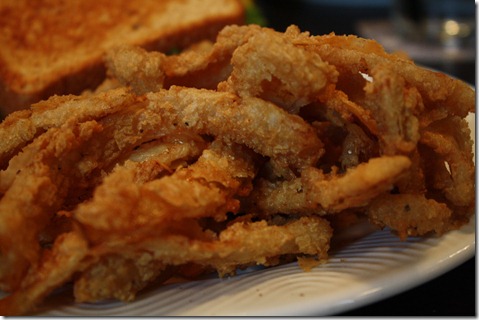 Not only did I have wonderful onion rings for lunch, I also had this (pretty good) veggie burger.  We were forced to try East Blvd. Grill because our favorite spot (Big Daddy's) was rammed.  This veggie burger doesn't hold a candle to their black bean burgers, although I did like the chunks of zucchini and chickpea.
I snagged some of the Huz's beer, too.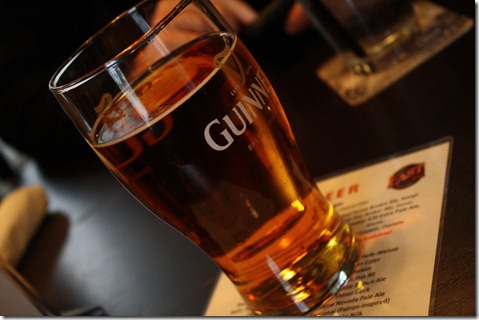 The Husband and I enjoyed a nice lunch after working at the clinic for about 3 hours this morning.  I was ready to hit the floor, though, by the time we left.  I was POOPED from the GOTR 5K.
I would like to add that Husband is officially a Twitter addict.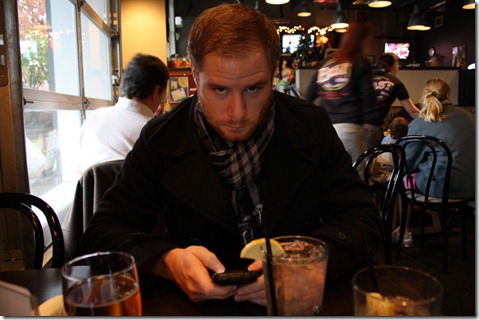 Ha!
After a long, delicious nap, I ran to the grocery store because I had just one meal in mind for dinner.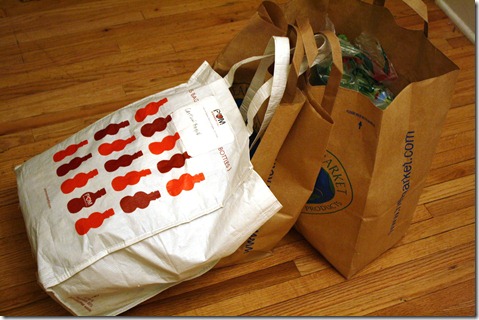 Salad, beautiful, sallllllad!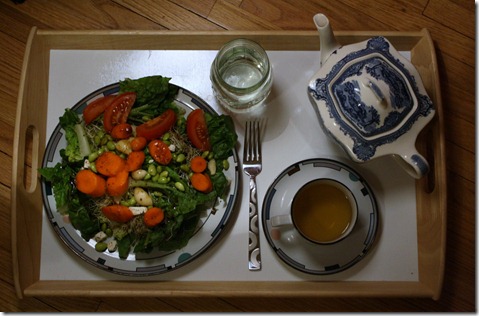 In the mix:
Romaine lettuce
Carrots
Tomato
Hunks of pre-cooked peeled and roasted garlic
Edamame
Feta
Sprouts
Balsamic vin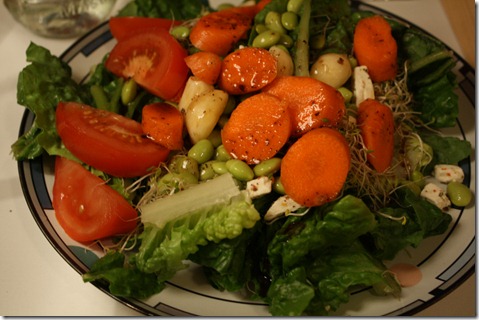 I am staying in tonight and sipping herbal tea.  I foresee thawed thumbprint jam cookies in my future.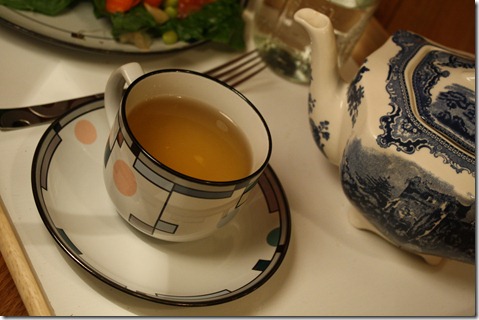 I had to beg off attending the ACC championship activities going on in Uptown Charlotte to work. 🙁 I really need to get some writing down, and with such a tight deadline for the next Operation Beautiful book, there is no time to spare.
I played Taxi Caitlin and took Hus to Uptown so he can celebrate with friends.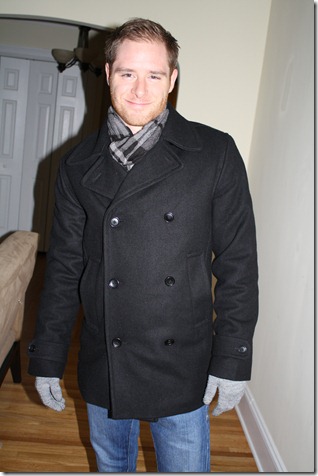 I felt like I was dropping my teenager off at the mall.  "Be safe!" and all.
PS – YES!  It flurried today in Charlotte.  🙂