Good morning!  Today is travel-back-to-Charlotte day, and I hear it snowed while we were gone!  Hope it isn't all melted.
We woke up slowly, and then I munched on a leftover dinner roll and contemplated a run.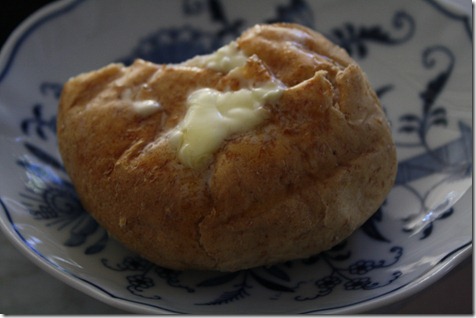 It took forever but I finally motivated myself to lace up my shoes and go for a run.  It's actually pretty cold in Florida today (around 35?!) but the scenery more than made up for it.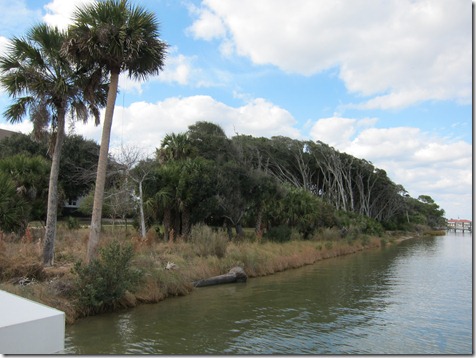 Favorite… place… to… run… in THE ENTIRE WORLD.  I am not exaggerating.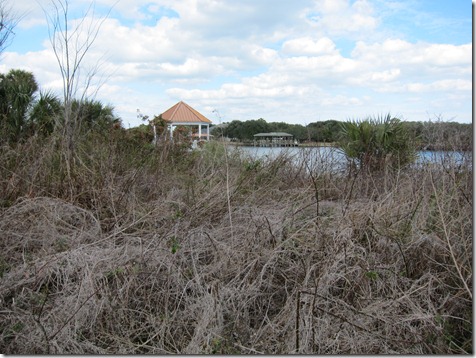 I finished 3.0 miles in about 30 minutes.  I barely broke a sweat though because it was so chilly!
Came home, packed up our suitcases, and sat down for a breakfast with the family.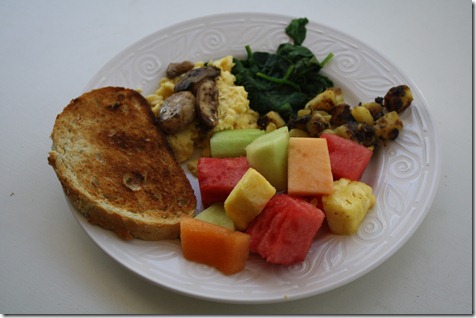 My sister-in-law cooked up this amazing breakfast: toast, fruit, scrambled eggs, steamed spinach, home fries, and mushrooms.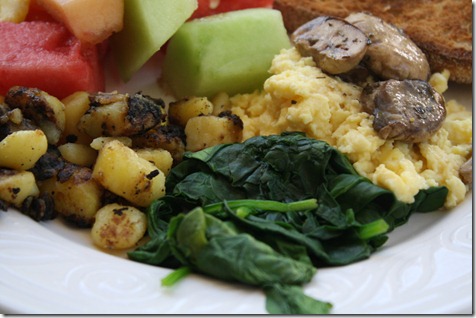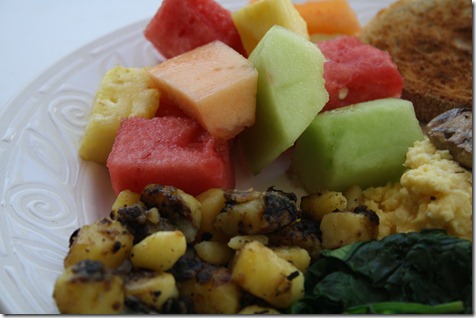 An Athletic Rut
So – I'm hoping you all can help me out, because you always have such good advice.  I've really been struggling with being in a workout rut ever since my October 30 Marathon.  I'm sure some of you will giggle when I say this, but I really think of myself as an "athlete" and think this helps motivate me to work out regularly.
But lately, I've been struggling to see myself as an 'athlete.'  Exercising, while I still love to do it when I'm out there, feels like such a chore initially.  I'm not sure if it's post-marathon blues, my first winter in Charlotte, burnout, a nagging minor IT band/knee injury, or what – but I cannot get myself mentally excited about exercise lately!  I'm still working out 4 – 5 days a week, but my hours have dropped from 5 – 6 to 2 – 3 per week, and I just don't feel as mentally or physically behind my workout efforts as I have for the past 4 years. 
I've tried all my tricks, including:
Sign up for an epic race.  I'm doing the National Half Marathon in March.  One thing I think will help my mental motivation is to create a training plan ASAP.  I've just been doing whatever workout I feel like each day, and I think I perform better under a plan, even if that just means planning out a week in advance.
Buy fun new running gear.  I am REALLY excited to try using my Vibrams and explore barefoot running.  I've heard that I really need to ease into barefoot running, so I'm going to begin by walking James around the neighborhood in my Vibrams.  I ordered some Vibram socks, too, so I can wear them during the winter.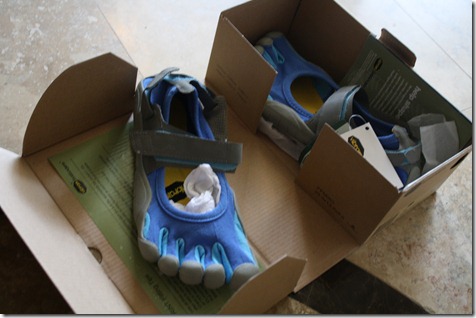 And last, but not least, I got this awesome indoor bike trainer called the Motivator for Christmas as well.  This will let me ride my road bike inside (while watching television)!  I'm hoping this will increase my motivation because my body doesn't enjoy running 4+ days a week, and I would love to be cycling more, but it's just too cold!  I'd like to do another Olympic Triathlon in the Spring, so this is perfect.
I'm hoping these tricks will help boost my mental motivation and end my slump.  I'll definitely let you know if these dial it up!
Any other tricks that I should try to boost the mental motivation?