Catching up on weekend posts?  I ran the Girls on the Run 5K!
Happy Monday! 🙂 I'm really hoping that I can bang out a productive week.  Here's to trying, right? 🙂
Got things started bright and grilled with a Grilled Banana Sandwich.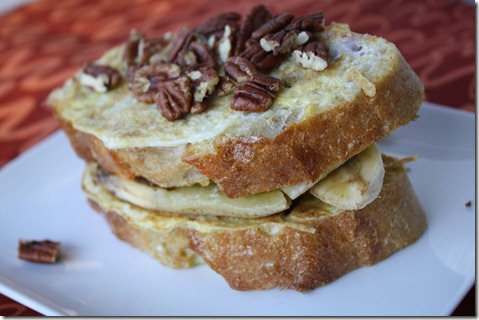 Oh, wonderful stack of ooey, gooey goodness.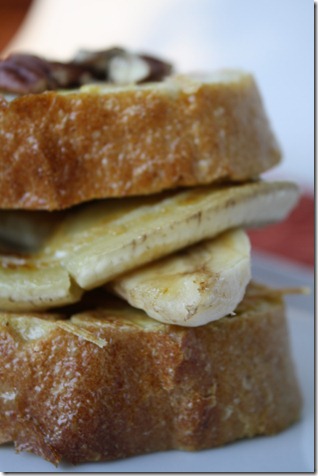 And after getting some work done at home, I headed to the clinic with the Husband to see some patients.
I packed my lunch in just 2 MINUTES (yes, I timed myself!):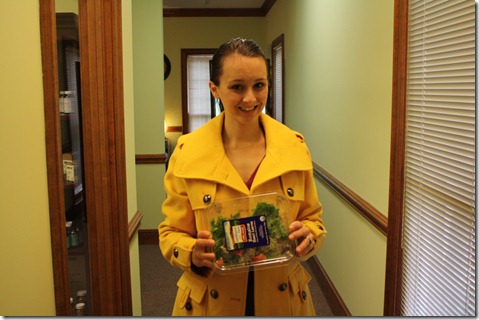 Into the romaine lettuce container went:
Sliced tomatoes
Feta
Sprouts
Edamame (I pre-cooked and stashed a few servings in a tupperware)
Craisins
Pre-cooked cloves of garlic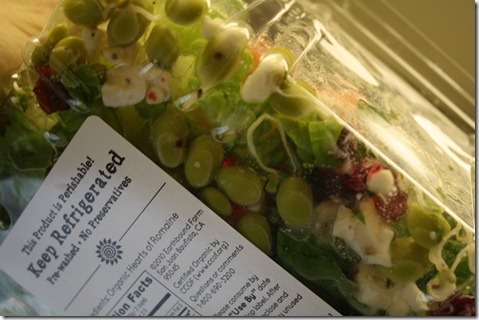 This is definitely the kind of salad that fills me up! 
Oh, and before lunch, I had an amazing 'medical' massage from Donna Mathis (contact info is here; I tried  to convince her that she really needs her own website!).  The Husband has been networking with Donna for a while, and she offered to give me a free massage so I could 'test-drive' her services and better recommend her to patients.  It was THE. BEST. MASSAGE. EVER.  She specializes in orthopedic and sports massage, so she did a number on my IT band and back.
Donna said to drink lots of water and skip my run today, so I'm going to take time off.  Which is fine by me.  🙂
Going to close up the clinic for the day and hole up at Starbucks to plow through some work.
What ingredients are key for getting a salad to stick to your ribs?  I need some sort of cheese + beans/tofu.