Rush, rush!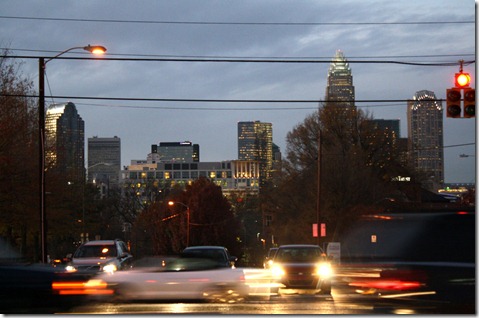 Despite my miserably slow start to the day, I ended up getting a lot of work done.  I wrapped up the initial outline of the Operation Beautiful II book.  Although I'm mostly looking for tween and teen stories for the book, I'm going to include an "It Gets Better" section in the chapter about bullying.  A few other bloggers/tweeters gave me this idea, and I think it's fabulous.  I'm going to look for stories from adults (like you?) about being bullied / being a bully really soon.  I think the bully-er perspective would be really interesting.  I'll post a link to the submissions page when it's up (hopefully tomorrow!).   
After writing, I rushed to Statesville, which is about an hour north of Charlotte, to talk to a group of Girls on the Run coaches about Operation Beautiful. 
Ate an apple on the way: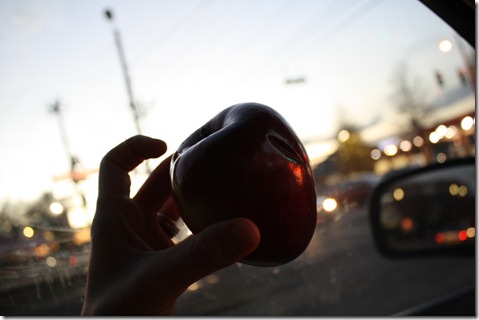 The dinner was for 25 coaches and featured an awesome, tasty, and healthy dinner!  GOTR tries really hard to promote healthy eating so I liked that they made the effort to have a big salad bar with loads of veg instead of hosting a pizza party.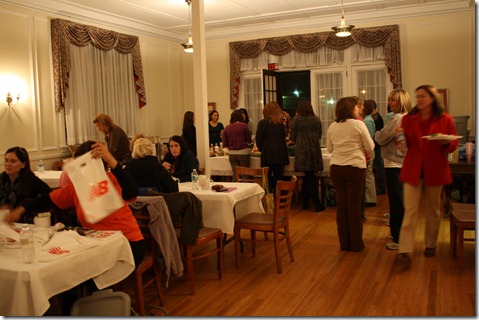 The salad bar included goodies like:
Organic greens
Shredded carrots
Tomatoes
Broccoli
Fruit salad
Nuts
Cheese
Edamame salad
Cucumber
Hummus
Pita chips and sweet potato chips
Pumpkin seeds
Raisins
Grilled chicken
Black beans
Rolls
I had a salad with edamame, tomatoes, rolls, cucumbers, greens, sweet potato chips, and hummus.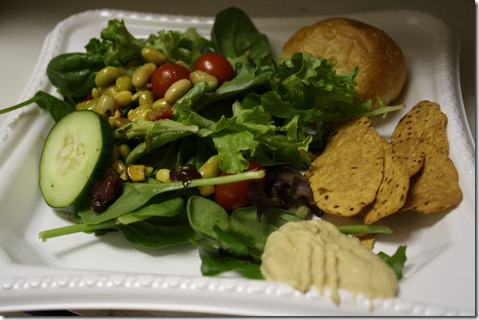 I went back some more carbs + cookie!  Mmm.  The cookie was delicious and the perfect drive-back snack.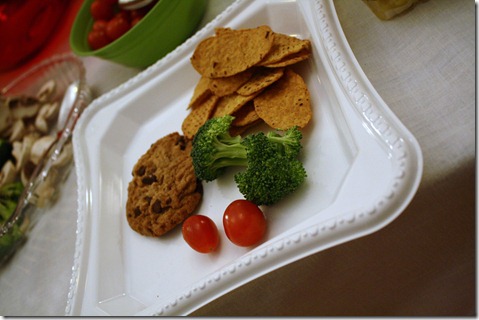 The presentation went well!  :)  Everyone was so nice.  I can't believe the GOTR 5K is on Saturday.  The Spring season doesn't start until February – I'm going to miss coaching for the next few months.
I WILL sleep well tonight. 🙂