I am trapped at the clinic, stinking up the place.
I normally dress much more professionally when I moonlight as the Husband's secretary, but I had to run over from Girls on the Run coaching / date with my Dad.  However, this is a good opportunity to explain to patients that my Husband plans to donate 10% of his first year's profits to GOTR!  Yes, it's true.  :) 
By the way (shameless plug), if you're in Charlotte and want to try acupuncture, the Hus is running a special where your first appointment is freeeee (he knows you'll want to come back).  E-mail me for more info (caitlinjboyle@gmail.com)!
Anywho – coaching was great.  Counting laps with silly bands was an excellent idea, and the girls all finished the 5K.  We had some feet-draggers, but some sprinters, too. The lead girl finished in 38:00 or so (and, I'll confess, we rounded down on measuring out laps because the girls tend to cut corners, so it's more like 3.6 if she ran the whole thing).
We all ate big chocolate chip cookie to celebrate our practice 5K.  Yum!  They also got to break through a streamer finish line and won plastic rings.
After coaching, I headed over the Dad's RV.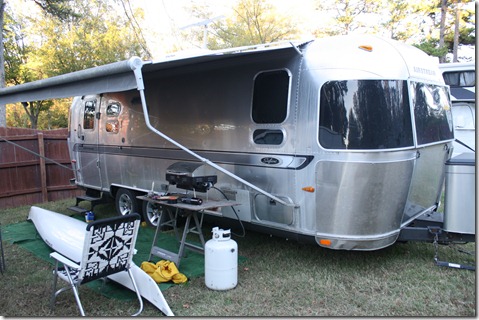 We sat out on his little patio and I ate a PB sandwich.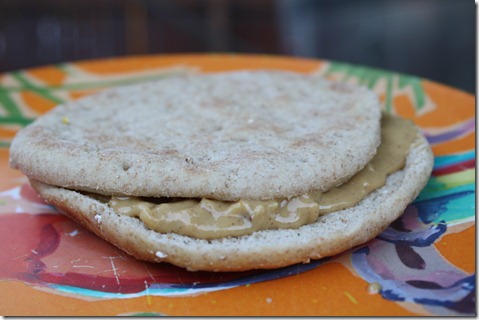 Since I'm trapped at the clinic and craving vegetables, I ran next door and got a salad to supplement my PB sandwich.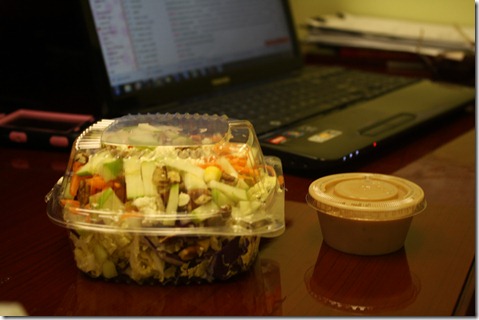 It looks little but it sure packed a punch!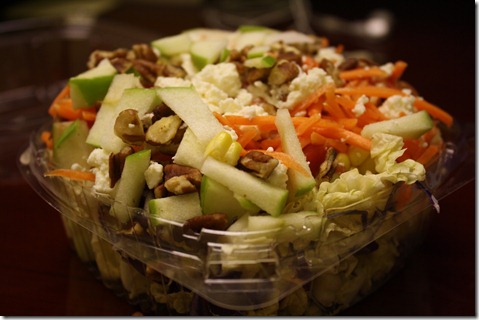 In the mix:
Napa cabbage
Apples
Pecans
Carrots
Corn
Tomatoes
Feta
Mmm.  Will probably munch on a few pieces of buttahed toast or something when I get back to the house, too.
And last, but not least – I will weigh in with my final thoughts on the Sleeping Nekkid post.  Thanks to your comments, I now realize it's pretty weird that I don't think allowing my two dogs to sleep in bed with me is gross, but I do think it's gross to re-wear a shirt two nights in a row.  That being said, I'm going to cut down on our laundry load by re-wearing nightgowns.  But never (never!) shall I go commando.  I'm still concerned about the 1 out of 1,000,000 chance that my house will catch on fire.
Oh – AND: VOTE for Operation Beautiful to win the Amway Positivity Project!  If we win, I'll donate the ENTIRE $10,000 PRIZE to Girls on the Run International.  No registration required to vote – just a little click!