I've been eying The Non-Dairy Queen's Pumpkin Rice Pudding for days.  I was so excited to make it for breakfast today, but quickly realized it required over an hour of baking.  If I had planned ahead, this would be fine – but I was starving!
Enter:  Speedy Pumpkin Rice Pudding.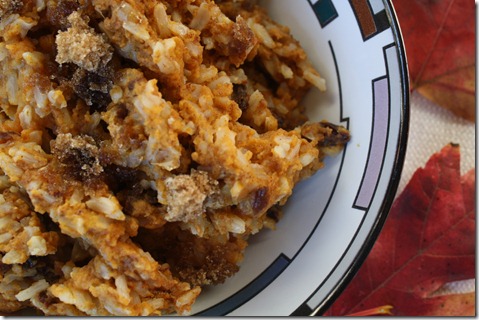 This very unique breakfast only required 20 minutes of prep time + cooking, which is about how long it takes me to make coffee, walk the dogs, and wash my face.  Morning chores over = breakfast time!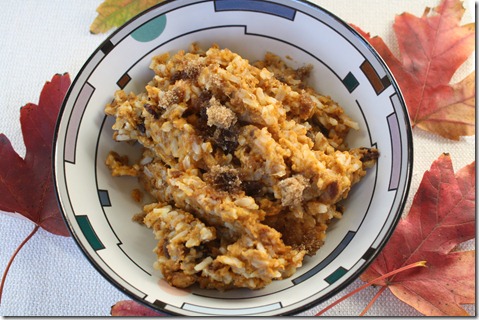 Speedy Pumpkin Rice Pudding (inspired by the Non-Dairy Queen) 
Ingredients (for one serving):
1 cup cooked brown rice
1/2 cup canned pumpkin
2 tablespoons almond milk
1 egg white
1 teaspoon of cinnamon
Drizzle maple syrup
1 tablespoon raisins, chopped
Several almonds, chopped
1 tablespoon brown sugar
Directions:
Preheat over to 425.
Grease a medium-sized casserole dish.
In a small bowl, mix cooked rice, pumpkin, milk, egg white, cinnamon, maple syrup, raisins, and almonds.
Spread mixture in bottom of casserole dish.  The goal is to spread it thinly – less than an inch – so it cooks and browns quickly.
Bake for 17 minutes.
Scoop into bowl, top with brown sugar, and eat!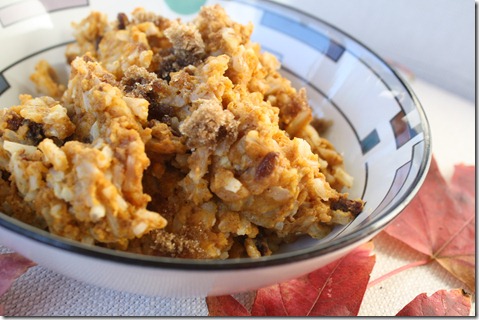 This was so good! One more reason to make a little extra brown rice with dinner tonight.  It would reheat well, too.
What is your recipe downfall? Complex techniques? Hard-to-find ingredients? Long cooking time?