PLEASE VOTE for Operation Beautiful to win the Amway Positivity Project! If I win, I'm donating the ENTIRE $10,000 PRIZE to Girls on the Run International, a self-esteem building program for 8 – 10 year old girls (it's the running program that I volunteer with once a week).  No registration required to vote – just a little click!   :)  You can vote once a day until mid-November!
There's a reason that I've only done two marathons:  the recovery!  Oh, I hate recovery.  I miss regular (soreness-free) exercise so much.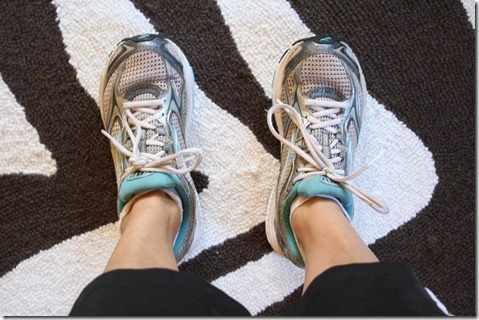 72 hours after the Spinx Marathon, my legs still feel pretty sore, and my ankles are feeling a little tight (which makes me think I need new shoes).   So far, I've played it safe with post-marathon exercise, opting for a gentle bike ride on Sunday and a complete rest day yesterday.  But I really wanted to RUN a little bit today!
I left my Garmin 305 at home so I wouldn't feel pressured to run a certain distance or maintain pace.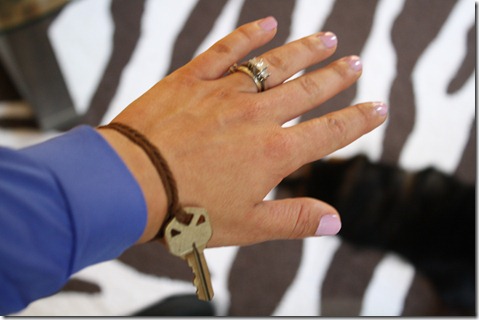 (FYI:  Best way to carry a housekey on a run.)
I think I ran 2.0 miles or so in 25 minutes.  I took a lot of walking breaks and listened to my body carefully.  I also ran in the grass when possible to make the run more joint-friendly.  My ankle felt better the more I ran – in some ways, I think it just needs to be loosened up.  Yoga would probably be clutch. 
I'm really glad I've decided to drop down to the Thunder Road Half Marathon instead of doing another Marathon in six weeks.  I love the glory of marathons, but man – they hurt (for me at least).  🙂
Post-run lunch was fast and simple: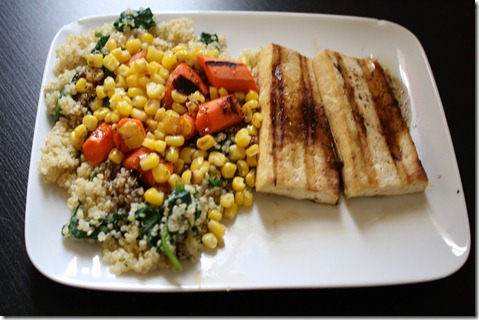 It was fast because I cooked nearly the entire thing on my George Foreman!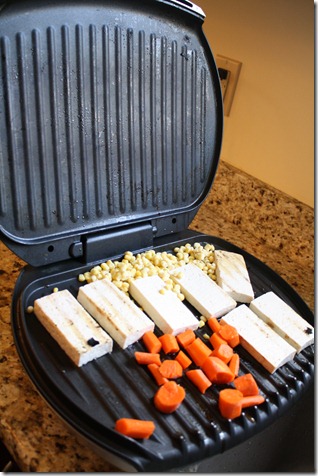 I sliced a block of extra firm tofu (didn't even bother to press or flavor it), cut up some carrots, and dug out a bag of frozen corn.  Everything went on the Foreman and grilled for about 10 minutes.
Mixed with steamed spinach and quinoa.  Plus some balsamic dressing for flavor.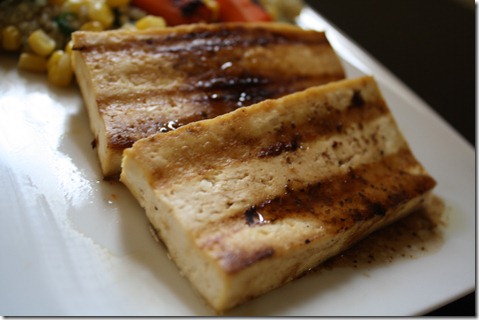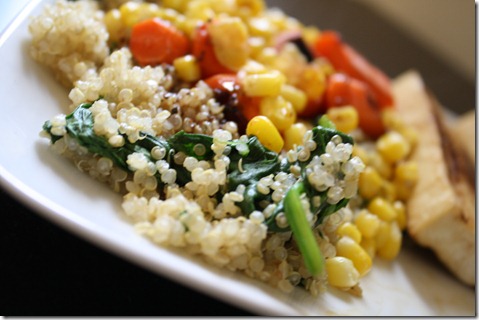 Simple but wholesome.  Just what my body needs today!
Oh and THANK you for helping me find a reason to be happy! I loved your lists. :)  There are many reasons to smile today.  I am now in a much better mood!