Catching up on the weekend?  I ran a marathon (here's the recap)!
Morning, lovelies!  And so another week begins.  I can't believe the Spinx marathon has come and gone!  And while I'm still basking in glory of a race well ran, I can't help but to ask… What's next?  Mostly because I need to organize my calendar.  🙂
The question on my mind when I crossed the finish line was, "So – are you going to do that other marathon you're signed up for?  You know – the one in 6 weeks?"  I was originally just going to do December's Thunder Road, but then I decided I could get ready faster and preferred to do the less hilly, less chilly Spinx.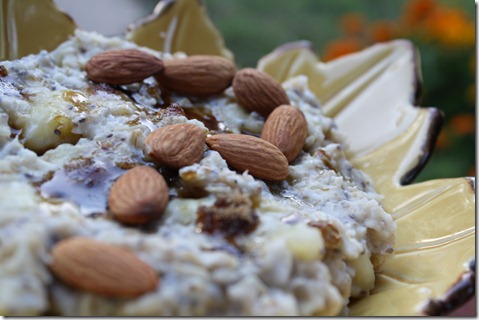 (In the oatmeal bowl:  1/2 cup oatmeal, 1/2 cup water, 1/2 cup almond milk, 2 tablespoons chia seeds, and a banana.  Toppings include brown sugar and a question mark of almonds.)
The answer: NO to Thunder Road marathon.  Surprising, right?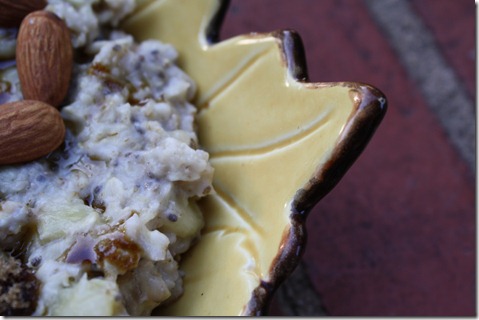 I'm a little nuts about my hobby (racing), but I'm also realistic.  I do think it's physically possible to do two marathons six weeks apart; however, my work schedule is about to rev up in an awesome way, and running for 35 miles a week just isn't going to happen.  I'll be out of town for three major speaking events for the next three weeks, and traveling + presenting is really tiring.
Endurance running, while fun, is also time-consuming and exhausting, and not everyone at every moment in their lives has the time to commit to a marathon.  My personal mantra is, "Don't set yourself up to fail," and that lesson applies to running, work, family, friends, and life in general.  I have a habit of taking on too much, and it's not healthy (mentally or physically).   Right now, I just shouldn't commit to another marathon.
I'm waffling between dropping down to the Jingle Jog 5K or the Half Marathon.  I'm leaning towards the Half because I already paid $90 for the entry fees – that's an expensive 5K! :) 
So – that's it! And I feel more than OK with my decision.  I just wanted to share my thought process because I really believe one of the greatest gifts you can give yourself is to 1) not set yourself up to fail; 2) give yourself permission to 'do less'; and 3) be flexible with fitness in accordance to what's going on in your life.
What's currently taking priority in your life?  What do you wish you could give more focus to?