First things first:  breakfast!
An oatmeal mess – quick, easy, delicious.  One of my favorite things.  🙂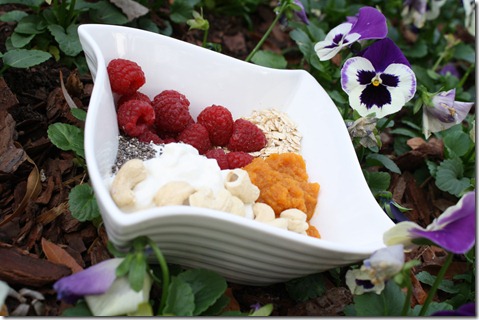 In the mix:
1/2 cup oatmeal
Handful of raw cashews
Vanilla Greek yogurt
Canned pumpkin
Raspberries
Chia seeds
Onwards!
I've been talking a lot about Girls on the Run lately, and that's only partly coincidental.  Not only do I really love it, but there are lots of ways to get involved.  If you don't have the time to coach or can't be a running buddy for the end-of-season 5K, you can always be a Solemate.  You can walk, run or bike in any event of your choice and raise funds so little girls can get scholarships to attend GOTR.
I signed up to be a Solemate for the upcoming Thunder Road Marathon (now, of course, I've dropped down to the 5K).  As part of my race, I'm raising $262 (get it? 26.2?) for GOTR.  Here's Ashley's perspective on being a Solemate.
I'm hoping to raise the money through a series of fun raffles on the blog – so let's get started!
Today's raffle is hosted by Lululemon Charlotte!  The prize pack totals $141.  You could win the Groove Pant, a $98 value, in your size… a Yoga Mat Strap, a $15 value… and a Yoga Mat, a $28 value.
You can enter this raffle for less than the price of a cup of coffee!  🙂
Here's how the raffle works:
$2 gets you ONE raffle ticket.
$4 gets you TWO raffle tickets.
$8 gets you FIVE raffle tickets!  It's a deal!
The contest will run until Wednesday, November 17 at noon. I'll contact the winner at lunchtime.
I will list everyone's name on an Excel spreadsheet (one entry per $2, two entries per $4, and FIVE entries per $8), and the Husband will draw a winner using the Random Number Generator.
Lululemon will then ship out the prize pack to the winner.
Good luck!!! On that note, I'm off to yoga.