Woke up early so I could cook mom breakfast before she ran away to work (she works at a small consignment shop in her 'retirement').  We made whole wheat pancakes: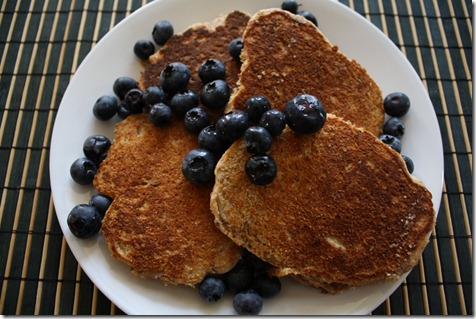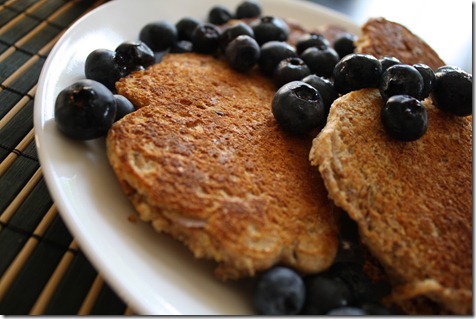 Real maple syrup on the side for dippin' action: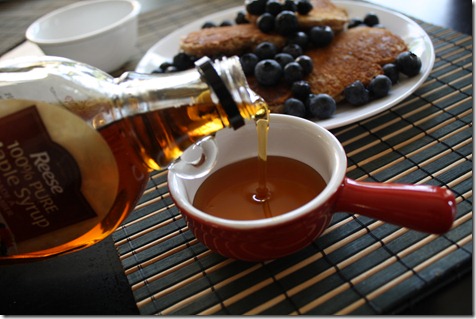 It's looking like a beautiful day in Tennessee – I'm excited for Part II of our mystery road trip!  All shall be revealed soon, I promise. 🙂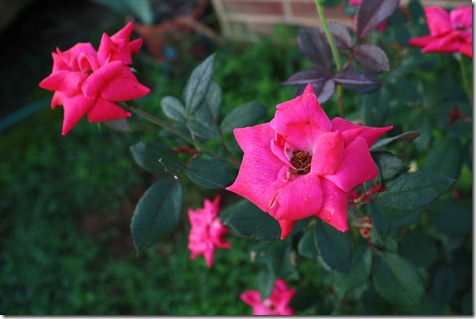 Let's Hear It For The Girls
As you guys know, one of my goals for 2010 was to volunteer more often.  I've recently gotten more involved with the Girls on the Run organization because 1) it's about building confidence in young girls and 2) it's about running <—perfect match for me!  (No, I don't work for GOTR.)
I'll be volunteering as a coach's assistant one day a week this Fall, but I'm most excited about the Solemates program because I think it's so accessible.  It's hard for most people to volunteer in the middle of a work day as a coach, but ANYONE can be a Solemate.  All you have to do is run a race – any distance, any place – and raise $262, which funds two girls' participation in the program.  I'm doing Solemates for my upcoming marathon, but I wanted to share this guest post from Ashley from Nourishing the Soul about her 5K and the Solemates program.
Hello! I'm Ashley from Nourishing the Soul, a blog that focuses on our at times distorted relationships with food and our bodies. I'm thrilled to have the opportunity to be featured here on Healthy Tipping Point to share with you my experience with the SoleMates program of Girls on the Run!  Before I get in to sharing my own experience, I'd like you to ponder something for a moment:
How might your life be different if you had had the opportunity to be inspired, challenged, and empowered by a group of positive role models as a young girl?
Some of you might be fortunate enough to answer this question simply, by saying, "I was!" To all of you, I am so happy that you were given that opportunity! However, most of us – myself included – were unfortunately not given such a unique gift. When I think about how my life might be different if I had, I think about the years of struggling to define myself. I think about years of using food and exercise and other potentially positive things in damaging and destructive ways. I think about missed opportunities to assert my own needs and desires and to take on risks and challenges. You see, I was a fairly reserved (read: insecure) girl who often felt like I was swimming in a river of uncertainty. I am no longer that girl, but rather a focused, confident, and powerful woman. But I had to endure a lot of unnecessary pain along the way.
When I think about all that, it makes me even more grateful that programs like Girls on the Run exist to prevent young people from struggling as so many of us did. GOTR offers a life-raft to pre-adolescent girls, so that they might not flounder in that same river. If you're not the metaphorical type, here's some hard facts for you: Program evaluations have demonstrated that girls that participate in GOTR show statistically significant improvements in body image, eating attitudes, and self-esteem. It does this by offering these young ladies a running program combined with a curriculum focused on building self-esteem and great health habits. And the best part is that GOTR is committed to never turning a girl away. 
And that, of course, is where SoleMates comes in.
Offering programs like GOTR understandably requires resources, and the SoleMates program allows people like you and me to be part of helping girls thrive. SoleMates is the charity program of GOTR that encourages athletes (or would-be athletes) to raise money by walking, biking, or running in an event. I actually learned about this program on Healthy Tipping Point and within a day was signed up. I was already training to run a 5k in October in Baltimore, so combining my training goals with an amazing organization's mission made perfect sense.
After I signed up, I started anxiously awaiting my box of goodies to arrive! Here are some of the fun items included in the welcome pack: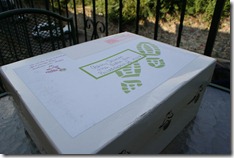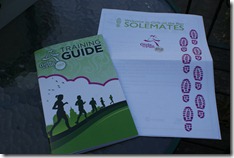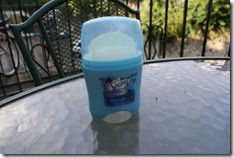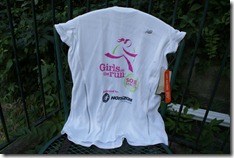 And I was, of course, quickly reaching out to friends and family (and some complete strangers!) to help me reach my fundraising goal. I sent out e-mails, I posted my venture on my blog, I blasted facebook, and I even baked cupcakes to sell at work. In fact, most people at work turned down my baked goods but gave me a few dollars anyway. I wasn't sure quite how to take that (though baking is admittedly not me forte)… Here's me soliciting: 🙂
If you're a runner – or for some reason enjoy reading about running – you might be interested in hearing a bit about my training. It's easy to forget that you're training when you're so excited to be dedicating yourself to a cause. However, my "brutal" training schedule hasn't allowed me to totally forget!  
To give you some background, my previous running experience includes one totally-for-fun 5k charity event and a half-marathon. While I've been running for about three and a half years, I haven't ever challenged myself on speed. I ran pretty consistently at a 10+ minute mile pace, whether running a block or fifteen miles. A friend suggested running a 5k to try to set a personal record – specifically, doing it in under 25 minutes (please note that the previous 5k I ran took me 33.5 minutes – so this was an 8.5-minute cut in time). 
As you might expect, I initially thought: NO WAY IN HELL!! However, I eventually came around to the idea and even decided to enlist the help of a coach – i.e. a high-school friend of my husband who is an experienced runner. We worked it out that he would set up a plan for me and e-mail me each week with my schedule, and I would follow the schedule and then report to him on how things were progressing. I was hesitant to be "reporting" to anyone, but the accountability and support has been so worthwhile. I highly recommend enlisting the help of an experienced runner (a friend will do!) if you are training for something new. At the very least, read up on the basics in order to prevent injury.
My own program, in a nutshell, involves running six days a week combined with some core strength training. Three of the days are hard – one longer run (around eight miles right now), one tempo run, and one VO2 Max run (basically running intervals at maximum or almost-maximum speed to increase oxygen uptake – also known by me as "please-kill-me-now runs"). Since before I had no interest in speed, I had never run at a track before or done intervals. It has added an entirely new dimension to running for me, and increased my confidence (and speed) tremendously!
To wrap up, I still have many weeks to go until my race and I still don't know for sure whether I'll make my goal (I guess we never do…), but one thing I do know is that when I'm running, I can think about all of the amazing young girls I'm supporting. I think about them and am reminded that as I build my strength and confidence in myself, I help them build theirs as well.
Have you ever run for a charity cause?  Would you consider doing the Solemates program for your upcoming race? I love the idea that the money direct funds two girls' participation in GOTR.