A lot!  You are beautiful and clean and crisp.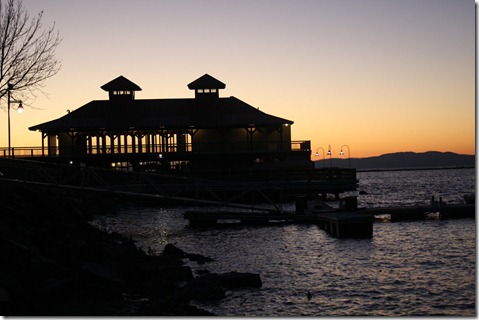 And you know what? Burlington is the healthiest city in America!
Very positive feelings about Vermont so far (tomorrow, I'm driving to Ticonderoga for an Operation Beautiful presentation).  I find it hysterical that when I'm forced to go to New York City on business, I literally lock myself into my hotel room and order room service because I'm so scurred.  But in lovely Burlington, I get out and explore!
Yippee!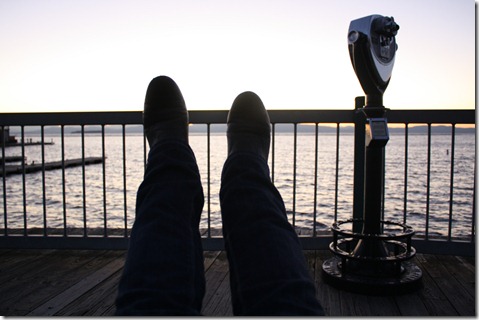 OK – so, the flights here weren't all that bad.  I got a lot of reading and a little work done. 🙂
Snacked on these fun treats: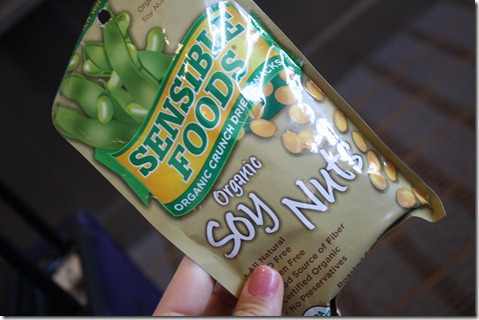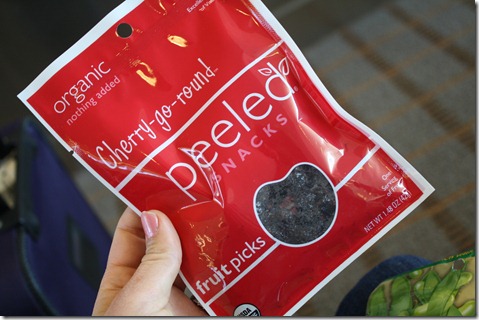 The soy nuts were pretty awesome!  There were 16 grams of protein in a packet, which was a bonus.  And the Peeled Cherries were great too.  I loved how simple both ingredient lists were.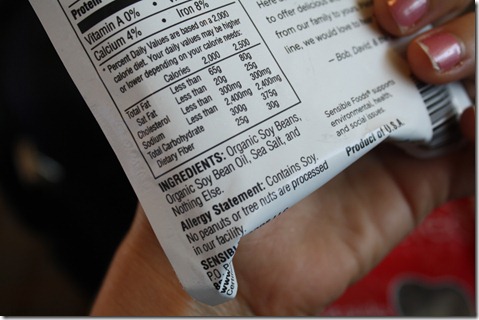 On the plane, I had ginger ale.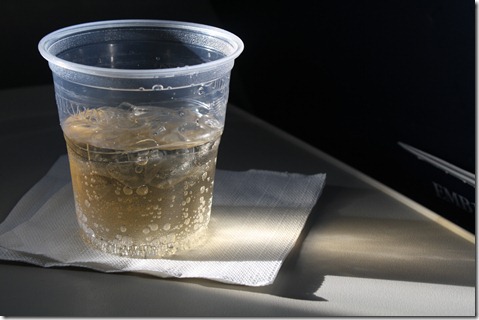 And wrote a bunch of Operation Beautiful notes.  I tend to write novels on my notes.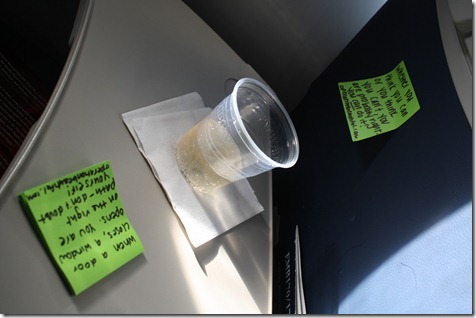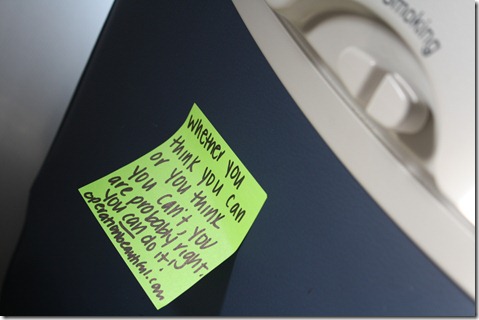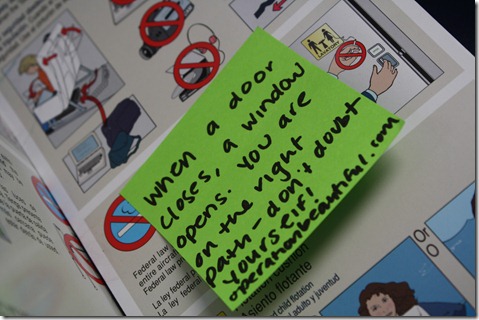 (I found it ironic that particular note was posted on the emergency exit instructions!)
I arrived in Burlington and immediately feel in love.  An airport with only 6 gates?  Yes, PLEASE!
Grabbed my rental car and hightailed it to the Waterfront Park so I could see the sunset.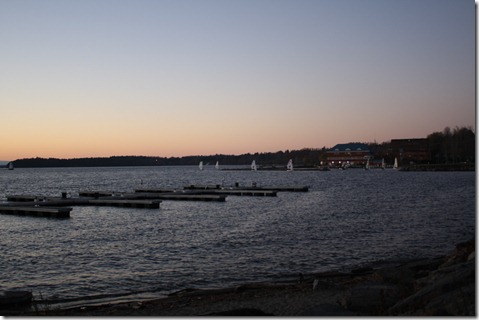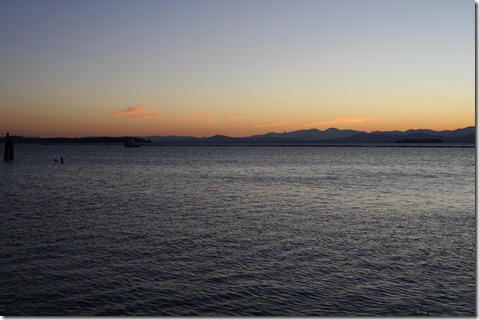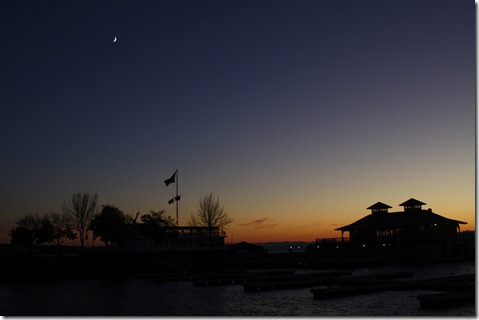 I spent thirty minutes on the boardwalk, shivering in the cold air as I watched the sun go down.  Vermont is so, so beautiful!  America's gem, I'm telling you!
Then, I walked back through Main Street and stuck my head in a few consignment shops (but didn't buy anything – aren't you proud?).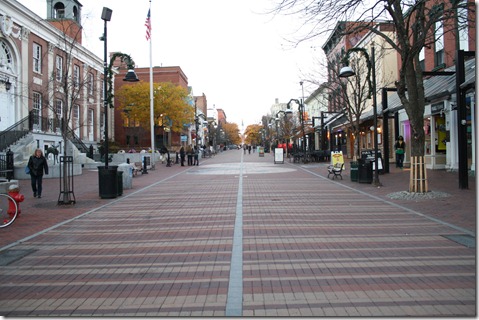 At this point, I was getting a little hungry but wasn't really excited to eat dinner all by my lonesome self.  Luckily, a tweet from Ali from Healthy Balance, Healthy Life came through, asking me where I was!  A short phone call later, we realized we were only 1 mile apart and agreed to meet for dinner.
This place was MIND BLOWING!  If you are EVER in Burlington, you must go to American Flatbread.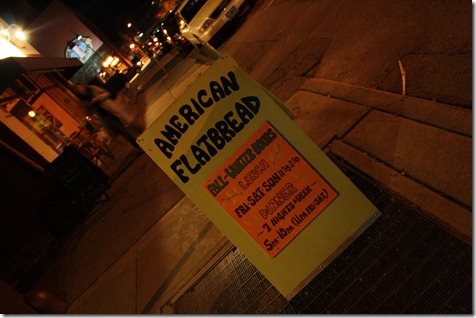 Reasons you should love American Flatbread:
Mostly organic, local food
Homemade brew
They treat their employees very well and each waiter gets a free massage once a month!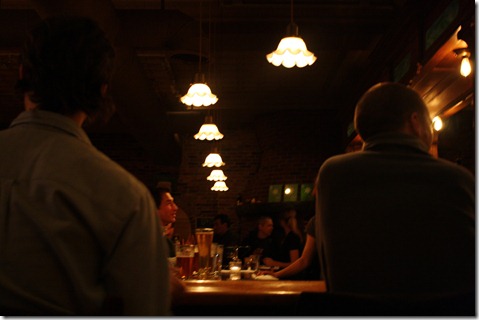 Ali and I had an awesome dinner. So weird how you can meet someone in real life once and feel that you have an instant connection because of Twitter and blogs.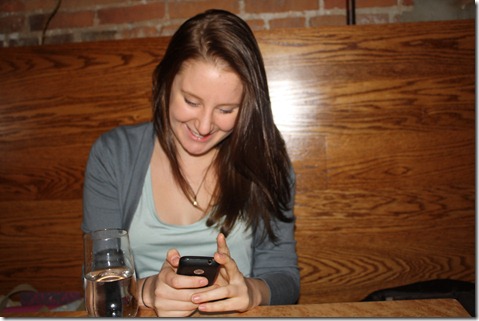 Tweet, tweet!
I ordered the special salad, which had beets, apples, almonds, arugula, goat cheese, and a honey rosemary dressing: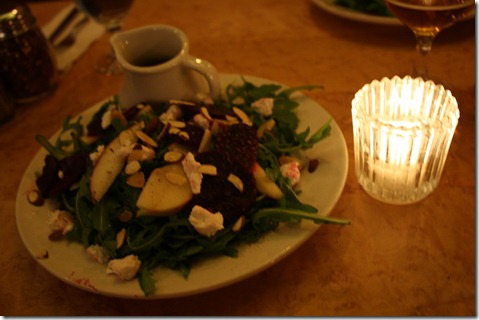 I die!
And I got the special flatbread, which was garlic kale, roasted fennel, red onion, and pumpkin sauce.  Then, I really died.  It was so good.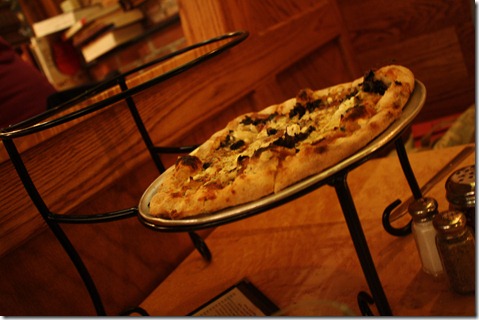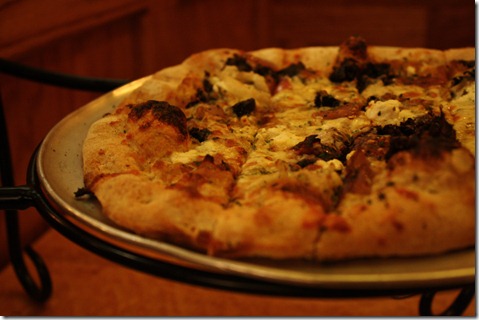 I ate nearly the entire thing.
Since American Flatbread is also know for beers, I figured I should try some.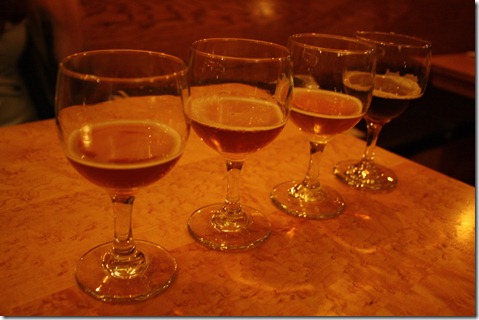 The waitress brought me a flight, and I settled on a half-glass of Narconaut (a "Dry-Hopped Double Black IPA").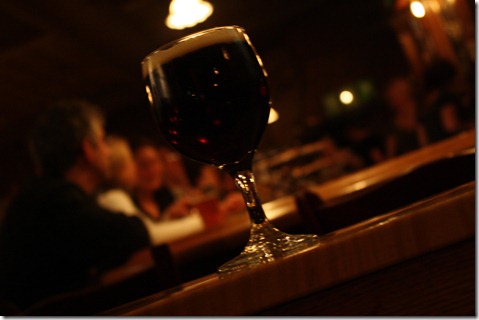 After saying my goodbyes to Ali, I headed back to the hotel (Burlington is so walkable!) and now I'm eyeing my king-sized bed and novel. 
Do you like to travel on your own? I love to explore on my own (if the city isn't too big and scurry), but I don't like to eat alone in restaurants!  I like to chat.  🙂