It's no secret that I'm obsessed with House Hunters.  In fact, I've been watching it all night.
(Source)
It feels SOOOOOOO good to relax on the couch and dream about home ownership.  Now that we've gotten our budget under control (well, except for my dining spree yesterday… ahem), we're thinking about buying a HOUSE!  Not now – maybe in June?  That's our goal!
But we have no idea what we need to buy a house in terms of a loan… All we know is that we need a LOT of money for a down payment.  I've been reading blogs like The Simple Dollar to learn more.  It's a little nerve-wracking but something we both really want so we can pursue BabyHTP other life changes.
While I was pondering these life changes…
I had lunch (and a third cinnamon bun, which knocked me onto my feet in full sugar-coma style):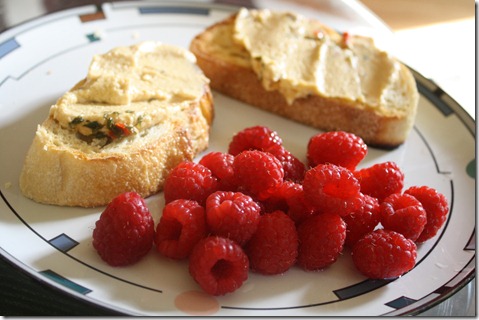 Hummus sandwich + raspberries.
And broccoli (+ bun!):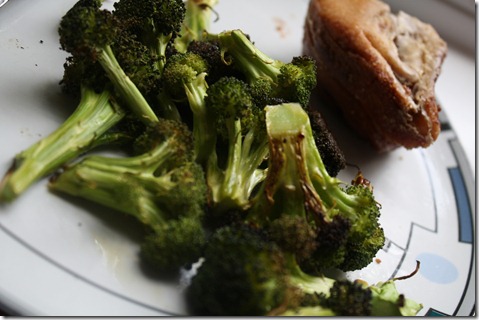 And dinner was simple and wholesome: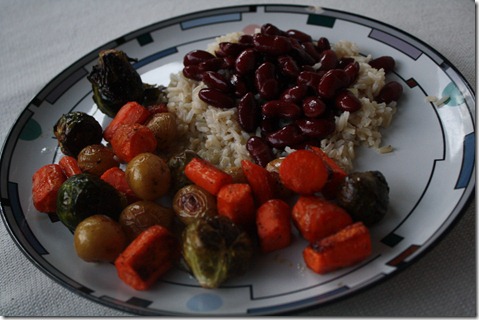 Rice and beans + a roasted vegetable mix.  I'm falling in love with roasted carrots this season – so simple, easy to prepare, and delicious.
We are going to leave in bed and read MLS listings for future dream homes!