Something different for breakfast!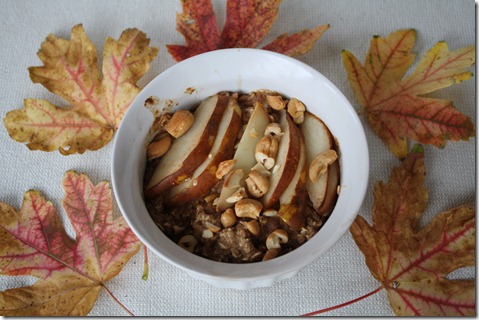 I was staring into the fridge this morning, running through my breakfast options:
Yogurt mess
Oatmeal
French Toast
PB sandwich
Eggs
But nothing sounded good.  I wanted something different.
I'm a huge fan of baked oatmeals because the texture is so unique – more like a warm, thick, chewy slice of bread than a bowl of oats.  Plus, you can mix up the flavors easily by adding different fruit (apples, bananas, etc).  Today's star was pear!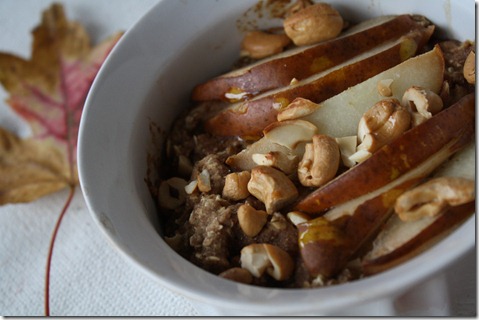 Baked Pear Oatmeal
Ingredients:
1/2 cup oatmeal
1/4 cup whole wheat pancake mix
1 tablespoon brown sugar
1/4 tablespoon cinnamon
1/2 cup almond milk
1 small pear
2 tablespoons chopped cashews
Drizzle maple syrup
Directions:
Preheat oven to 350 degrees.
Slice pear in half. Chop one half and thinly slice the other.
Mix all ingredients but thinly sliced pear, cashews, and maple syrup in a small bowl. 
Pour mix into mini casserole dish and top with remaining pear and cashews.
Bake for 20 minutes.
Drizzle maple syrup on top.
Enjoy!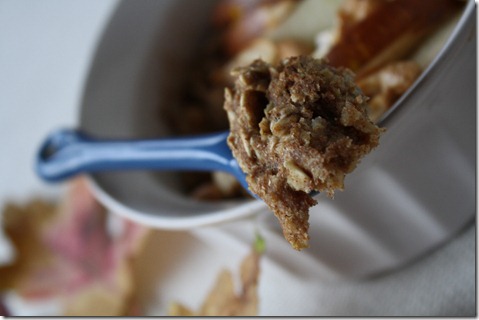 Dense and chewy – the way I like it!
This is your daily plea to PLEASE VOTE for Operation Beautiful to win the Amway Positivity Project! If I win the $10,000 prize (!!!), I'm going to turn around and donate the ENTIRE THING to Girls on the Run International, a self-esteem building program for 8 – 10 year old girls (it's the running program that I volunteer with once a week).  No registration required to vote – just a little click! You can vote once a day until mid-November!
Do you get into breakfast ruts, too?