It's official: I am sick.  Groggy, rundown, foggy headed.  Sick, sick, sick.  Hopefully this is an epic 24-hour bug, and I will wake up feeling better than ever tomorrow. 🙂
Unfortunately, this illness has struck at a bad time because I was scheduled to run 6.0 miles today and tomorrow is suppose to be my last long run for my upcoming marathon (just 16 more days!).  I typically refuse to run when I'm feeling ill because I know it's so bad for my immune system… plus, it just seems to extend the length of the cold.
My game plan? Rest today, and rest tomorrow (unless I wake up feeling significantly better, which could happen).  Hopefully, I'll be able to make my long run up this weekend. 
The Husband forced me to drink this cocktail, promising me that I'll wake up feeling "perfect" tomorrow.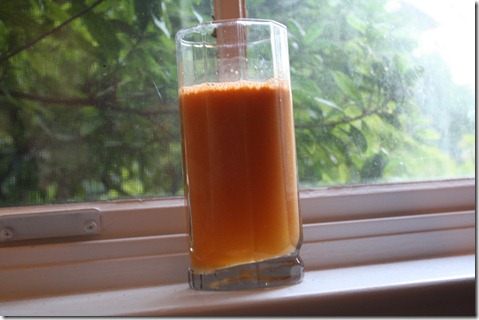 In the mix:
Lemon, Ginger, and Echinacea juice from Trader Joe's
Goji berry juice
A tablespoon of minced garlic
It was disgusting.
In other news, Girls on the Run was so much fun today. :)  I got to spend more time than usual running with the girls, which is a good thing because they tend to run faster with a coach.  We ended up doing 2.0 miles together (which I am totally going to count towards marathon training, thankyouverymuch).
But the run with the girls really drove home the fact that I do NOT feel good.  🙁
Dinner: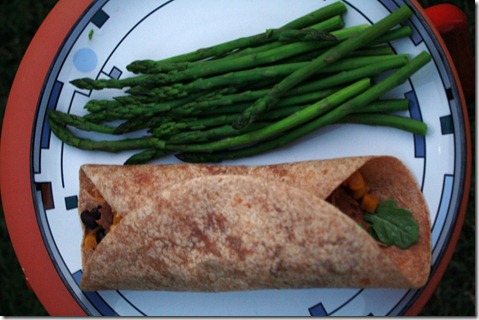 A big whole wheat burrito stuffed with refried beans, black beans, cheese, arugula, and chili corn salsa: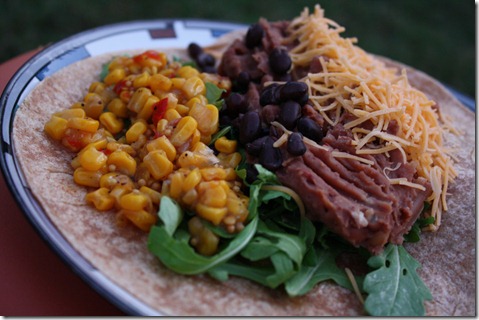 And asparagus spears!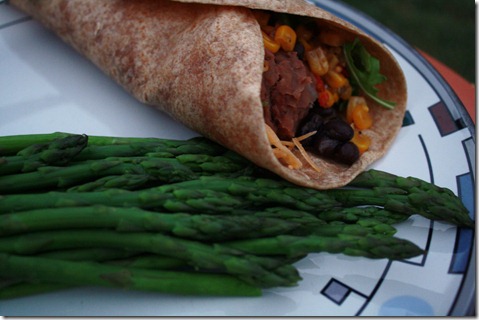 I'm currently sitting on the couch, eating chocolates and nursing myself back to health.  We'll see how it goes.  Luckily, my immune system usually bounces back quickly!
Night, friends!