Before a long run, I strive to eat a 400 – 500 calorie breakfast (+ a post-run breakfast) to ensure I have the necessary energy to get through my workout.  By the time I wake up, I haven't eaten anything for at least 9 hours, and my tummy is typically growling.  I do believe you can train your body to eat breakfast, a habit that I think is pretty clutch for runners – as well as everyone else.  It's true, you know – eating breakfast helps you live longer!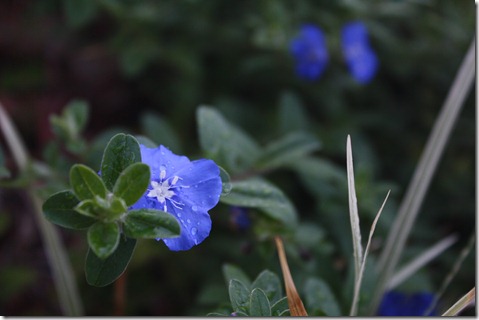 Anyway…
My normal pre-long run breakfast is a peanut butter sandwich with a banana.  But I wanted to try something new!  This breakfast combines all the necessary components for a fueling breakfast – carbohydrates, sugar, and protein.  🙂
Workout Protein Pancake
Ingredients (for one serving):
1/4 cup whole wheat pancake mix
1/4 cup oatmeal
2 tablespoons soy milk
1 egg
1 tablespoon vanilla protein powder (I used brown rice protein)
Fruit for topping
Syrup for topping
Directions:
Grease and heat a griddle on medium heat
Combine all ingredients except fruit and topping and shape into a pancake form on the griddle
Cook until golden brown and carefully flip.
Cook the other side.
Top with fruit and syrup.
Enjoy!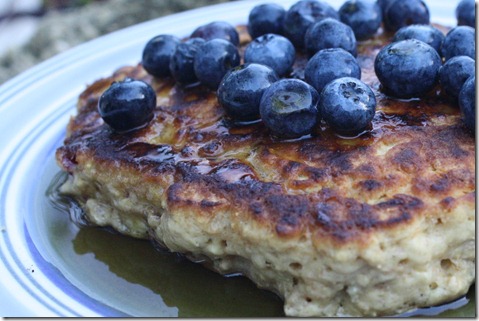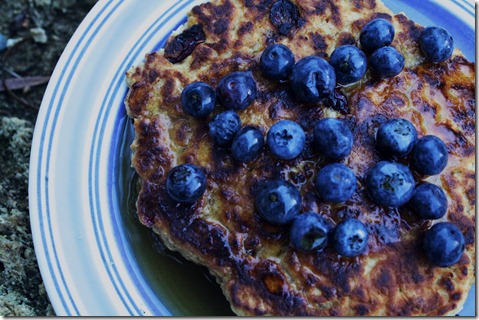 I'll let you know how well this fuels me through my workout at lunch!
I only need to let food digest for about 30 – 45 minutes before running so it's time for me to get out of here. 🙂
What do you eat before workouts?  How long do you have to wait for digestion?