I didn't leave on my run until nearly 7:45 PM.  The sun was already setting softly behind the dark and dense Floridian forest that's situated right behind my in-laws' house.  I vaguely thought, "Hey, it's getting pretty dark out there, and I'm not wearing my light" – I have a flashing light I clip onto my shirt when I run in the dark – but I really, really needed to run.
Throughout my life, I have used many 'escape mechanisms' when I need some time for myself.   Running, booze (hey, I'm honest), and reading have jostled for top position over the last few years, but now running is Queen.  And although I'm an extrovert through and through – I do share my life on the Internet, after all – I'm one of those people who REALLY need alone time everyday to recharge and refresh myself.  And for me, there's no better and healthier battery jolt than a long, solitary run.
So it was with that mindset that I left my in-laws' house.  I decided to run to my favorite running trail, which I showed you this morning:
Before the boardwalk begins, the trail is dirt and runs throughout a mangrove swamp for about 0.5 miles.
Anyway, this trail is quite lovely and charming during the day.  At night – well, it was sort of frightening!  Just imagine it – pitch black, the trees swaying in the ocean breeze, the sounds of water slapping up under the boardwalk and against the shore, birds and bugs chirping louder and louder as you approach.
Cue the obligatory "don't do this at home" speech.  Yes, I realized about 50 feet into the trial (which is in a private and gated neighborhood – for what it's worth) that running alone in the dark on a deserted trail through a mangrove swamp was probably the dumbest thing I've ever done.  And it was dumb.  But it was also pretty… awesome.   My heart was thumping out of my chest for the entire time I was on the dirt trail + boardwalk.
My favorite trail spit me out onto a side street, and I quietly padded up the road.  I was suddenly startled by a movement to my left and saw a large, velvet-brown deer with the biggest ears and these wet, deep eyes.  Seven feet away, I came to a halt, and the deer and I stared into each other's eyes for nearly a full minute.  And then I ran home.
It was lovely. 5 miles in 53:45 minutes.
Mid-day snack was a Strawberry Banana Smoothie from Starbucks (yes, twice in a day):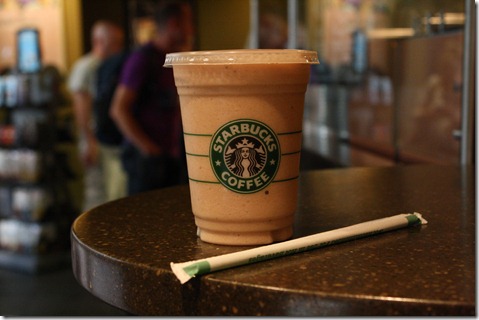 Pre-run snack was an English muffin: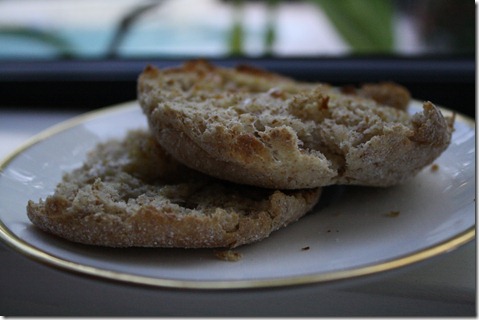 And dinner was actually leftovers, revised:
I mixed the leftover roasted quinoa + black beans, roasted broccoli, and carrots with pumpkin.  I put the whole thing on a bed of spinach for a simple yet filling meal.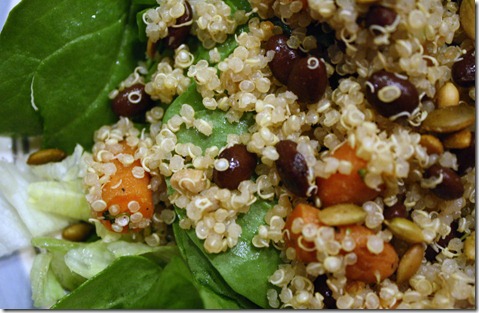 Going to turn in early!
How do you recharge your battery?