My first bowl of Pumpkin Yogurt of the season!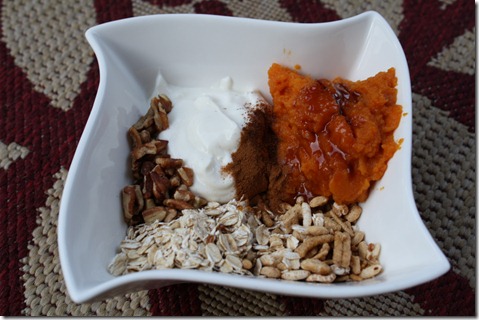 After fruitlessly searching for Libby's Pure Pumpkin in the stores for months, I finally stumbled upon my favorite canned treated yesterday – and promptly bought 10 cans. 🙂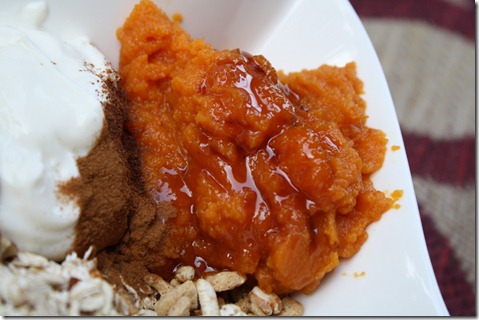 I love to put pumpkin in many of my recipes, but Pumpkin Yogurt is definitely my favorite way to eat it.
Ingredients:
1 serving honey or plain Greek yogurt
1/4 cup canned pumpkin
2 pinches cinnamon
1 pinch ground cloves
Drizzle of honey
Pecans
Serve with some raw oatmeal or granola.  Today, I mixed in oatmeal and Kashi Go Lean crunch cereal: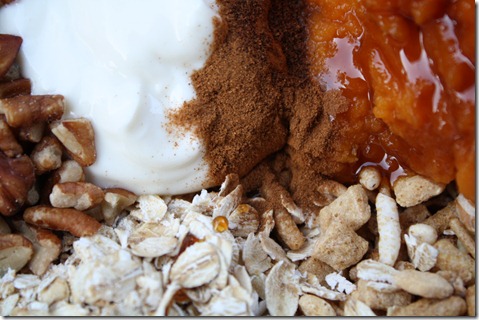 Perfection!
Train for a Marathon in Six Weeks
A slightly attention-grabbing blog post title, I know.  :)  But – I have a fun announcement!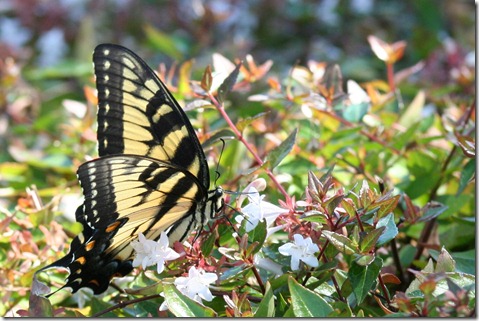 For the past nine weeks, I have been diligently training for the Thunder Road Marathon on December 11.  This will be my second marathon.  My first marathon was the Disney Marathon in January.
First, I cannot say how different training has been for my second marathon.  I feel stronger than ever, have zero injuries or twinges, and recover with lightening speed (knock on wood).    I thank yoga for the improvement!  I'm already at 30-mile training weeks, which didn't happen until Week 15 of Disney Marathon training.
Every time I tell someone that I'm going to do Thunder Road, they moan and groan.  "Really?!" they say. "Do you know how horrible that marathon is?  It was 20 degrees with 20 MPH winds last year.  I'll never do it again."
At first, I thought all the bitchin' and moanin' about Thunder Road was kind of funny.  Honestly, I thought other runners were just be whiny.  But then I heard the same thing repeated by 5 people… 10 people… 15 people!?  15 people complaining about one race is NOT a fluke. 
I started to freak out – what if i wake up on marathon morning and it's 15 degrees outside?  What if it's snowing?!  What if I bank three months of training on a marathon with a terrible reputation? Am I setting myself up to fail?
Enter…
The Spinx Run Fest Marathon on October 30, 2010.  The brand new marathon course starts off with 13.1 miles on city streets and paved trails. The terrain is rolling with a few short steep hills.   The second 13.1 miles are on relatively flat and straight city streets, including 6 miles on the Swamp Rabbit Trail.
SIGN ME UP.
Literally.  🙂
After comparing my current training to my training for Disney (always keep track of your training for this reason alone!), checking out professional training plans online, and consulting with seasoned marathons like Jen and Emily, I determined that I can, in fact, train to run a marathon in six weeks.  I wish I had time to do a 22 miler like I did for Disney, but that's probably pushing it.
Here's my new schedule of long runs (Really I'm training for a marathon 15 weeks, which is normal. Check out my training plan for the rest of the details): 
This week: Half Marathon Race (a slow race to be taken as a taper week)
17 miles
18 miles
20 miles
10 miles
Race
I don't care about my marathon time AT ALL so I'm going to take Spinx with a light attitude and just try to have fun!  :)  Jen is also running Spinx so I'll have a friend to travel to the race with.
My back-up plan:
If I run Spinx in six weeks, I'll see how I feel and what the weather is like for Thunder Road.  I can either run the Marathon, drop down to the Half Marathon, or defer my entry until next year determining on how fast I recover and train.
If I don't feel ready to run Spinx, I'll drop down to the Half and continue to train for the Thunder Road Marathon.
I put a lot of thought and had many discussions with other marathoners before making this decision, and I really feel like my body can handle it.  And who knows – maybe I'll end up running THREE marathons in 2010!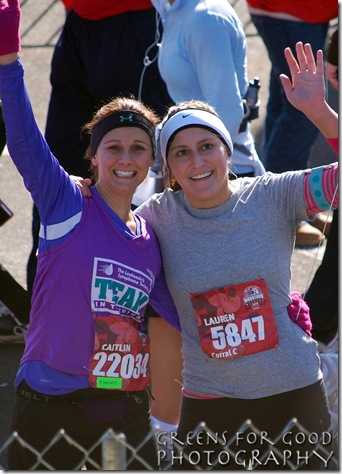 Rock on!
Any advice for the last minute-marathoner? 🙂