Good morning!
So far, I've been insanely unproductive this morning, reading fashion blogs and jamming to Brendan James.  Tanner (the famous Tanner of Y2 Yoga) gifted the album to me on iTunes.  I love listening to the music in the studio so it was a pleasant surprise!
Onto breakfast: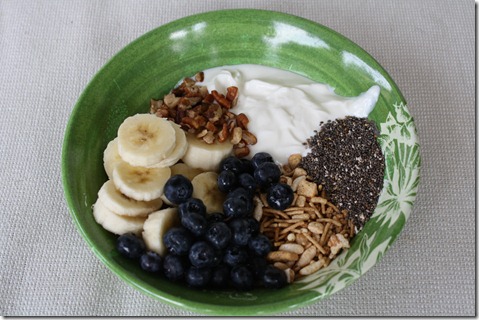 Yogurt mess of:
Greek yogurt
Banana
Blueberries
Pecans
Go Lean cereal
Chia seeds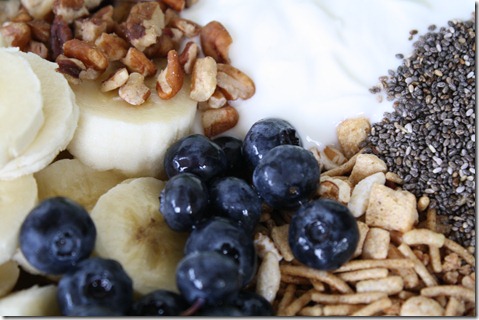 *Queenly Wave*
I always joke that I am the Queen of Injuries because my sports-related injury list is pretty impressive for someone who just does this for "fun":
Lately, I've been receiving lots and lots of emails about my knees.  I guess it's because I rock these very inconspicuous knee sleeves all the time: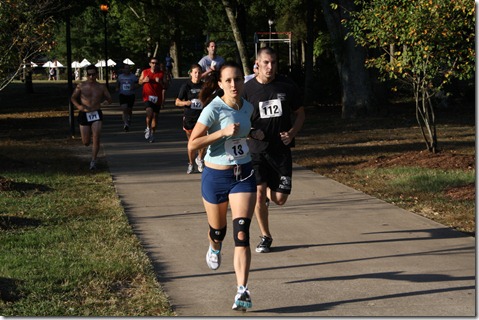 I have Patellofemoral Pain Syndrome, which sounds a LOT more serious than it is (in my case).  Also known as "Runner's Knee," it means that my quads move my patella (kneecap) bone out of alignment when I run.  Over time, this results in swelling and pain.  Before I figured out a treatment plan that worked (which currently includes strength-building exercises, icing, and knee sleeves), I was VERY concerned that I would never run recreationally again.  Now I'm training for a marathon with ZERO knee pain!
My advice if you're injured?
Stop doing the activity that is causing pain until you or your doctor figures out a cure.
Call a local running shop and ask to speak to the manager. See if they have any recommendations for sports-injury doctors in the area – do NOT blindly pick someone out of the phone book!
Be willing to take time off – 2 weeks of no exercise is better than 2.5 months of no exercise.
Try alternative medicine, like acupuncture!
Make sure you're eating enough QUALITY calories.  Your body needs fuel to stay injury-free.
Don't overtrain!
Realize that your favorite workout is not the end-all-be-all.  When I couldn't run, I got really into cycling and completed a Metric Century.  I later went on to do another Metric and a Century.
It's OK to be pissed off when you're injured.  Just don't wallow too long – it could ALWAYS be worse.
If you want more info, here are some of my top posts on injuries:
Have you/are you suffering from a sports-related injury?  What happened?  What's your advice to others with similar issues?