Tonight was THE chance for the Husband and I to put our new budget skills to the test.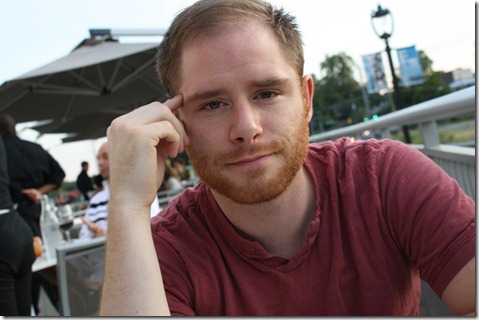 Budgeting is hard.  🙁
We walked to an Italian restaurant called Vivace for our weekly "date night," for which we have set aside $40 each week.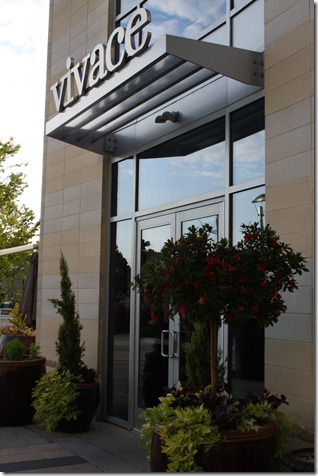 We were mostly drawn to this restaurant for it's wonderful location, but we WILL come back because of the fresh, seasonally-inspired food!  It was DIVINE.
We sat out on the patio so we could watch the sun set over Uptown: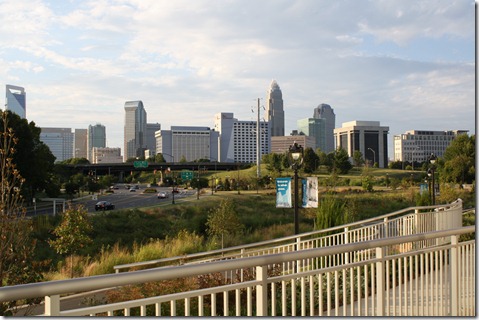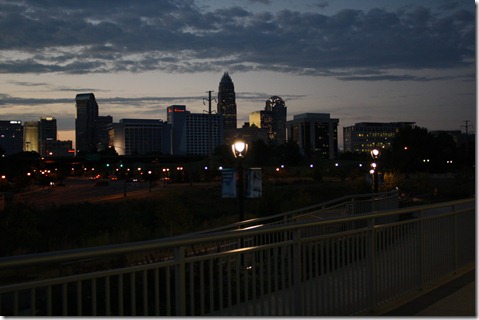 In order to keep our budget under control, we both skipped alcohol and stuck with (FREE) water.
Lucky for us, dining from the vegetarian menu is always cheaper, too!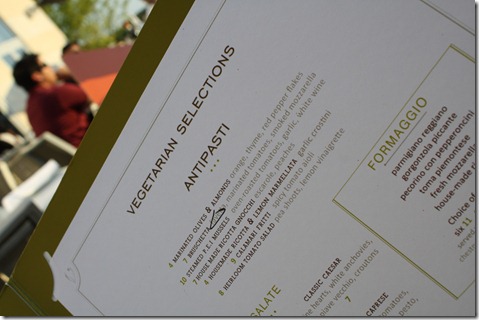 (It was nice to have a dedicated menu for vegetarians, but REAL "vegetarian menus" should NOT feature seafood, in my very humble opinion!)
We started off with warm and crusty bread with a whipped bean dip: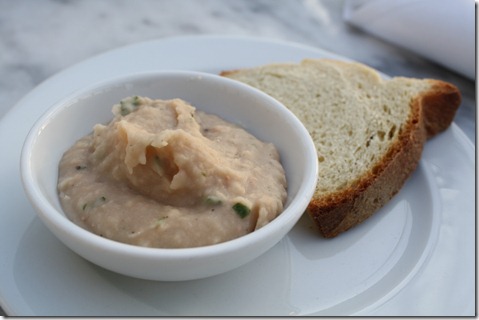 And we split this amazing olive and almond appetizer.  I have become OBSESSED with olives lately… so salty and satisfying!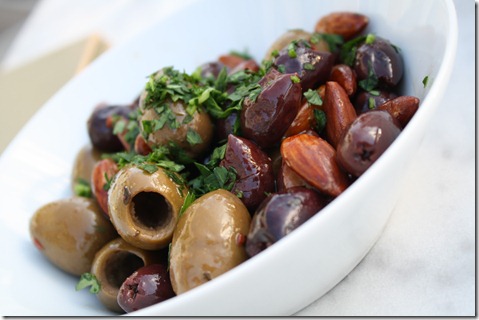 I ordered two more appetizers for my entree.
Gnocchi with grilled peaches, cheese, and greens.  This gnocchi was THE BEST GNOCCHI EVER.  Little pillows of fluff!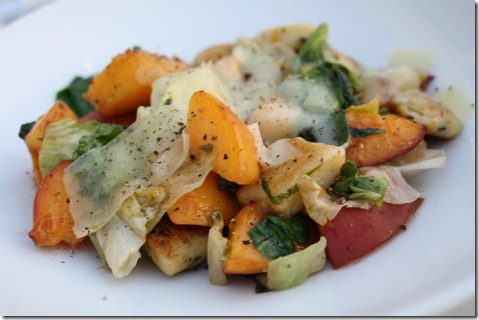 I ordered the seasonal side salad with fruit and wonderful lemon dressing.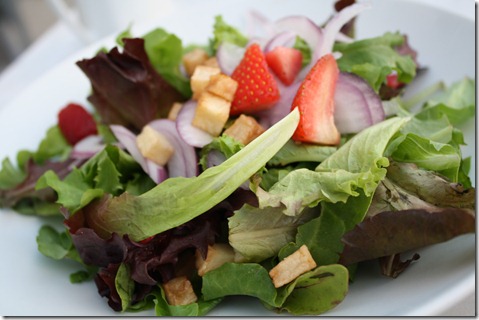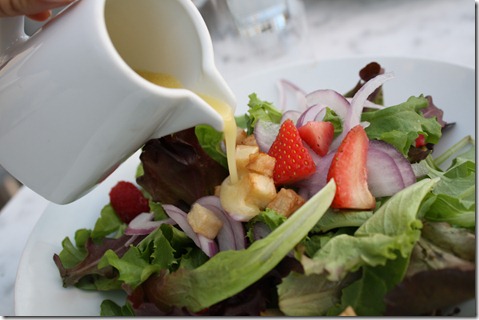 I am proud to say that this wonderful dinner (the Husband had a pasta entree) only cost us $44 with a 25% tip – only $4 over budget!  Wahoo!  Not perfect, but definitely making progress.
After dinner, we walked to the grocery store and did our weekly shopping.  Our weekly budget for groceries will vary from $60 to $80 a week.
Grocery shopping on a budget is as fun as dining out on a budget.  :(  But it's going to be worth it to bring our monthly bills down to a manageable level!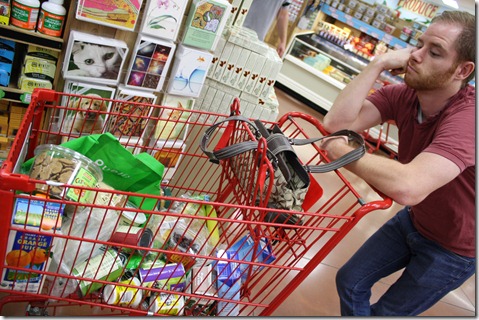 Our haul:
Almonds
Half and half (organic)
Bananas (organic)
Rice milk
Spinach (organic)
Zucchini (organic)
Brussel sprouts
Green beans (organic)
Spinach (organic)
Blueberries
Tofu (organic)
Bread (organic)
Wraps
Three cans of beans (organic)
Hummus
Two Greek Yogurts
Orange juice (organic)
Peanut butter (organic)
Animal Crackers
Chocolate
As you can see, we buy a lot of organic.  The Husband insists on buying everything organic if it's available (I tend to lean towards only buying The Dirty Dozen organic).  It definitely drives up the overall cost of groceries, so I try to buy whatever organic produce is on cheapest versus a specific type of produce.  We spent $54 – coming $6 under budget.  Wahoo!
And we might've spent the evening pinchin' pennies… but truthfully, it was a great night. 🙂
And – just ate a million animal crackers.