Previous marathon training long runs:
I ran my third 15.0 miler of marathon training this morning – AND it was my fastest one yet!  Although I plan to run the marathon solo, it's been REALLY nice to do my long runs with friends… like Emma: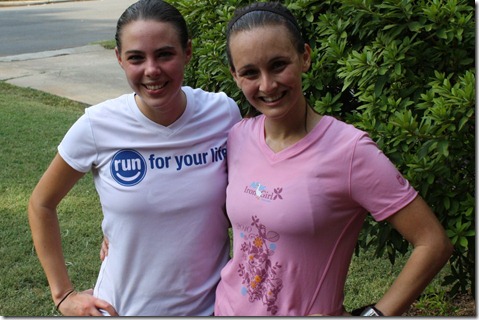 Rewind…
I mentioned last night that I ended up snacking on "a million" animal crackers after dinner last night (truthfully, it was probably 3 or 4 servings).  Those damn animal crackers sat like a ROCK in my stomach all night (duh) and the sugar gave me nightmares… I slept horribly! 
When my alarm went off, I thought I was going to cry!  I wasn't sure it was going to be a good run… in fact, I probably would've bailed if it wasn't for Emma.
Luckily, my stuff was already ready to go (I don't run with this Thermos, I left it on the porch to refill my water bottle mid-way through the run):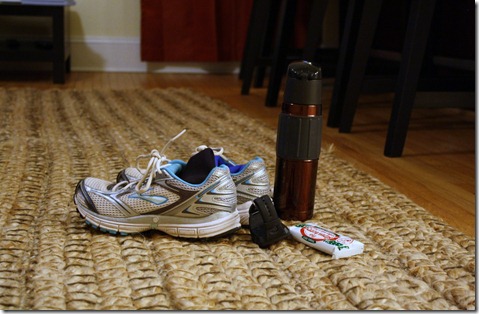 Standard pre-run breakfast of PB toast with a banana.  I was so full from those stupid animal crackers that I basically choked it down.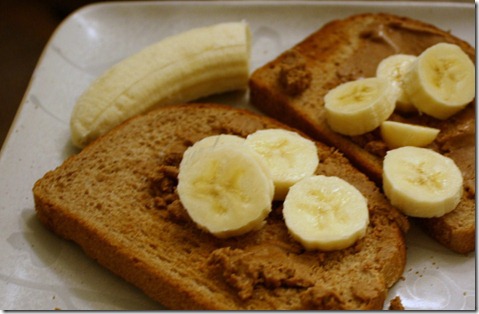 Luckily for me, Emma arrived at my house bouncing with energy and smiles.  It was the boost I needed to get through the workout!  Today's run was her furthest run ever so she was pretty excited (she's done a half marathon and is training for a marathon that is a week before mine).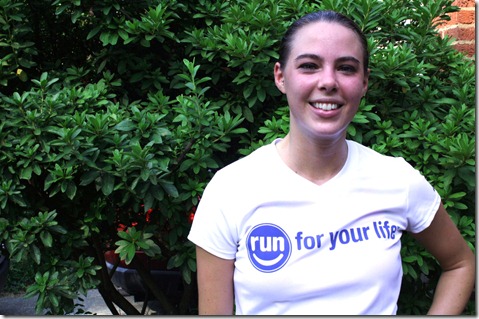 The run itself was standard fare.  The miles ticked by EXTREMELY fast in the beginning (at one point, I looked at my Garmin 305 and realized we were at a 10K distance, not 5 miles like I had guessed!), but I think we both began to feel it around the 9.0 mile marker. 
We stopped into a gas station and split a Gatorade around Mile 10.0.   I never actually got hungry on the run but knew I needed the calories. 
We REALLY began to drag at Mile 13.5, but we challenged each other to really pick it up around 14.25.  All conversation ceased, and we practically sprinted home.  Just check out our mileage splits!
Distance: 15.0 miles
Duration: 2:34:30
Mile 1: 10:30
Mile 2: 9:58
Mile 3: 10:20
Mile 4: 10:23
Mile 5: 10:25
Mile 6: 10:17
Mile 7: 10:11
Mile 8: 10:56
Mile 9: 10:21
Mile 10: 10:03
Mile 11: 10:10
Mile 12: 10:37
Mile 13: 10:14
Mile 14: 10:56
Mile 15: 9:10 (WAHOO)
And… to make our run even better… when we got back to my house, we discovered that my neighbor had left us homemade oatmeal raisin cookies!  She had seen us leave the house on our long run and wanted to surprise us with a treat.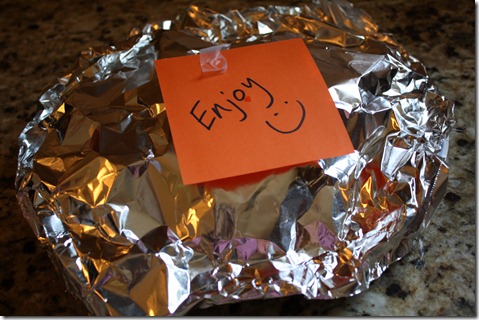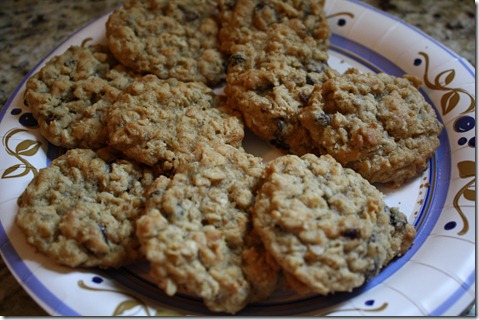 The only word I have to describe that is "Epic."  Because it truly was.
Post-run breakfast #2 had to feature cookies, of course!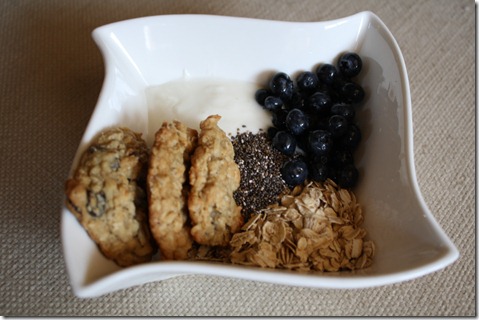 Yea. I went there.  🙂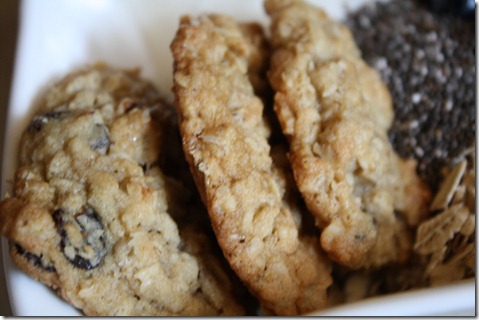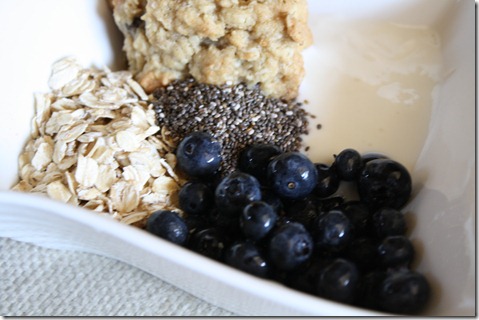 In the mix:
Greek yogurt
Blueberries
Chia seeds
1/4 cup oatmeal
3 awesome oatmeal cookies
More eating will be had soon, but I'm waiting for my hunger to catch up with my exercise.  Sometimes it takes a few hours to really hit.
Are you a solo runner or a runner who prefers company?   I like running with friends.  You get to learn so much about them!  But sometimes the solitude is nice, too.
PS – I finally consolidated all my training plans from August 2009 to current into one location.  You can view my (very loose) plan for this marathon as well as my more detailed plans for my first marathon, Olympic Triathlon, Speedy 5K, 15K, 15-Mile Trail, and Century bike ride.
PPS – Operation Beautiful is mentioned on the Nate Berkus show today – tune in (it's on a different times at different locations)!