Good morning! Happy Thursday!
The pumpkin breakfast streak continues:
And today – Pumpkin Pancakes!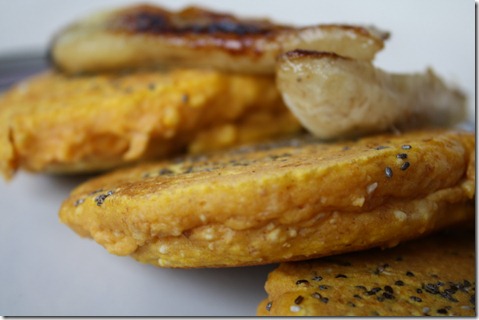 With grilled bananas instead of maple syrup!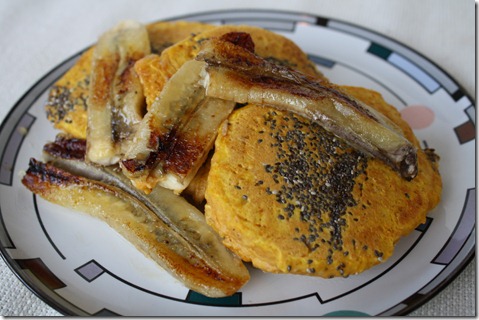 To make pumpkin pancakes (for 5 pancakes):
3/4 cup whole wheat pancake mix
1/4 cup canned pumpkin
1 egg
1/4 cup almond milk
Sprinkle of chia seeds on top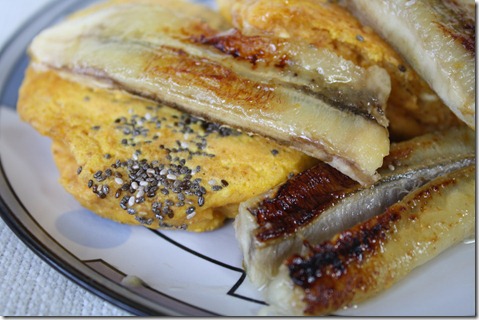 The key to successfully grilling bananas?  Use a very hot griddle, lots of cooking spray, and only flip them once.  Don't touch them until you want to flip them!
Half Marathon Ready
This Saturday, I'm running my fourth Half Mary.  I am so excited!
Half Marathon #1:  Marine Corps / October 4, 2008  2:06:30
Recap Top Quote: "All in all, it was amazing race.  I nearly cried at the finish line because I was just so happy.  It floors me sometimes to think that 2.5 years ago, I couldn't even run 1/4 a mile without stopping, and today I ran 13.1 miles without walking ONCE! Running is such a fun hobby because you can really see your improvements over time, and it's just such a reward."
Half Marathon #2: Gasparilla / March 1, 2009  2:02:59
Recap Top Quote: "While passing over one of the bridges, I happened to glance up at the sky and noticed the sun was finally rising.  This would've have given me immense relief, but I also immediately realized that there were several huge, dark, and low thunder clouds coming right at us!  At that point, the rain seemed inevitable, so I sent up a silent prayer that it would hold off until the very end."
Half Marathon #3:  OUC / December 5, 2009  1:58:45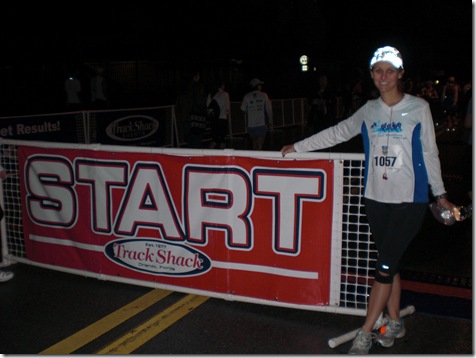 Recap Top Quote: "It's official!  I'm a member of the elusive sub-two hour Half Marathon club!  And it feels awesome."
So, as you can see, with each Half Marathon that I've done, I've set a new Personal Record.  I'm really excited for this weekend's race because I feel stronger and faster than ever, but I don't think I'll be setting a new PR.  I'm OK with that.  The course is hilly – so I've got that working against me.  And Jen and I are talking about running before and after the actual race to make it more of a "long run" for marathon training since the Greenville Marathon is in 5.5 weeks.
So instead of striving to set a PR, I'm going to strive for under my dream  marathon pace (10:30/mile or a 4:35 marathon) and aim for 10:00/miles, which will squeak me in around 2:11.  I'm going to try to maintain this pace for the entire time, including the mileage that Jen and I will be running before and after the race.
Here's how I set race goals (without driving myself crazy).
What fitness goals are you working towards right now and how do they compare to your previous achievements?  Are you reaching new heights or returning to glory?