You may now wipe the drool from your keyboard!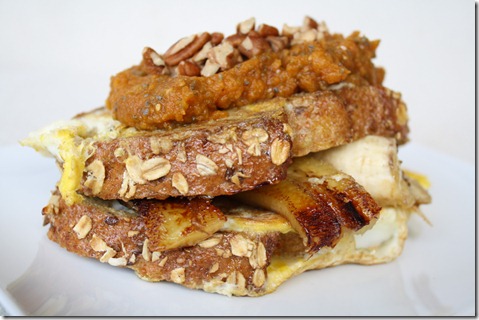 This is definitely my new favorite pumpkin recipe!  And it's hopefully going to fuel me through a day of house hunting with the mother-in-law.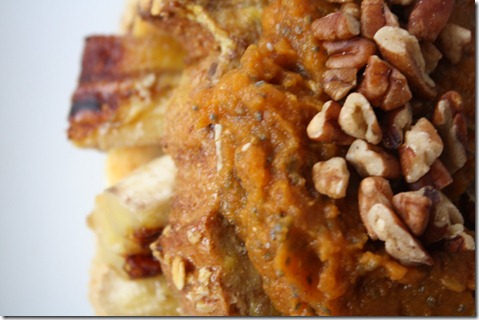 Autumn Grilled Banana Sandwich
Ingredients (for 1 serving):
2 eggs, beaten
Two pieces of whole wheat bread
1 banana
1/4 cup canned pumpkin
1/2 tablespoon chia seeds
Drizzle of honey
Dash of cinnamon
Sprinkle of crushed pecans
Directions:
Grease and heat frying pan.
Make basic French bread by dredging the toast in eggs and placing on grilled.
Meanwhile, slice the banana and place on griddle to cook.
While the toast and banana cooks, mix pumpkin, chia seeds, honey, and cinnamon together in a small bowl.
Once toast has finished cooking, remove from heat and put bananas in between slices.  Top with pumpkin mix and pecans.
Drool.
I think the key to really amazing French toast is using really amazing bread. 🙂
I really liked the addition of pumpkin on top of my favorite breakfast.  Autumn, here we come!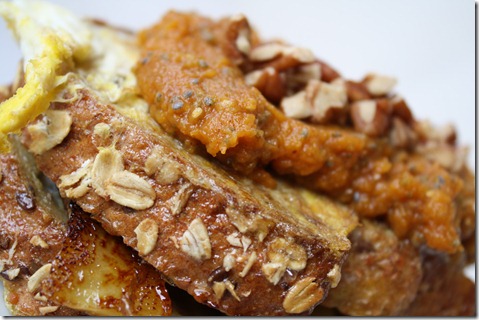 Fun E-mail of the Morning
Maria wrote, "I have been following your blog and Operation Beautiful for a few months now. On post you did in July, announcing your decision to sign up for another marathon, I commented: "As someone so new to running that even 3 miles mildly freaks them out, I am so inspired by your courage to run another marathon – even knowing that you didn't have the absolute best experience the first time around. I can't wait to read every detail of your training plan. I almost signed up for my first 5K race yesterday, hesitated, but now I am most certainly going to do it!"  Your reply was, "Do it! What are you waiting for? Life is for living!"  So I did. 
I raced my very first race on Saturday, a 5K. Back in July, as I stated, 3 miles, seemed like "marathon" to me. But I dug down deep and realized that this was something I really wanted to do.
I trained, faced some injuries and frustrations along the way, and I finally raced. And guess what? I placed 2nd in my age group. I came in at 29:24 – a PR that ranked me 23rd out of 67 runners. And to think that I never would have experienced this bit of living if you hadn't encouraged me to do so! Life IS worth living and I'm happy to say that I feel like I'm finally FULLY living it."
Quote of the day:  "What lies behind me does not define me."  ~ Brendan James