Well, so far, today has been a whirlwind.  I actually spent the morning shooting b-roll footage for The Today Show segment (which will be on Thursday at 10 AM).  This was a last-minute addition to my schedule, and although I am HAPPY to comply with pretty much anything they want, it threw a total monkey wrench in my plans.  Now I've got to make up for lost time!
A quick lunch – this only took 10 minutes from microwave to plate.  Can't beat that!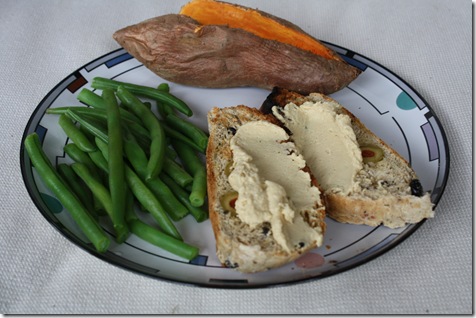 Olive bread with hummus spread: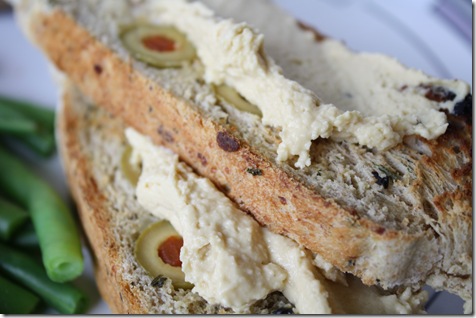 With real olives inside (from Great Harvest bakery, of course)!
Sweet potato and green beans, all cooked in the 'wave: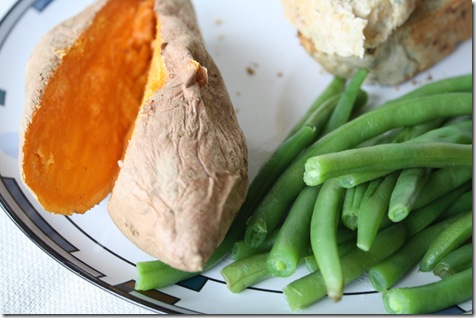 Toot-toot!  Check out today's stop on the Operation Beautiful Virtual Book Tour!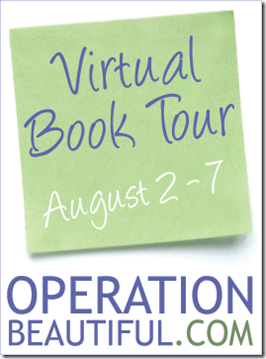 Today's Virtual Book Tour is The Daily Spark.  The Daily Spark is SparkPeople.com's healthy living blog, and I love it!  It's informative, engaging, and there's always something new to think about.  Stop by the blog to read what editor Stepfanie wishes she could tell her former self… and enter her giveaway for a chance to win a copy of my book!
And I'm off!
When your schedule is crazy, what keeps you sane? To Do Lists, Google Calendar, deep breathing, walking breaks?  Help – I need tips!
Oh – PS any NYC readers or bloggers that want to do a meet up tomorrow night at 8 PM, email me at seebriderun@gmail.com!