My suitcase is (almost) packed for New York City!  Now I just have to jam everything in the actual suitcase.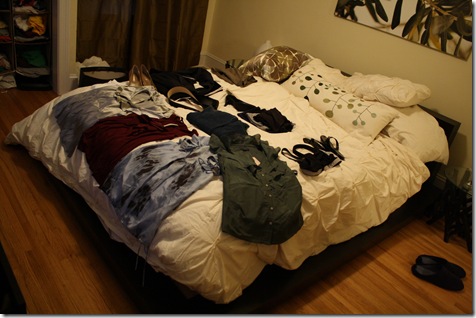 Truthfully, it wasn't that hard to pack because I'm only going to be up there for 48 hours.  I've got enough options!
For once, I'm not bringing workout clothes on vacation.  I really enjoy maintaining some sense of a normal schedule on longer, for-pleasure trips.  But there is going to be NO TIME for gym time in NYC!
Oh, and in other big news – my Today Show spot has been bumped from Thursday at 10:00 AM to 8:30 AM, which is HUGE (viewership is much higher at 8:30 AM).  This actually didn't make me more nervous, just super excited!  Set your DVRs!
Despite all the action, I managed to squeeze in a quick workout.  The Husband dragged me away from the computer and ran 3.0 miles with me in 30:34.  The last mile was definitely faster than the first two, which is always nice!  :)  And running with the Hus was fun – we're doing it a lot more since we moved.
Mid-afternoon snack was my "entry" (I can't really enter since I'm an organizer) for the Healthy Living Summit Stonyfield Smoothie Contest! <— If you're coming to the HLS, you should enter, too!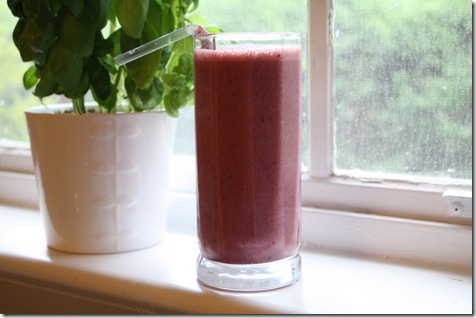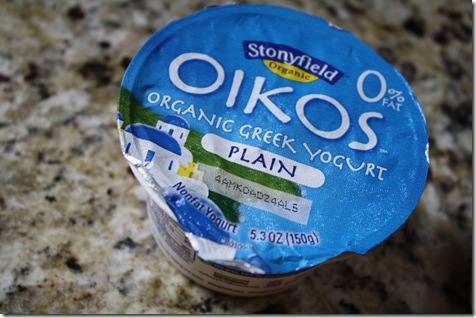 My smoothie contained:
Oikos Greek yogurt
Cinnamon
2 drops of Stevia
15 frozen organic cherries
3/4 cup almond milk
1 tablespoon almond butter
And for dinner… another lovely Husband creation.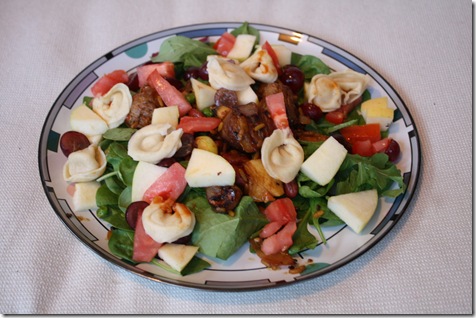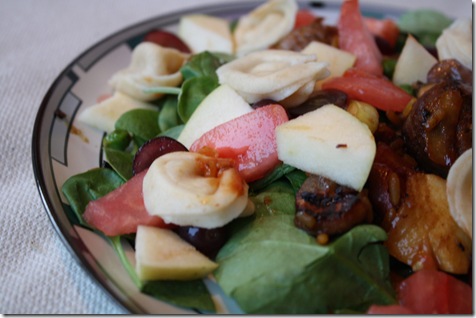 A mix of spinach, tortellini, fake meatballs (which I tried, hated, and passed to the Husband), tomatoes, apples, grapes, mushrooms, and onions.  The Husband sure loves those stir-fries!
Last minute details to wrap up!!
Thanks for making my book release day so very wonderful. 🙂 <3