Bold statement, huh?  :)  Before I share one of the secrets of organizational bliss…
First: lunch!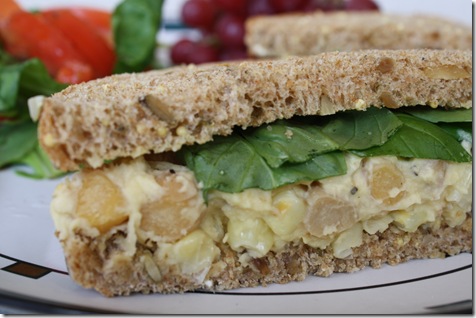 This protein-packed sandwich was a fun alternative to regular old hummus.  The addition of corn creates a really great texture, and fresh basil pumps up the flavor.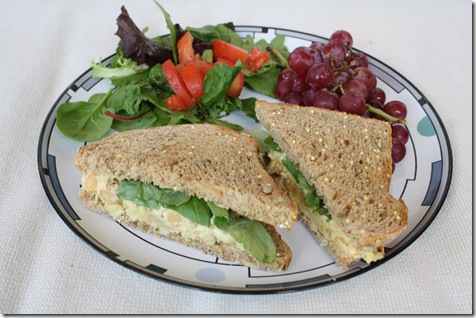 To make the sandwich, I combined 1/4 cup drained and rinsed chickpeas and 1/4 cup frozen corn in a wok and heated it thoroughly.  Then, I mixed in 1/4 cup hummus, salt, and pepper, and spooned the mixture onto some Dakota bread from Great Harvest.  Topped with some fresh basil, too!
On the side: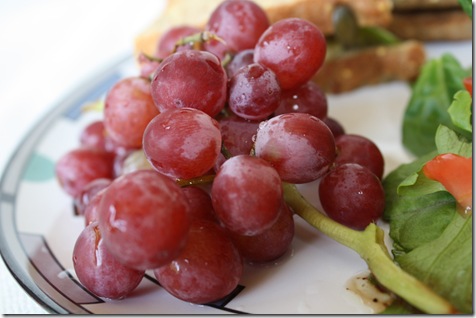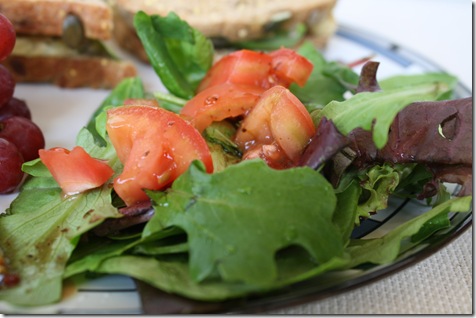 Gmail Will Change Your Life
After writing the Priorities post, I've been thinking a lot about organizational tips and tricks.  The Husband is really stressed out trying to launch his practice – there just seems to be an endless list of things to do and roadblocks around every corner.  Every project takes twice as long as he anticipates.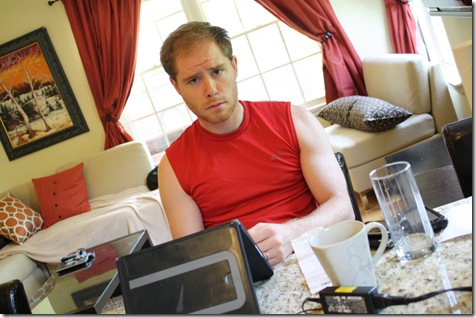 I'm about to show him the wonders of GMail because I think it will help him get focused.  Kath showed me how to maximize the e-mail tool last year, and it seriously changed my life.  I don't know how I would organize my e-mails without using the settings function of Google.  Kath has some great NERD KERF videos if you want to learn more about the intricacies.
But here's how to do the easiest and simplest Gmail trick:  Multiple Inboxes.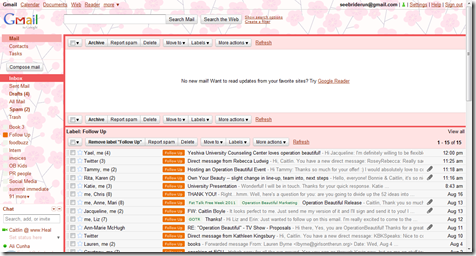 Multiple inboxes allow you to keep a "clean" inbox and store other emails in various folders, my favorite of which is "Follow Up."  I HATE to see a cluttered inbox, but the Follow Up inbox lets me drop e-mails that I cannot instantly answer into another spot.  It's still on the homepage of Gmail so I don't forget about it.
To create multiple inboxes:
Go to "Labs" and enable the "Multiple Inboxes" feature.
Create labels for the inboxes you'd like to see on the homepage.  For example, my labels for inboxes include: Follow Up, Reader Stuff to Post, and Notes.
Apply this label to the specific emails you want to appear in the inbox.
Click settings at the top of GMail, and then click on "Multiple Inboxes."
Panel 0 is your new mail inbox, so leave that blank.
Under Panel 1, type: "label:XXX" where the XXS is your specific label.
Repeat if necessary and hit Save Changes.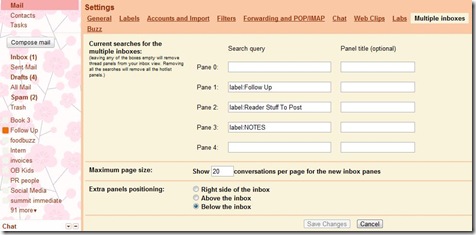 Also enable the Archive feature so you can transfer your e-mails from your main inbox to the All Mail feature.
Having a clean and organized e-mail box helps me be productive, efficient, and calm.
What computer tricks and tools do you use to stay organized?